To warm a winter night
When the wind is blustery and the fireplace is crackling, there's nothing like a taste of Sherry to warm a winter night.
Sherry? I can hear some of you saying "Meh." As I wrote in a report on this Spanish nectar a while back, SHerry owns an unfortunate and not entirely fair stereotype: Many think of it as sickly sweet stuff that your elderly aunt would keep in a dusty old cut-glass decanter from Easter until Christmas, or that your grad-school English prof would pour in tiny sips during after-class soirees.
But the current popularity of Spanish tapas and Latino bocaditos has prompted quite a few wine lovers to reconsider Sherry. And the arrival of winter weather in the Northern Hemisphere offers another good reason to take a new look at this warming drink.
Like Madeira but in contrast with Port (which is invariably sweet), Sherry comes in a wide range of styles, from the relatively light and bone-dry Fino (and its neighbor, Manzanilla) through the richer Amontillado and Oloroso to the thick, syrupy-sweet Cream Sherries and Pedro Ximenez, the latter so dessert-like that some aficionados prefer it poured over ice cream rather than sipped from a glass.
Today's featured wine is a bit of a hybrid between styles. It's called "Palo Cortado" ("Cut stick") because old-time Sherry makers used to mark the barrel with a cross-shaped symbol when a batch intended as Fino or Amontillado mysteriously lost its blanket of traditional flor yeast and began to oxidize. The result was a wine that fell stylistically between an Amontillado and Oloroso: Rich, full-bodied byt dry, not sweet.
For those who shun traditional sweet Sherries but can, er, warm up to the idea of a rich, unsweet model, Palo Cortado forms a logical choice. Nowadays, rather than waiting for nature to throw out an occasional surprise, many producers blend it intentionally by mixing Oloroso and Amontillado to achieve a tasteful in-between.
You'll find my notes below on an excellent example, "Peninsula" Palo Cortado from the respected producer Emilio Lustau.
Most Sherries, by the way, are non-vintage, and while all except Fino will keep well on the wine rack or in the cellar, it's nice to know how old your bottle really is. Fortunately, most modern Sherries contain a bottling date in small print on the back label. Although it's coded, it is fairly easy to interpret. For details, page down to the section "How old is my Sherry?" in my previous Sherry report,
http://www.wineloverspage.com/wineadvisor2/tswa20070606.php
Today's Sponsor
Hot off the presses! The California Wine Club
Hot off the presses! LA Times, Chicago Tribune and Robb Report magazine recommend The California Wine Club this holiday season.
www.cawineclub.com
People all over the country are cheering about The California Wine Club! Club owners Bruce and Pam Boring travel throughout California in search of small family-owned wineries, handcrafting award-winning wines made in such limited supply they can't be found in local stores.
This process of hand-selecting the very best wines for their members is what caught the attention of the Los Angeles Times, the Chicago Tribune and the Robb Report and why each of these publications recommends The California Wine Club.
Each month features a new winery and a new adventure! Gifts start at $34.95 plus shipping and you may send as many months as you wish. Every wine featured comes from a real working winery and backed by The California Wine Club's 100 percent guarantee.
Send a fun and unique gift this holiday season and give a gift that will make people cheer. Visit www.cawineclub.com and save an extra 10% off their already discounted prices or call 1-800-777-4443.

Emilio Lustau Palo Cortado "Peninsula" Sherry ($21.99)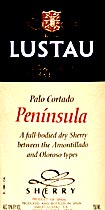 Clear bronze with glints of gold. Nutlike aroma focuses on freshly cracked pecans, with a hint of lemon zest in the background. More of the same on the palate, full and dry, pecans and snappy citrus in a long finish. U.S. importer: Europvin USA, Oakland, Calif.; Selected by Christopher Cannan. (Dec. 5, 2008)
FOOD MATCH: Rich, dry Sherry works with a surprising range of dishes, from cracked nuts to French onion soup to oysters on the half-shell. We generally enjoy it on its own, though, as an after-dinner drink on a nippy evening.
VALUE: Rising prices make good Sherry a bit less of a bargain than it used to be, but in fairness, the $20 range remains more than competitive for a wine of this quality. Compare its pricing, for example, to Port.
WHEN TO DRINK: Richer-style Sherries, sweet or dry, will last for years, but the high alcohol content tends to preserve them rather than foster evolution in the bottle.
WEB LINK:
The importer's site - http://www.europvin.com - has only limited information about Lustau. However, here's an excellent report on a visit to Emilio Lustau from the British Website "The Wine Doctor," hosted by Chris Kissack:
http://www.thewinedoctor.com/spain/lustau.shtml
FIND THIS WINE ONLINE:
Find sources and compare prices for Emilio Lustau "Peninsula" Sherry on Wine-Searcher.com:
http://www.wine-searcher.com/find/Lustau%2bPeninsula/-/-/-/USD/A?referring_site=WLP

Talk About Wine Online
If you have questions, comments or ideas to share about today's article
or wine in general, you're always welcome to drop by our online WineLovers Discussion Group. This link will take you to the forum home page, where you can read discussions in all the forum sections:
http://www.wineloverspage.com/forum/village
Everyone is free to browse. If you'd like to post a comment, question or reply, you must register, but registration is free and easy. Do take care to register using your real name, or as a minimum, your real first name and last initial. Anonymous registrations are quietly discarded.
To contact me by E-mail, write wine@wineloverspage.com. I'll respond personally to the extent that time and volume permit.
PRINT OUT TODAY'S ARTICLE
Here's a simply formatted copy of today's Wine Advisor, designed to be printed out for your scrapbook or file or downloaded to your PDA or other wireless device.
http://www.wineloverspage.com/wineadvisor2/2008/12/to_warm_a_winter_night-print.html

This week on WineLoversPage.com
• Bucko's Wine Reports: 100 new wines
Randy "Bucko" Buckner focuses this month on Beaujolais and Champagne, wines that are extremely versatile on the holiday table and should not be overlooked. Here is his monthly report on 100 new wines.
http://www.wineloverspage.com/bucko/bucko1208.phtml
• WineLovers Discussion Group: Wine in the Bible versus wine today?
The Bible is full of vinous references, from the Wedding Feast at Cana to the Psalms ("And wine that maketh glad the heart of man"). Was Bronze Age wine different from the wine we enjoy today? Join in this interesting, respectful conversation in the WineLovers Discussion Group.
http://www.wineloverspage.com/forum/village/viewtopic.php?f=3&t=20595