Nouveau what?
The Beaujolais Nouveau fad enjoyed a long and happy life, but at least among more serious wine "geeks," it seems to be fading.
Invented in the years after World War II, Nouveau was kicked up a few notches by the ubiquitous Georges Duboeuf, widely nicknamed "The King of Beaujolais," who makes the stuff in tank car loads.
The notion of rushing the first young wine of the recent vintage out to thirsty revelers on a mid-November midnight gained real momentum during the '80s and '90s, with Beaujolais Nouveau tastings and parties occurring all over the world on Nouveau Day, now the third Thursday in November.
As I've written of past celebrations, "Beaujolais is uniquely suited for this trick: Traditionally a light, early-drinking wine anyway, the regional grape variety - Gamay - lends itself to the vinification method (technically, carbonic maceration) that yields a short-lived but quaffable wine that can be drunk within a couple of months after the harvest."
Duboeuf's distributors, among others, still produce placards and posters and encourage bars and restaurants everywhere to commemorate Nouveau Day with a party. But I find that as time goes by, I'm less and less likely to get myself out on a cold November night to try the stuff.
Frankly, the more wine enthusiasts discover the joys of good Beaujolais - the higher-quality Beaujolais Villages and the so-called "Cru" Beaujolais that carry the names of specific villages like Morgon, Fleurie, Morgon and Moulin-a-Vent among others - the less we're impressed with Nouveau.
After all, Nouveau is the result of many compromises that have to be made to get it bottled and on the street a mere two months after the harvest. Nouveau is cranked out in a hurry, and it generally shows.
Still, it's hard to resist a joyous yelp like this pragmatic praise from the importer Kermit Lynch, who throws one heck of a Nouveau Party every year at his shop in Berkeley:
"I don't love Beaujolais Nouveau, but I love the idea behind it and I love our Beaujolais Nouveau and living it up at our annual parking lot feast. With you we make a party of it, a Dionysian tribute to this year's harvest and the newborn wine. Why does almost everybody filter and technologically massacre their Nouveaux with tons of SO2, cold stabilization, even pasteurization, and so on? A Nouveau should be alive and kicking, and even if you are the type who fears a deposit, our Nouveau is bottled and drunk up in a couple of weeks - there's no time for it to throw a deposit. Here you will enjoy the real thing, raw, au naturel, life-warming."
A pitch like that is almost enough to make me start looking for tickets to Berkeley. That wasn't really practical, alas; but I certainly got out to my neighborhood wine shop within a day or two after Nouveau Day and picked up a bottle of Kermit's finest: Domaine Dupeuble Père et Fils 2008 Beaujolais Nouveau. It was pretty much as he said. My tasting notes are below.
Today's Sponsor
Gold Medal Wine Club
http://www.goldmedalwine.com
1-800-266-8888
Small-production, hard-to-find, award-winning wines from California's best small wineries.
As America's leading wine club, we conveniently deliver to you or your gift recipient's doorstep two outstanding wines each month from California's small, family-owned ultra-premium vineyards. The wines produced by these wineries are among the best in the world. There are five clubs to choose from.
Our Gold Series http://www.goldmedalwine.com/wine_clubs/gold.php starts at $34/month and features 2 award-winning California wines per month. The Platinum Series http://www.goldmedalwine.com/wine_clubs/platinum.php features wines with 90+ ratings and the Diamond Series http://www.goldmedalwine.com/wine_clubs/diamond.php is the cream of the crop with 93+ ratings.
Our International Series http://www.goldmedalwine.com/wine_clubs/international.php makes a perfect gift for those seeking adventure and knowledge about other cultures and their finest wines. And finally, our newest wine club, the Pinot Series http://www.goldmedalwine.com/wine_clubs/international.php is a must for any Pinot Noir lover interested in highly-regarded, limited production Pinots.
Gold Medal Wine always delivers award-winning quality wines and is always a great gift.

Domaine Dupeuble Père et Fils 2008 Beaujolais Nouveau ($12.99)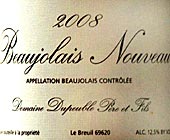 Clear, dark purple, with a clear violet edge. Very forward ripe-strawberry aromas, reaching toward banana but not quite getting there, thankfully. Juicy and fresh strawberries on the palate, nicely framed by mouth-watering acidity. A simple wine, as you expect of Nouveau, but well out front of the more familiar mass-market brands for style and balance, and pleasantly quaffable at an old-fashioned 12.5% alcohol. U.S. importer: Kermit Lynch Wine Merchant, Berkeley, Calif. (Nov. 25, 2008)
FOOD MATCH: Perhaps mostly because Nouveau's arrival coincides with the American Thanksgiving holiday, it's often recommended for service with the holiday feast. I don't entirely disagree: Its light, fruity style works with light and dark turkey meat. It was awfully good, also, with a simple meatless dinner of spaghetti with fresh tomato sauce frozen from last summer's garden.
VALUE: Certainly worth this toll for the once-a-year Nouveau experience. However, some vendors list it closer to $20, at which point I might be inclined to skip the Nouveau tradition.
WHEN TO DRINK: The old wisdom about drinking each year's Nouveau before year's end has been overtaken by modern wine-making technology, but it'll likely be tired in a year or so.
WEB LINK:
The U.S. importer's monthly mailer for November 2008 includes a short dissertation on Beaujolais Nouveau. Page down to Page 6 of this PDF file to find it:
http://www.kermitlynch.com/0811-November2008.pdf
FIND THIS WINE ONLINE:
Locate sources and check prices for Domaine Dupeuble 2008 Beaujolais Nouveau on Wine-Searcher.com:
http://www.wine-searcher.com/
find/Dupeuble%2bNouveau/2008/-/-/USD/A?referring_site=WLP

Talk About Wine Online
If you have questions, comments or ideas to share about today's article
or wine in general, you're always welcome to drop by our online
WineLovers Discussion Group. This link will take you to the forum home page, where you can read discussions in all the forum sections:
http://www.wineloverspage.com/forum/village
Everyone is free to browse. If you'd like to post a comment, question or reply, you must register, but registration is free and easy. Do take care to register using your real name, or as a minimum, your real first name and last initial. Anonymous registrations are quietly discarded.
To contact me by E-mail, write wine@wineloverspage.com. I'll respond personally to the extent that time and volume permit.
PRINT OUT TODAY'S ARTICLE
Here's a simply formatted copy of today's Wine Advisor, designed to be printed out for your scrapbook or file or downloaded to your PDA or other wireless device.
http://www.wineloverspage.com/wineadvisor2/2008/11/nouveau_what-print.html