Affordable holiday red
Tomorrow is Thanksgiving Day in the U.S., and if you're looking for a last-minute bottle (or two) of wine to accompany the holiday feast, allow me to refer you to last year's thorough analysis, "Heritage holidays," http://www.wineloverspage.com/wineadvisor2/tswa20071119.php
For today, though, with Thanksgiving falling amid unusual financial worries over much of the world, worries that for many people cast a shadow over a whole-hearted giving of thanks, let's single out a specific, recently tasted wint that makes a fine companion with the holiday feast without costing a holiday price.
The wine, Michele Chiarlo 2006 "Le Orme" Barbera d'Asti, comes in at just a buck over $10 in this region, and may be available in some markets for less. Its crisp, tart red-fruit flavors are reminiscient of cranberries (see "the cranberry sauce rule" in last year's article linked above); and with its crisp, mouth-watering acidity, Barbera makes an exceptional companion with a variety of foods, including the traditional spread on the Thanksgiving banquet table.
Today's Sponsor
What is the Wine Library Daily Offer?
If you've never subscribed to Wine Library's daily service before, you're in for a treat. This is your window into the best wine deals around ... highly rated wines from all the top critics, hard-to-find producers, and more ... all at the best prices PERIOD! We work tirelessly to create outrageous wine deals - if you're even a casual wine drinker, WLD will help you identify outstanding wines and save you tons of cash.
If you already receive our e-mail offers, nothing will change. However, if you'd prefer to remove the clutter from your inbox, WLD now effectively replaces our daily e-mail service. You can elect to receive Wine Library's exclusive daily wine offers via the method of your preference: Twitter, MySpace, Facebook, RSS (coming soon), or e-mail.
Subscribe today and share with your friends and family... they'll be thanking you for years to come!
You may have seen us featured in GQ magazine, The Wall Street Journal, New Jersey Monthly and elsewhere. Wine Library features a huge collection of top wines from around the world, great gifts and accessories, a daily video blog (Wine Library TV), a wide selection of futures, and much, much more!
Bottom line, we offer the lowest prices, the largest selection, lightning fast shipments and the greatest customer service in the industry! Winelibrary.com is your one-stop shop for everything wine... so what are you waiting for? Log on to winelibrary.com today!

Michele Chiarlo 2006 "Le Orme" Barbera d'Asti ($10.99)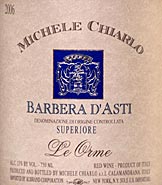 Very dark reddish-purple, with a clear garnet edge. Red-berry fruit, something like cranberries (only half-joking, perhaps a candidate for the Thanksgiving table), backed by subtle earthy, woody notes that stay well beneath the fruit. Tart cranberry flavors well shaped by zippy acidity, a good food wine with a variety of meat and poultry courses. U.S. importer: Kobrand Corp., NYC. (Nov. 24, 2008)
FOOD MATCH: As noted, it would be a fine, affordable companion to the holiday feast. We enjoyed it on a non-holidy work night with leftover chuck roast and garlicky mashed potatoes from a local restaurant.
VALUE: A wine of this quality in the $10 range makes a splendid "recession-buster."
WHEN TO DRINK: Barbera d'Asti falls into the happy category of wine that's delicious young and capable of cellaring. The winery suggests keeping it for up to seven years.
WEB LINK:
The winery Website is available in English and Italian. Here's a link to the fact sheet on "Le Orme" Barbera d'Asti.
http://www.chiarlo.it/english/vini/le_orme/scheda_vino.htm
FIND THIS WINE ONLINE:
Find vendors and compare prices for Michele Chiarlo "Le Orme" Barbera d'Asti on Wine-Searcher.com:
http://www.wine-searcher.com/
find/Chiarlo%2bOrme%2bBarbera/-/-/USD/A?referring_site=WLP

Talk About Wine Online
If you have questions, comments or ideas to share about today's article
or wine in general, you're always welcome to drop by our online
WineLovers Discussion Group. This link will take you to the forum home page, where you can read discussions in all the forum sections:
http://www.wineloverspage.com/forum/village
Everyone is free to browse. If you'd like to post a comment, question or reply, you must register, but registration is free and easy. Do take care to register using your real name, or as a minimum, your real first name and last initial. Anonymous registrations are quietly discarded.
To contact me by E-mail, write wine@wineloverspage.com. I'll respond personally to the extent that time and volume permit.
PRINT OUT TODAY'S ARTICLE
Here's a simply formatted copy of today's Wine Advisor, designed to be printed out for your scrapbook or file or downloaded to your PDA or other wireless device.
http://www.wineloverspage.com/wineadvisor2/2008/11/affordable_holiday_red-print.html