Local Riesling
Combining the month's Wine Focus on Riesling styles with our occasional examinations of Eastern U.S. wines, let's uncork one of the more obscure wines I'm ever likely to feature here: A Riesling from Kentucky.
This concept may not be as crazy as it first appears: If Kentucky is known for its limestone soil and water that produces great Bourbon, why shouldn't that terroir - not entirely different from some of Europe's best wine-growing areas - show well in Riesling, a grape variety particularly known for its expression of the earth in which it is grown?
Of course, there's the small matter of vineyard age and experience: Germany's Rhine has been producing great wine since the Emperor Charlemagne was crowned there more than 1,200 years ago. In contrast, Kentucky's modern wine tradition goes back maybe 15 or 20 years, although it's gaining a bit of momentum as farmers seek value-added agricultural alternatives to tobacco.
But these issues are typical of small-farm wineries in the Eastern U.S. The producer of today's Riesling, Lover's Leap Vineyard & Winery of Lawrenceburg, Ky., between Louisville and Frankfort, the state capital, boasts a few years of wine-making time. Jerry and Ann Holder have been growing grapes on their 24-acre property on a high bluff above the Kentucky River since 1994, and began producing wine there commercially early in the 2000s.
While I don't find a lot of limestone minerality in today's featured wine, Lover's Leap 2006 Kentucky Riesling, there is plenty of Riesling varietal character, with a ripe peach aroma and a back note of spearmint leading into a rather full texture. A touch of fresh-fruit sweetness is nicely balanced by tart acidity, and it finishes quite dry. My tasting notes are below.
Like many Eastern wines from small producers, Lover's Leap wines are not available in interstate commerce. You can buy them at the winery and select Kentucky retail shops. As always when I write about small-farm Eastern wines, my advice is simple: Get out in your own part of the world and support your local wineries. Chances are you'll find someone making an attractive Riesling nearby.
Today's Sponsor
What is the Wine Library Daily Offer?
If you've never subscribed to Wine Library's daily service before, you're in for a treat. This is your window into the best wine deals around ... highly rated wines from all the top critics, hard-to-find producers, and more ... all at the best prices PERIOD! We work tirelessly to create outrageous wine deals - if you're even a casual wine drinker, WLD will help you identify outstanding wines and save you tons of cash.
If you already receive our e-mail offers, nothing will change. However, if you'd prefer to remove the clutter from your inbox, WLD now effectively replaces our daily e-mail service. You can elect to receive Wine Library's exclusive daily wine offers via the method of your preference: Twitter, MySpace, Facebook, RSS (coming soon), or e-mail.
Subscribe today and share with your friends and family... they'll be thanking you for years to come!
You may have seen us featured in GQ magazine, The Wall Street Journal, New Jersey Monthly and elsewhere. Wine Library features a huge collection of top wines from around the world, great gifts and accessories, a daily video blog (Wine Library TV), a wide selection of futures, and much, much more!
Bottom line, we offer the lowest prices, the largest selection, lightning fast shipments and the greatest customer service in the industry! Winelibrary.com is your one-stop shop for everything wine... so what are you waiting for? Log on to winelibrary.com today!

Lover's Leap 2006 Kentucky Riesling ($10.99)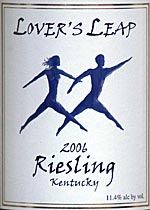 Clear light gold in color. Distinct peach aroma with a back note of something like spearmint. Rather full in texture, a first impression of fresh-fruit sweetness is nicely balanced by tart acidity and finishes quite dry. It's a fruit-driven Riesling ... I don't pick up minerality here, and perhaps terroir is unlikely in Kentucky's limestone soil and hot summer climate. Still, it's lightweight at 11.4% alcohol, nicely balanced and appealing and, as Rieslings do, works very well with a variety of food flavors. (Nov. 13, 2008)
FOOD MATCH: A natural match with Chinese vegetarian fare (pan-fried tofu with spinach and stir-fried eggplant and garlic) from a local restaurant.
VALUE: Even from an unfamiliar wine region, a quality Riesling for just over $10 makes a pretty good deal.
WHEN TO DRINK: Ready to drink but should hold up for a year or two.
WEB LINK:
Here's a list of wines on the winery Website, which also includes information about the winery, its owners and wine maker and more.
http://loversleapwine.com/LoverLeap-2008/WineList.htm
FIND THIS WINE ONLINE:
Because of its limited regional production, Lover's Leap Riesling and other Lover's Leap wines are only available at the winery and select Kentucky wine shops. As always when I feature local wineries, I encourage you to visit a small-farm winery in your own part of the world and support your local wine maker.

Talk About Wine Online
If you have questions, comments or ideas to share about today's article
or wine in general, you're always welcome to drop by our online
WineLovers Discussion Group. This link will take you to the forum home page, where you can read discussions in all the forum sections:
http://www.wineloverspage.com/forum/village
Everyone is free to browse. If you'd like to post a comment, question or reply, you must register, but registration is free and easy. Do take care to register using your real name, or as a minimum, your real first name and last initial. Anonymous registrations are quietly discarded.
To contact me by E-mail, write wine@wineloverspage.com. I'll respond personally to the extent that time and volume permit.
PRINT OUT TODAY'S ARTICLE
Here's a simply formatted copy of today's Wine Advisor, designed to be printed out for your scrapbook or file or downloaded to your PDA or other wireless device.
http://www.wineloverspage.com/wineadvisor2/2008/11/local_riesling-print.html