Is it French, or is it Argentine?
Here's an unusual marketing move: I picked up a wine the other day with a front label so basic that it provides no clue of its national origin.
"Zette 2003 Malbec" it reads, with the U.S. importer's logo stamped off center at the lower right.
Malbec? It must be Argentine, right? As we've often discussed, the Argentines have taken this ancient French grape and made it their own. But not so fast, bucko: this is a French wine from Cahors (where Malbec has long been the dominant grape), but you have to turn the bottle around to find that out: "Appellation Cahors Controllée" in very small print on the back is the only geographical giveaway.
The label goes on: "Terroir, meticulous care in the vineyard and cellar, plus 12 months aged in small oak casks combine to give you Zette - a modern Malbec with lush fruit flavors, medium body and notes of spice."
This makes me wary, very wary. A French firm that consciously omits its origin from the main label in the apparent hope of making you think the wine is Argentine does not inspire confidence. Nor does the back label, where "modern" and the references to oak and lush fruit are almost a sure sign of an international-style wine that despite the use of the trendy term "terroir" strikes me as unlikely to pay much homage to the Cahors region's centuries-old tradition.
Still, I'll approach it with an open mind. What did I find? Pretty much as I expected. This is one of those wines that divides wine lovers into competing camps. Some will like its fruit-forward, oaky style, but I'd prefer something that speaks a little more of the earth as well as the fruit. See my tasting report below.
Today's Sponsor
Gold Medal Wine Club
http://www.goldmedalwine.com
1-800-266-8888
Small-production, hard-to-find, award-winning wines from California's best small wineries.
As America's leading wine club, we conveniently deliver to you or your gift recipient's doorstep two outstanding wines each month from California's small, family-owned ultra-premium vineyards. The wines produced by these wineries are among the best in the world. There are five clubs to choose from.
Our Gold Series http://www.goldmedalwine.com/wine_clubs/gold.php starts at $34/month and features 2 award-winning California wines per month. The Platinum Series http://www.goldmedalwine.com/wine_clubs/platinum.php features wines with 90+ ratings and the Diamond Series http://www.goldmedalwine.com/wine_clubs/diamond.php is the cream of the crop with 93+ ratings.
Our International Series http://www.goldmedalwine.com/wine_clubs/international.php makes a perfect gift for those seeking adventure and knowledge about other cultures and their finest wines. And finally, our newest wine club, the Pinot Series http://www.goldmedalwine.com/wine_clubs/international.php is a must for any Pinot Noir lover interested in highly-regarded, limited production Pinots.
Gold Medal Wine always delivers award-winning quality wines and is always a great gift.

Zette 2003 Cahors Malbec ($12.99)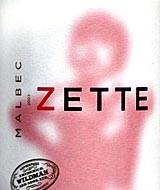 Inky dark reddish-violet with a clear garnet edge. Forward, plummy fruit and a significant whack of spicy oak on the nose. Oak actually dominates simple black fruit on the palate, with good acidity, warm 14% alcohol and astringent tannins joining the chorus. Made by Chateau Lagrazette, a producer known for more traditional Cahors in its higher-priced wines, it's international in style all right ... but not the style of Malbec that I enjoy. U.S. importer: Frederick Wildman & Sons Ltd., NYC. (Nov. 11, 2008)
FOOD MATCH: I chose a simplified variation on Seekh Kebab, curried lamb meatballs. It was a surprisingly fetching match between strong flavors on the plate and a bold wine.
VALUE: If you like the fruit-forward style, you'll have no complaints about this low-teens price.
WHEN TO DRINK: It won't fade in the near future, but I don't see it improving with further age.
WEB LINK:
The winery Website is published in French and English. Celebrating "500 years of Malbec tradition," it does not, as far as I can tell, mention the "Zette."
http://www.chateau-lagrezette.tm.fr
FIND THIS WINE ONLINE:
Find vendors and compare prices for Daniel Schuster New Zealand Riesling on Wine-Searcher.com:
http://www.wine-searcher.com/
find/Zette%2bMalbec/-/-/USD/A?referring_site=WLP

Talk About Wine Online
If you have questions, comments or ideas to share about today's article
or wine in general, you're always welcome to drop by our online
WineLovers Discussion Group. This link will take you to the forum home page, where you can read discussions in all the forum sections:
http://www.wineloverspage.com/forum/village
Everyone is free to browse. If you'd like to post a comment, question or reply, you must register, but registration is free and easy. Do take care to register using your real name, or as a minimum, your real first name and last initial. Anonymous registrations are quietly discarded.
To contact me by E-mail, write wine@wineloverspage.com. I'll respond personally to the extent that time and volume permit.
PRINT OUT TODAY'S ARTICLE
Here's a simply formatted copy of today's Wine Advisor, designed to be printed out for your scrapbook or file or downloaded to your PDA or other wireless device.
http://www.wineloverspage.com/wineadvisor2/2008/11/is_it_french_or_is_it_argentine-print.html