Another stunning Australian Riesling
When it comes to wine, I'm easily smitten. No one-grape man I, I'm generally ready for a flirtation with just about any new grape or region that strolls down the street, winks and says, "Hello, Sailor!"
But my latest infatuation comes as a bit of a surprise, because it involves a grape variety that most of the world loves but that I've generally left standing against the wall, waiting for the next guy to come along and take to the dance.
I'm talking about Riesling, the subject of this month's Wine Focus. It's widely ranked as one of the world's most noble grapes, with extra credit for food-friendliness.
But my personal taste buds have always found it just a little too intense, like a television with the contrast and brightness turned up too high; and the slight to extreme sweetness that accompanies many (not all) Rieslings is also a bit of a turnoff for me.
But then I started tasting Australian Riesling again, really for the first time since my last trip to Oz in 2003. Whoa! Puppy love! At this point I'm still working from a small recent sample, but the Aussies I've tasted so far this month have shown a consistent clarity and cut, steely acidity and intriguing minerality, all wrapped up in an elegant but austere bone-dry package that totally recalibrates my attitude about Riesling.
My friends tell me that a great vista is opening up before me now ... that once pointed in the right direction I'll be able to find more like this from Austria, from Alsace, and indeed from Germany itself, not to mention the New World. It's a new way of seeing Riesling, and at this point I'm ready for more.
Monday I reported on the delicious Alkoomi 2006 Riesling from the Frankland River region in Westerm Australia. Today's report features Wakefield 2005 Riesling, another delicious example of the Australian style from a more traditional Riesling region, the Clare Valley. My tasting notes are below.
To participate in Wine Focus, simply click to
http://www.wineloverspage.com/forum/village/viewforum.php?f=18
The discussions are open for public viewing, but you must register to post. Registration is free and easy; we ask only that you join following our Real Names Real Format system, using your real name in the format "John Doe" or "John D".
Once your registration has been approved, which usually happens quickly, you'll be able to participate in all our wine, food and travel forums in the popular WineLovers Discussion Group (WLDG).
Today's Sponsor
What is the Wine Library Daily Offer?
If you've never subscribed to Wine Library's daily service before, you're in for a treat. This is your window into the best wine deals around ... highly rated wines from all the top critics, hard-to-find producers, and more ... all at the best prices PERIOD! We work tirelessly to create outrageous wine deals - if you're even a casual wine drinker, WLD will help you identify outstanding wines and save you tons of cash.
If you already receive our e-mail offers, nothing will change. However, if you'd prefer to remove the clutter from your inbox, WLD now effectively replaces our daily e-mail service. You can elect to receive Wine Library's exclusive daily wine offers via the method of your preference: Twitter, MySpace, Facebook, RSS (coming soon), or e-mail.
Subscribe today and share with your friends and family... they'll be thanking you for years to come!
You may have seen us featured in GQ magazine, The Wall Street Journal, New Jersey Monthly and elsewhere. Wine Library features a huge collection of top wines from around the world, great gifts and accessories, a daily video blog (Wine Library TV), a wide selection of futures, and much, much more!
Bottom line, we offer the lowest prices, the largest selection, lightning fast shipments and the greatest customer service in the industry! Winelibrary.com is your one-stop shop for everything wine... so what are you waiting for? Log on to winelibrary.com today!

Wakefield 2005 Clare Valley Riesling ($18.99)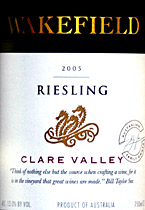 Transparent straw color. Limey with a light back note of Riesling "petrol." Mouth-filling in flavor, fresh and elegant fruit, apple and perhaps a whiff of mango, with a distinctly stony minerality in the background. Crisp, tangy acidity confers food-friendly character and cloaks any slight residual sweetness; the balance between fruit and snappy acidity is right on. Very fine Riesling, fits my recollections of the Australian style with its lime and near-dry acidity and rational 13 percent alcohol. It would make an interesting player in an international tasting. U.S. importer: Brown-Forman Beverages, Louisville. (Oct. 30, 2008)
FOOD MATCH: Riesling goes with just about anything? Sure enough! It made an exceptional match with an offbeat pairing, spaghetti with pesto made from fresh basil.
VALUE: The upper teens places it in competition with some good-quality European Rieslings, but character makes the case: This price is more than fair.
WHEN TO DRINK: Ready to drink, but as a structured, balanced Riesling under Stelvin screwcap, I would not hesitate to keep it 10 years or more under good cellar conditions.
WEB LINK:
The winery Website offers a detailed fact sheet on the 2007 Riesling, which is now in production, at this link:
http://www.wakefieldwines.com/ourWinesTaylors.php?id=433
FIND THIS WINE ONLINE:
Find vendors and compare prices for Wakefield Clare Valley Riesling on Wine-Searcher.com:
http://www.wine-searcher.com/
find/Wakefield%2bClare%2bRiesling/-/-/USD/A?referring_site=WLP

Talk About Wine Online
If you have questions, comments or ideas to share about today's article
or wine in general, you're always welcome to drop by our online
WineLovers Discussion Group. This link will take you to the forum home page, where you can read discussions in all the forum sections:
http://www.wineloverspage.com/forum/village
Everyone is free to browse. If you'd like to post a comment, question or reply, you must register, but registration is free and easy. Do take care to register using your real name, or as a minimum, your real first name and last initial. Anonymous registrations are quietly discarded.
To contact me by E-mail, write wine@wineloverspage.com. I'll respond personally to the extent that time and volume permit.
PRINT OUT TODAY'S ARTICLE
Here's a simply formatted copy of today's Wine Advisor, designed to be printed out for your scrapbook or file or downloaded to your PDA or other wireless device.
http://www.wineloverspage.com/wineadvisor2/2008/11/another_stunning_australian_ri-print.html