Wine Focus - Riesling styles
Arguably the greatest white wine grape and a competitor for top rank regardless of color, Riesling is known for its rare ability to reflect the character of the soil in which it grows.
In this month's Wine Focus on the WineLovers Discussion Group, we take on "the Styles of Riesling," inviting you to compare and contrast Rieslings from around the world.
From the Rieslings of Germany's Mosel and Rhine valleys - widely considered the gold standard - to Alsace and Austria and on around the world in every region where the Riesling grape is grown, you're invited to taste, think and comment interactively in the civil environment of our online forums.
For a start, I suggest you look over David Bueker's excellent online summary, " Riesling - It's all about style," posted at the top of the Wine Focus forum this month:
http://www.wineloverspage.com/forum/village/viewtopic.php?f=18&t=19648
Then, To participate in Wine Focus, simply click to
http://www.wineloverspage.com/forum/village/viewforum.php?f=18
The discussions are open for public viewing, but you must register to post. Registration is free and easy; we ask only that you join following our Real Names Real Format system, using your real name in the format "John Doe" or "John D".
Once your registration has been approved, which usually happens quickly, you'll be able to participate in all our wine, food and travel forums in the popular WineLovers Discussion Group (WLDG).
I'll open the discussion with a delicious Riesling we enjoyed over the weekend, one from a rather unexpected source but a very good one.
Alkoomi, a winery in Western Australia's Frankland River region, impressed me tremendously with its 2004 Frankland River Shiraz, a surprisingly elegant red made with a splash of white Viognier in the style of the Northern Rhone.
I'm smitten by the Riesling, too: Very attractive Riesling mango and pine and a whiff of "petrol" lead into a bold, bone-dry flavor framed by mouth-watering acidity. The attractive lime bespeaks Australia, but the structure, acidity and "clarity" of aroma and flavor could stand up well, I think, in a tasting of Alsatian or Austrian Rieslings. My tasting notes are below.
Today's Sponsor
A Memorable Business Gift with The California Wine Club!
Attention doctors, business owners and upper level executives: many customers like you have told us that The California Wine Club is a memorable holiday gift for clients and colleagues.
For nearly 20 years, The California Wine Club has featured award-winning wines from California's small "mom & pop" wineries. These handcrafted wines are made in such limited supply, they can't be found in local stores. A gift from The California Wine Club is a true wine adventure and an experience just not found anywhere else.
Gifts start at $34.95, volume discounts and additional corporate rewards are available. Call us today and let us help you with your gift giving needs. 1-800-777- 4443 or www.cawineclub.com

Alkoomi 2006 Frankland River Westerm Australia Riesling ($14.99)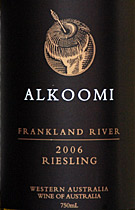 Clear straw color with a slight greenish hint of brass. Very attractive Riesling aroma, mango and pine; just a whiff of "petrol" develops on the second day in the Stelvin-capped bottle. Medium-bodied texture and bold flavor, bone-dry mango framed by mouth-watering acidity; a lemony snap lingers with mango and a minerally hint of something like slate in a vary long, dry and tart finish. Super food wine, with a deliciously rational 12.5% alcohol. U.S. importer: The Ravensvale Group, Manhasset, N.Y. (Oct. 31, 2008)
FOOD MATCH: Like Pinot Noir among the reds, Riesling is the white variety that goes with just about everything. It was great with a chicken pilaf with local free-range chicken, onions, garlic and basmati rice.
VALUE: Fine value at this price.
WHEN TO DRINK: Riesling is famously ageworthy, even in affordable bottlings, and the Alkoomi's balance and style - and its sturdy Stelvin-type screw cap - suggest that it could gain real complexity with cellaring. On the other hand, it's delightful now.
WEB LINK:
For a detailed fact sheet on Alkoomi 2006 Riesling, see this Adobe (PDF) file on the winery Website:
http://www.alkoomiwines.com.au/
upload/documents/Alkoomi%20BL%20riesling%202006.pdf
FIND THIS WINE ONLINE:
Find vendors and compare prices for Alkoomi Riesling on Wine-Searcher.com:
http://www.wine-searcher.com/
find/Alkoomi%2bRiesling/-/-/USD/A?referring_site=WLP

Talk About Wine Online
If you have questions, comments or ideas to share about today's article
or wine in general, you're always welcome to drop by our online WineLovers Discussion Group. This link will take you to the forum home page, where you can read discussions in all the forum sections:
http://www.wineloverspage.com/forum/village
Everyone is free to browse. If you'd like to post a comment, question or reply, you must register, but registration is free and easy. Do take care to register using your real name, or as a minimum, your real first name and last initial. Anonymous registrations are quietly discarded.
To contact me by E-mail, write wine@wineloverspage.com. I'll respond personally to the extent that time and volume permit.
PRINT OUT TODAY'S ARTICLE
Here's a simply formatted copy of today's Wine Advisor, designed to be printed out for your scrapbook or file or downloaded to your PDA or other wireless device.
http://www.wineloverspage.com/wineadvisor2/2008/11/wine_focus_riesling_styles-print.html