Boo! Scary Cab and a good book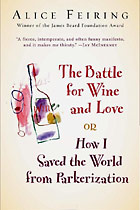 Boo!
Oh, and happy Halloween! I thought it would be fun to celebrate the holiday of ghosties and ghoulies and things that go bump in the night with a brief discussion of a New World wine so overpoweringly alcoholic, fat and sweetly tutti-frutti that it made me jump back and yell, "Whoa!"
While we're at it, let's have a look at a recent book by Alice Feiring, an excellent wine and travel writer and blogger ("Vino in Veritas," http://www.alicefeiring.com/).
Alice's "The Battle for Wine and Love: or How I Saved the World from Parkerization," covers some of the same ground as Jonathan Nossiter's 2005 documentary Mondovino and, frankly, ground that I've tilled repeatedly over the past decade.
Feiring focuses specifically the American wine critic Robert M. Parker as the primary culprit in an international move toward a low-acid, fat-fruit, high-alcohol and technically manipulated style of wine that has cut loose all connection with the earth that produced its grapes, and she bays at the moon - in a most delightful way - in a wrathful, serious yet often very funny blend of polemic, comedy and autobiography.
Although I think Feiring exaggerates a bit for effect, I can't say that I find serious disagreement with her underlying premise: The nature of commercial wine has changed dramatically since the 1980s, and the kinds of moderate, terroir-driven, complex and elegant wines that were commonplace in those days have become harder and harder to find as the 20th century slouched into the 21st.
Feiring pulls no punches: In one memorable line, she observed, "The wines that backed up at my door and dribbled into my glass were testaments to his brand. I had to reckon with the Parker power if I were to understand why most of what I tasted was the rough vinous equivalent of Hawaiian Punch."
Bam!
Yet Feiring is perhaps more persuasive than was Nossiter, who spread his net more widely to bewail globalization in the world wine industry by attacking Parker, Wine Spectator, "flying wine maker" Michel Rolland and many more, and whose "Candid Camera" style was so savage that it almost (but not quite) left one feeling sympathy for his victims.
As I wrote in "Parker swings, misses," (Dec. 7, 2007 30 Second Wine Advisor), "I respect Parker for his consistency. But, like a lot of other wine geeks I know, I find the wines he rates in the 90- to 100-point range to be too big, alcoholic and fruit-forward for me. The wines he dismisses in the 80-point range tend to be the kind of more subtle and elegant wines that I enjoy."
In my judgement, though, Parker needn't bear all the blame. I see it as a combination of climate change (let's avoid that controversial term "global warming") yielding riper and riper grapes that produce fruit-forward, high-alcohol wines, along with a global wine industry conscious of a critic-driven market that loves wines like that.
As I wrote in February 2007, "... the evidence is in the glass. ... Heat-wave vintages around the world have fostered idiosyncratically inky, powerful wines from many world wine regions. This gift of nature has played directly into increasing market demand based on high ratings by U.S. critics - particularly Robert M. Parker Jr. and Wine Spectator's writers - who seem to prefer fruit-forward 'blockbuster' wines to more traditional styles focused on earth and elegance.
"Hot vintages like 2000 and 2003 in Europe and 2001 in Northern California have yielded wines of critical acclaim, and prices seem to rise in tandem with alcohol levels and fruit extract. Meanwhile, the world of wine lovers is falling into opposing camps, separating those who love the jammy style from those who prefer the subtle complexity of more traditional wines."
Mark me in Feiring's camp: Her book is not for the faint-of-heart, not for those who object to the forthright expression of anger in literary yelling. But I think it's fun, and I think she's on track.
If you'd like to order Alice Feiring's "The Battle for Wine and Love: or How I Saved the World from Parkerization" from Amazon.com, it's available in hardcover at the following link for $15.64, a 32 percent saving from the $23 list price. Orders placed using this exact link will return a small commission to WineLoversPage.com.
http://www.amazon.com/exec/obidos/ASIN/0151012865/robingarrswineloA/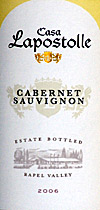 Casa Lapostolle 2006 Rapel Valley Cabernet Sauvignon ($13.99)
Let's not savage today's wine with a formal tasting report. Suffice it to say that this inky, high-octane fruit-bomb of a Chilean Cabernet, if not quite a Halloween trick, falls clearly into the kind of "new international style" wine that Parker enjoys but that Feiring, I assume, and I do not.
Dark as ink, it bursts from the glass with fruit-forward plums and berries and a distinct hint of woodsmoke, likely a signal of its 12 months in new French oak barrels. Full and ripe, juicy black fruit is dealt a blast of high octane by 14.5% alcohol that comes across, sadly, as harsh heat. Scratchy tannins linger with sweet fruit in the finish. It's not a bad wine with red meat on the table to tame its power and astringency, but I can't rate it as a great value for this price. U.S. importer: Marnier Lapostolle Co., NYC. (Oct. 29, 2008)

Today's Sponsor
What is the Wine Library Daily Offer?
If you've never subscribed to Wine Library's daily service before, you're in for a treat. This is your window into the best wine deals around ... highly rated wines from all the top critics, hard-to-find producers, and more ... all at the best prices PERIOD! We work tirelessly to create outrageous wine deals - if you're even a casual wine drinker, WLD will help you identify outstanding wines and save you tons of cash.
If you already receive our e-mail offers, nothing will change. However, if you'd prefer to remove the clutter from your inbox, WLD now effectively replaces our daily e-mail service. You can elect to receive Wine Library's exclusive daily wine offers via the method of your preference: Twitter, MySpace, Facebook, RSS (coming soon), or e-mail.
Subscribe today and share with your friends and family... they'll be thanking you for years to come!
You may have seen us featured in GQ magazine, The Wall Street Journal, New Jersey Monthly and elsewhere. Wine Library features a huge collection of top wines from around the world, great gifts and accessories, a daily video blog (Wine Library TV), a wide selection of futures, and much, much more!
Bottom line, we offer the lowest prices, the largest selection, lightning fast shipments and the greatest customer service in the industry! Winelibrary.com is your one-stop shop for everything wine... so what are you waiting for? Log on to winelibrary.com today!

Talk About Wine Online
If you have questions, comments or ideas to share about today's article
or wine in general, you're always welcome to drop by our online
WineLovers Discussion Group. This link will take you to the forum home page, where you can read discussions in all the forum sections:
http://www.wineloverspage.com/forum/village
Everyone is free to browse. If you'd like to post a comment, question or reply, you must register, but registration is free and easy. Do take care to register using your real name, or as a minimum, your real first name and last initial. Anonymous registrations are quietly discarded.
To contact me by E-mail, write wine@wineloverspage.com. I'll respond personally to the extent that time and volume permit.
PRINT OUT TODAY'S ARTICLE
Here's a simply formatted copy of today's Wine Advisor, designed to be printed out for your scrapbook or file or downloaded to your PDA or other wireless device.
http://www.wineloverspage.com/wineadvisor2/2008/10/boo_scary_cab_and_a_good_book-print.html