How old can Beaujolais go?
Beaujolais is a benchmark case of a wine not meant for aging.
Indeed, the annually promoted Nouveau Beaujolais, which will hit the news as usual when it arrives in November, is one of the most short-lived wines on Earth: The old conventional wisdom was that you bought it in late November and drank it up before New Year's.
Modern times have improved that record a bit, but it's generally a good idea to drink Nouveau within a few months (if at all, he adds snidely), and regular Beaujolais and Beaujolais-Villages within a year or two after the vintage.
But as with every rule, you'll find an occasional standout exception. In the case of Beaujolais, the exception comes in the region's "Cru" wines, those made from the vineyards around 10 specific villages so highly regarded that their wines are labeled with the village names rather than the generic "Beaujolais." Here's your shopping list: Brouilly, Chénas, Chiroubles, Côte de Brouilly, Fleurie, Juliénas, Morgon, Moulin-a-Vent, Régnié and Saint-Amour.
Just like the Nouveau, generic Beaujolais and Beaujolais-Villages, the "Crus" are made 100 percent from the Gamay grape; and in their youth they do share the variety's fruity strawberry character. But - particularly from the best artisanal producers - they add intriguing complexity and subtle minerality that you won't find in the simpler wines;
Unlike the more basic Beaujolais, a well-made "Cru" can evolve and gain interest with a few years of careful cellaring. With good luck it will develop into something bearing at least a cousinly kinship to Burgundy's Pinot Noir. (And it should be noted that, in ancient times, Gamay was permitted in Burgundy; and Beaujolais is legally considered the southernmost part of the Burgundy region and may optinoally carry the English legend "Red Burgundy Wine" on the label.
The other day, looking over some dusty bottles in a corner of my modest collection, I discovered a "cellar orphan," a single bottle of "Cru" Beaujolais that I had received as a gift from a friend years ago and frankly forgotten was there. A Juliénas subtitled "Cuvée Prestige" from Michel Tête's Domaine du Clos du Fief, it bore the 1999 vintage on a neck label.
A nine-year-old Cru Beaujolais? Who knew? Could it be any good? A look at the cork was reassuring: Well over an inch long, it was the kind of substantial, relatively costly stopper that producers rarely use unless a wine is meant for the cellar. The cork came out solid, firm and clean, and while a lot of red-clay earthiness rose from the bottle, so did good, ripe Gamay strawberry aromas.
The wine was fine, and a later peek at the Website of the importer, New York City's Michel/Dressner, indicated that I shouldn't have expected any less. Tête's Cuvée Prestige "is aromatically backward in its youth, and its dense, velvety matter develops harmoniously with some bottle age," Dressner wrote. That sounds about right to me. You'll find my tasting notes below.
Unfortunately, you'll be hard-pressed to find 1999 Tête Juliénas on the open market. But Wine-Searcher.com shows more recent vintages back to 2004 selling in the U.S. in the $19 to $25 range, and that's a pretty comfortable niche for a cellar-worthy wine.
Today's Sponsor
Finally! Access To Napa and Sonoma Valley's Most Prestigious Aged Cabernet Sauvignons
Experience aged Cabernets from top Napa producers like Jordan, Joseph Phelps, Mayacamas, Heitz, Clos du Val, Chappellet and many more.
Aged Cabernet is the ultimate reward of fine viticulture, deft winemaking and years of patience. Years in the cellar transform a finely made, boisterous young Cabernet into a magical mix of rich texture, multi-layered flavors and complex nuances of oak and tannin.
Introducing The Aged Cabernet Series. This exciting new club delivers premium Napa Valley Cabernets 10 to 15 years old, with our guarantee of quality, and your enjoyment.
Each month members will receive two different bottles of 10-15 year old Napa Valley Cabernet, aged in stringent temperature-controlled conditions and ready to drink now. Members may choose to receive shipments monthly, every other month or quarterly. Cost will average $150-$235 per shipment, every wine is 100% guaranteed and a discount of 20% is available on reorders (limited to 6 bottles per member).
Experience the luxury of aged Napa Valley Cabernets with The Aged Cabernet Series. Call 1-800-777-4443 to learn more or visit http://www.agedcabs.com
Michel Tête Domaine du Clos du Fief 1999 Juliénas Cuvée Prestige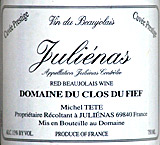 Very dark ruby with a touch of bronze at the clear edge but no real browning. Substantial earthiness has developed, something reminiscent of wet red clay, but there's a surprising touch of Gamay strawberry left too, and an intriguing minerally "gunflint" note in a complex, interesting aroma. Red-berry fruit and earth carry over on the palate with crisp, nicely balanced acidity. Holding up surprisingly well and showing at least a hint of "Burgundian" character. U.S. importer: LDM Inc., NYC; Michel/Dressner Selections. (Sept. 28, 2008)
FOOD MATCH: Birdie's eggplant and tomato "Choka," Trinidadian recipe from Madhur Jaffrey's "World Vegetarian" cookbook.
VALUE: Wine-Searcher.com shows recent vintages at retail in the U.S. in the $19 to $25 range. Cellar a young one for five years, and you'll have a wine that more than justifies that price.
WHEN TO DRINK: It has held up remarkably well even with "passive" cellaring, but I don't think I'd hold it much longer without a quality cellar capable of holding a constant 55F (13C); even with ideal cellaring, a decade is pushing it for even the best Beaujolais.
WEB LINK:
This link will take you to a short article about Michel Tête and his wines on the U.S. importer's Website:
http://Micheldressner.com/Tete/
FIND THIS WINE ONLINE:
The 1999 vintage would be difficult to locate except perhaps through private purchase from a collector, but this link will provide vendors and compare prices for more recent vintages of Michel Tête Domaine du Clos du Fief Juliénas on Wine-Searcher.com:
http://www.wine-searcher.com/
find/Tete%2bFief%2bJulienas/-/-/USD/A?referring_site=WLP

Talk About Wine Online
If you have questions, comments or ideas to share about today's article
or wine in general, you're always welcome to drop by our online WineLovers Discussion Group. This link will take you to the forum home page, where you can read discussions in all the forum sections:
http://www.wineloverspage.com/forum/village
Everyone is free to browse. If you'd like to post a comment, question or reply, you must register, but registration is free and easy. Do take care to register using your real name, or as a minimum, your real first name and last initial. Anonymous registrations are quietly discarded.
To contact me by E-mail, write wine@wineloverspage.com. I'll respond personally to the extent that time and volume permit.
PRINT OUT TODAY'S ARTICLE
Here's a simply formatted copy of today's Wine Advisor, designed to be printed out for your scrapbook or file or downloaded to your PDA or other wireless device.
http://www.wineloverspage.com/wineadvisor2/
2008/09/how_old_can_beaujolais_go-print.html