Hearty California red blend
So far this week we've offered a classic French Chardonnay from Chablis and a delicious value red from Sicily. Let's wrap up the week by swinging around to California for a taste of an offbeat, affordable red blend from a historic Russian River Valley producer.
Foppiano Vineyards, a landmark winery in the Sonoma County village of Healdsburg since 1896 (hence "Lot 96"), hails that history with this tasty, affordable red wine.
Lot 96 takes a bow in the direction of California's historic "field blends" with 19% Petite Sirah, 17% Zinfandel and 14% Carignane in the mix. But it adds a twist with a hearty dose of 28% Sangiovese, the primary grape of Tuscany's Chianti but not a variety that's gained much traction in Northern California despite the region's strong Italian heritage. Then, to put the icing on the cake, it adds splashes of the Bordeaux varieties Merlot (10%), Cabernet Sauvignon (9%) and Cabernet Franc (3%).
Frankly, I might not expect such a varietal slumgullion to yield an appealing mix, but Foppiano makes it happen, perhaps by making no real effort to emphasize varietal fruit in its grape sourcing or vinification.
As the winery Website (http://www.foppiano.com) states, "Lot 96 reflects Foppiano's original roots, dating to 1896, still family owned and operated. Lot 96 is ... a great value wine ... a wine that you can simply enjoy with your everyday meals and share with your family and friends."
That's a fair summation. Plums and cherries, juicy black fruit and snappy acidity come together to make it a good, simple red wine designed for enjoyment at the table. It's a decent value at the $12 winery price, which was mirrored at a neighborhood wine shop; it's an even better buy if you can find it discounted; Wine-Searcher.com shows it on sale as low as $7.49 in some markets. My tasting notes are below
Just featured on the Today Show at MSNBC.com as one of the 20 great wines I drank this summer.
This wine sells for $38 every day at the vineyard tasting room. During this special you can buy it for $31.99.
Famed vintner, Kirk Venge, goes full throttle in his multi-vineyard, multi-varietal winemaking strategy. In painstaking blending sessions, each component of the wine is allowed to express its unique characteristics, harmonizing the wine as a whole. The results are wonderfully balanced, full flavored wines, each with their own unique character. The 2005 Blend 24, is crafted in the Super Tuscan style with a touch of Petite Sirah. Cabernet and Merlot create a powerful structure; the venerable Sangiovese creates Tuscan allure. Full bodied and deep black/blue in color, this gorgeous wine has aromas of red rock candy, cassis and red stone fruit with a touch of French oak vanilla. The palate is bright cherry fruit, a hint of earth and impressive acid and tannin structure. Showing an array of old world influenced flavors and fine balance, this is a stimulating wine you won't want to put down. Click here to get this wine.
Explore Brix House Wine's fabulous new Gift Center. Click here to visit our gift center.

Foppiano Vineyards "Lot 96" California Red Wine ($11.99)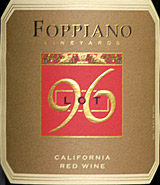 Dark purple, with ruby glints. Aromas of plums and cherries, juicy black fruit, carry over on the palate with fresh acidity and a distinct edge of tannins. A good, simple red wine designed for enjoyment at the table. (Sept. 13, 2008)
FOOD MATCH: It made a great match with hamburgers fashioned with natural local ground beef, served on mini-Pugliese rolls. On the other hand, I wouldn't turn it down with pasta with meat sauce, pizza or even a steak.
VALUE: Excellent value at this price, better still where discounted.
WHEN TO DRINK: It's made to drink now, but I'm in little doubt that it will still be drinking well after five years of cool cellaring.
WEB LINK: This long link on the winery Website describes a similar wine, although slight differences in the particulars suggest it may be a different bottling:
http://www.foppiano.com/wine.asp?wine=Lot%2096,%20Bin%20002
FIND THIS WINE ONLINE:
Find vendors and check prices for Durbanville Hills Sauvignon Blanc on Wine-Searcher.com:
http://www.wine-searcher.com/
find/Foppiano%2bLot%2b96/-/-/USD/A?referring_site=WLP

Talk About Wine Online
If you have questions, comments or ideas to share about today's article
or wine in general, you're always welcome to drop by our online
WineLovers Discussion Group. This link will take you to the forum home page, where you can read discussions in all the forum sections:
http://www.wineloverspage.com/forum/village
Everyone is free to browse. If you'd like to post a comment, question or reply, you must register, but registration is free and easy. Do take care to register using your real name, or as a minimum, your real first name and last initial. Anonymous registrations are quietly discarded.
To contact me by E-mail, write wine@wineloverspage.com. I'll respond personally to the extent that time and volume permit.
PRINT OUT TODAY'S ARTICLE
Here's a simply formatted copy of today's Wine Advisor, designed to be printed out for your scrapbook or file or downloaded to your PDA or other wireless device.
http://www.wineloverspage.com/wineadvisor2/
2008/09/hearty_california_red_blend-print.html