Chablis - Benchmark Chardonnay
It has been many years since any but the cheapest, most industrial American producers stopped abusing the respected name of "Chablis" by attaching it to cheap, insipid jug wines.
But an awful lot of consumers - even some savvy wine enthusiasts - remain a bit wary of the real, authentic Chablis because the memory lingers.
Take my word for it: The real thing from France - grown, produced and bottled in the northernmost satellite of Burgundy that bears this historic name - is just about as good as Chardonnay gets.
Chardonnay, of course, is the signature white-wine grape of Burgundy from stem to stern, and a wine lover could devote a lifetime to parsing out the differences among the whites of Burgundy alone, from Meursault to Montrachet and on and on.
But Chablis, owing to its granite soil, its northerly location and, not least, to a long tradition, boasts a special character all its own: Clean, lean and acidic, enhanced with a noteworthy minerality that speaks of stone and chalk. Historically, it rarely shows oak character, aging in steel or large, old-wood vats, allowing the transparency of pure cool-weather Chardonnay to show through.
The higher levels of Chablis - those from vineyards designated Premier Cru and Grand Cru - can be amazing in their complexity, seriously ageworthy and, alas, quite expensive. But even the simple, basic Chablis appellation, like today's featured wine from Francine and Olivier Savary, often show good regional and varietal character for a price that, if not downright cheap in today's economy, is more than competitive for its style. My tasting notes are below.
Remember, we're looking for your opinions on Chardonnay and oak as we spend this month in our Wine Focus forum seeking a wide range of the variety and, perhaps, drawing some conclusions about how much oak (if any) is permissible, and whether any consensus among wine enthusiasts is possible.
To participate in Wine Focus, simply click to
http://www.wineloverspage.com/forum/village/viewforum.php?f=18
The discussions are open for public viewing, but you must register to post. Registration is free and easy; we ask only that you join following our Real Names Real Format system, using your real name in the format "John Doe" or "John D".
Today's Sponsor
Pour Confidently With The California Wine Club!
The California Wine Club guarantees every wine featured because they do what other wine clubs do not:
• Guarantees that every wine comes from a smaller, real-working winery
• Visits each winery, gets to know the family and shares their stories with you
• Tastes thousands of wines before choosing the best
• Promises that every wine you receive is one you will pour with confidence
Experience The California Wine Club for yourself! Each month includes two bottles of award-winning wine and detailed 12-page publication, Uncorked. Just $34.95 per month and you may choose to receive wines monthly, every other month or quarterly. Visit www.cawineclub.com to become a member now, or call 1-800-777-4443.
The California Wine Club takes the guesswork out of picking wine and delivers the best wine, every time! Makes a fun and unique gift too!

Francine et Olivier Savary 2006 Chablis ($19.99)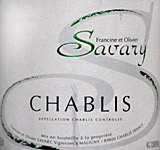 Light, transparent straw color. Fresh cooking-apple aromas and a distinct hint of rising bread dough. Fresh-apple flavors, tart and dry, are nicely shaped by crisp, fresh-fruit acidity. On the simple side at this young point - after all, it's a basic Chablis - but characteristic and nicely balanced, with a hint of chalky Chablis minerality in the long finish; rational 12.5% alcohol enhances its status as a dinner wine with seafood, poultry or pork. U.S. importer: Kermit Lynch Wine Merchant, Berkeley, Calif. (Sept. 21, 2008)
FOOD MATCH: The wine's appley character made it a particularly fine match with pork, specifically a natural and pasture-raised local pork chop, pan-seared and oven-roasted.
VALUE: Sadly, genuine Chablis can still be a hard sell for those familiar with the American imitation as a cheap jug wine, inoffensive at best. In the age of the strong Euro, however, $20 is not unusual for even the basic Chablis ... and the price is frankly competitive at this quality level. (I actually got a good price in Louisville, as Wine-Searcher.com shows a range from $22 to $24 for the basic Chablis; the Vieilles Vignes and single-vineyard bottlings are more.)
WHEN TO DRINK: Conventional wisdom holds that simple Chablis is best drunk up young while its fruit is fresh, but there should be no harm in keeping it on its side in a cool place for a year or so.
WEB LINK:
Here's a short biography of Kermit Lynch on the importer's Website. You can use the search engine entry form to search for "Savary" in PDF editions of the company newsletter, although I was not able to find a reference to the 2006 Savary Chablis.
http://www.kermitlynch.com/pgabout.html
FIND THIS WINE ONLINE:
Locate vendors and compare prices for Savary Chablis on Wine-Searcher.com:
http://www.wine-searcher.com/
find/Savary%2bChablis/-/-/USD/A?referring_site=WLP

Talk About Wine Online
If you have questions, comments or ideas to share about today's article
or wine in general, you're always welcome to drop by our online WineLovers Discussion Group. This link will take you to the forum home page, where you can read discussions in all the forum sections:
http://www.wineloverspage.com/forum/village
Everyone is free to browse. If you'd like to post a comment, question or reply, you must register, but registration is free and easy. Do take care to register using your real name, or as a minimum, your real first name and last initial. Anonymous registrations are quietly discarded.
To contact me by E-mail, write wine@wineloverspage.com. I'll respond personally to the extent that time and volume permit.
PRINT OUT TODAY'S ARTICLE
Here's a simply formatted copy of today's Wine Advisor, designed to be printed out for your scrapbook or file or downloaded to your PDA or other wireless device.
http://www.wineloverspage.com/wineadvisor2/
2008/09/chablis_benchmark_chardonnay-print.html