Super Tuscan tasting
We don't like Ike
If you're wondering where The 30 Second Wine Advisor has been this week, please assign the blame to the remnant of Hurricane Ike, which blew through here Sunday afternoon and left 300,000 homes in our town without electrical power for several days. We're back online now, with today's special edition. Sadly, more than 100,000 of our neighbors are still waiting for electricity; and of course the relatively minor wind damage here is small stuff compared with the folks in Texas and elsewhere who suffered serious damage. My heart, and best wishes, go out to them.
It's a bird ... it's a plane ... it's Super Tuscan!
No, a Super Tuscan is not an Italian version of Superman. But it's a super kind of Italian wine, based in spirit on the historic Chianti but boasting a modern history that began hardly a generation ago.
The Italian wine industry is very old, with its roots reaching back to ancient Rome and Greece; and Chianti has been made in Tuscany for well over 600 years. But it was only in the 1970s that the Italian wine industry and government finally set up specific regulations aimed at ensuring the quality and preserving the tradition of the best Italian regional wines.
To earn the right to label a wine "Chianti," for example, a producer had to follow the rules much as they had been laid out in the 14th century and refined during the 1800s: The grapes had to be grown within the strictly defined boundaries of this Tuscan region. Only an approved blend of grapes dominated by red Sangiovese could be used, and specific rules were set down for barrel aging.
These strict rules ensured a consistent product, but they also frustrated more innovative wine makers who wanted to experiment with variations on the theme. During the late 1970s and early '80s, an increasing number of them said the Italian equivalent of "the heck with it." They dropped the white Malvasia out of the mix, added French grapes like Cabernet Sauvignon and Merlot to the blend, and aged the wine in pricey French oak barrels.
Just as the regulators had feared, the wines - given proprietary names like Sassicaia and Tignanello and Ornellaia - were distinctly different from Chianti. But neither the critics nor the wine-buying public seemed to mind. The new wines sold out fast, even though the law permitted them to be labeled only as "Vino da Tavola" ("table wine"), a low-end classification that suddenly gained cachet.
Super Tuscans have earned a permanent place on the Italian wine landscape, and the combination of critical acclaim, demand and relatively limited supply has made this niche a spendy one, with prices for the most sought-after new releases approaching the three-figure range.
It was my pleasure to preside over a recent tasting in Louisville of eight very fine Tuscan wines - five Super Tuscans, a fine Chianti Classico, and one each of Chianti's cousins, Vino Nobile di Montepulciano and, perhaps Tuscany's finest wine of all, Brunello di Montalcino. Thanks to Republic National Distributing Company of Kentucky for providing the venue and the wines at its annual portfolio tasting.
Here's a look at the wines. I regret that, since I was doing the talking, I was unable to take notes. All the wines were well-made and enjoyable, though; many, save for the elegant Brunello, were made in an intensely extracted "modern" style, but even there, complexity and balance saved the day. I wouldn't pour any of them out of my glass.
Tenuta Trerose 2004 Vino Nobile di Montepulciano
A blend of Tuscany's Sangiovese and Canaiolo with French Cabernet Sauvignon, this is not a Super Tuscan but a traditional blend with a French twist from Montepulciano in southeastern Tuscany.
Ricasoli 2001 Castello di Brolio Chianti Classico
Again, under the new rules, a classic Chianti may now add the French Merlot and Cabernet - in limited proportions - to the traditional Sangiovese.
Tenuta Setti Ponti 2005 Oreno
First true "Super Tuscan" on the list, Oreno blends Cabernet Sauvignon, Merlot with Tuscany's Sangiovese.
Tenute Caparzo 2003 Brunello di Montalcino
A true classic, made entirely from Sangiovese Grosso, the specific "clone" of Sangiovese that's the hallmark of Brunello. Lighter in color than the other wines on the table, it was intense yet subtle and elegant. My favorite of the group.
Tenuta di Biserno 2006 Insoglio del Cinghiale
A Super Tuscan that drops the Italian grapes entirely, blending the Rhone grape Syrah with the Bordeaux grapes Cabernet Franc, Merlot and Petite Verdot.
Gaja 2005 Ca' Marcanda Magari
Another all-French blend - Merlot, Cabernet Sauvignon and Cabernet Franc - from a highly regarded producer.
Tenuta San Guido 2006 Guidalberto
The (comparatively) low-end bottling from the maker of Sassicaia, it's a Bordeaux-style blend of Cabernet Sauvignon and Merlot.
Tenuta San Guido 2005 Sassicaia
The original Super Tuscan, produced commercially since the 1960s, a blend of Cabernet Sauvignon and Cabernet Franc. Deep, dark and intense, it's a blockbuster of an internationally styled wine.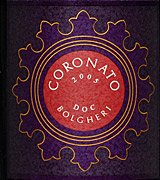 Tenuta dei Pianali 2005 "Coronato" Bolgheri ($65)
Finally, here are my notes on still another Super Tuscan, tasted at home with medium-rare Green River Kentucky rib eye steaks:
Very dark ruby. Black fruit, fresh but not overripe plums, cherries and currants and a hint of licorice ... Bordeaux grapes, all or in part? Good black-fruit flavor and zippy acidity, full and fresh, with just a touch of smooth tannins in the finish. It carries its 14% alcohol well, without obvious harshness or heat. Good wine, comes into its own with medium-rare natural rib eye steaks; but its retail price tag would have to be justified by cellar maturity. U.S. importer: Wilson Daniels Ltd., St. Helena, Calif. (Sept. 11, 2008)
FIND THESE WINES ONLINE:
Locate vendors and compare prices for specific wines, plug in key words on the search engine at Wine-Searcher.com:
http://www.wine-searcher.com/?referring_site=WLP
Today's Sponsor
Save up to 70% during The California Wine Club's Bountiful Harvest Wine Sales!
The last wine sale of the year is here with The California Wine Club! Take advantage of savings up to 70 percent off normal retail prices and stock up for the holidays or try something new. Visit the Wine Store at www.cawineclub.com to order now ... inventory is limited, please order early to guarantee the best selection.
You may also call 1-800-777-4443 and one of our Personal Wine Consultants will help choose the right wines for you.
The California Wine Club's Bountiful Harvest Wine Sale offers customers a chance to purchase from more than 300 award-winning, limited-production wines.
Super Savers for just $6.75 per bottle, Signature and International Selections are also on sale. Visit www.cawineclub.com to order or please call 1-800-777-4443.

Today's Sponsor
A message from WineLibrary.com
Are you on Wine Library's e-mail service? If not, you are missing out on the hottest new 90+ pointers at rock bottom prices! Log on to winelibrary.com to sign up for our daily offering or weekly recap today!
One highly rated wine you may have missed: Ryan Patrick Rock Island Red 2005, an outstanding red blend from Washington state. Rated 90 points in Wine Spectator, it's just $14.98 a bottle on sale at Wine Library, and drinks like wines selling for 2-3 times that price ... Log on to place your order today! Click here for details!
You may have seen us featured in GQ magazine, The Wall Street Journal, New Jersey Monthly and elsewhere. Wine Library features a huge collection of top wines from around the world, great gifts and accessories, a daily video blog (Wine Library TV), a wide selection of futures, and much, much more!
Bottom line, we offer the lowest prices, the largest selection, lightning fast shipments and the greatest customer service in the industry! Winelibrary.com is your one-stop shop for everything wine... so what are you waiting for? Log on to winelibrary.com today!

Talk About Wine Online
If you have questions, comments or ideas to share about today's article
or wine in general, you're always welcome to drop by our online
WineLovers Discussion Group. This link will take you to the forum home page, where you can read discussions in all the forum sections:
http://www.wineloverspage.com/forum/village
Everyone is free to browse. If you'd like to post a comment, question or reply, you must register, but registration is free and easy. Do take care to register using your real name, or as a minimum, your real first name and last initial. Anonymous registrations are quietly discarded.
To contact me by E-mail, write wine@wineloverspage.com. I'll respond personally to the extent that time and volume permit.
PRINT OUT TODAY'S ARTICLE
Here's a simply formatted copy of today's Wine Advisor, designed to be printed out for your scrapbook or file or downloaded to your PDA or other wireless device.
http://www.wineloverspage.com/wineadvisor2/2008/09/super_tuscan_tasting-print.html