Stylish California Chardonnay
Let's stick with the new month's Wine Focus theme for another day as we examine a stylish California Chardonnay that uses - but does not abuse - a kiss of oak and malolactic fermentation.
As we begin to examine the "spectrum of oak" in Chardonnay this month, today we move from Monday's "Inox" Chard, made entirely without oak by Oregon's Chehalem Winery, to a personal California favorite in the middle $20s price range, Sonoma-Cutrer's Sonoma Coast bottling.
This wine - almost ubiquitous in my home town, Louisville, because the winery is in the portfolio of local drinks conglomerate Brown-Forman - makes good use of oak during fermentation, adding subtle flavors that don't whack the consumer in the palate with a wooden plank.
The wine does undergo 100 percent malolactic fermentation, the wine-making process that converts the wine's naturally occurring malic acid, with its tartly acidic green-apple flavors, to lactic acid, the acid found in milk, which tones down the acidity to a softer level. Happily, Sonoma-Cutrer gets it right, producing a wine with good body that retains plenty of food-friendly acidity.
The wine turns out nicely balanced, showing some luscious tropical-fruit flavors along with the traditionally Chardonnay apple, with a good structure and body and a slightly high but acceptable 14.2 percent alcohol. You'll find today's tasting report below.
To participate in Wine Focus, this month and every month, simply click to
http://www.wineloverspage.com/forum/village/viewforum.php?f=18
The discussions are open for public viewing, but you must register to post. Registration is free and easy; we ask only that you join following our Real Names Real Format system, using your real name in the format "John Doe" or "John D".
Today's Sponsor
A message from WineLibrary.com
Are you on Wine Library's e-mail service? If not, you are missing out on the hottest new 90+ pointers at rock bottom prices! Log on to winelibrary.com to sign up for our daily offering or weekly recap today! One highly rated wine you may have missed: Turkey Flat Shiraz 2005, rated 95 points by Robert Parker himself before Jay Miller took over reviewing Australian wines in The Wine Advocate. This rich, concentrated Shiraz is under $40 a bottle at Wine Library... Log on to place your order today! Click here for details!
You may have seen us featured in GQ magazine, The Wall Street Journal, New Jersey Monthly and elsewhere. Wine Library features a huge collection of top wines from around the world, great gifts and accessories, a daily video blog (Wine Library TV), a wide selection of futures, and much, much more!
Bottom line, we offer the lowest prices, the largest selection, lightning fast shipments and the greatest customer service in the industry! Winelibrary.com is your one-stop shop for everything wine... so what are you waiting for? Log on to winelibrary.com today!

Sonoma-Cutrer 2005 Sonoma Coast Chardonnay ($25.99)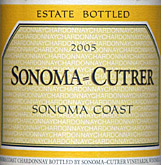 Very clear straw color. Apples, pineapple and dates, "tropical fruit" character is present but held well in hand. Mouth-filling, fresh fruit is well balanced by tart, mouth-watering acidity that builds a sturdy structure. Alcohol (14.2% claimed in the tiniest type I have ever seen) adds a hint of texture and warmth. Still, it's a nicely balanced and appealing estate-bottled Chardonnay from a maker that has consistently readjusted my instinctively somewhat negative attitude toward many fatter, softer California Chardonnays. (Sept. 2, 2008)
FOOD MATCH: Balanced Chardonnay marries well with pork, poultry or fish; it served well enough with a more unconventional match, a light and cooling late-summer dinner of Caprese, heirloom tomato caprese with fresh garden tomatoes and basil with fresh local cow's milk mozzarella, and a fresh spinach salad with hard-boiled eggs and warm bacon dressing.
VALUE: This is a popular restaurant wine locally; its middle $20s retail price at a wine shop here was $2 above the winery price, moving it toward upscale territory; but I prefer its style to some more pricey and sought-after California "buttery blockbusters."
WHEN TO DRINK: Ready to enjoy, although I see no reason a balanced Chardonnay of this quality wouldn't gain richness over at least a few years in the cellar.
WEB LINK:
The Sonoma-Cutrer Website follows the mildly irritating policy of requiring visitors to pause and respond to a pulldown menu declaring date of birth and country of residence before entering the site.
http://www.sonomacutrer.com
This link will take you to a fact sheet on today's wine, where those in states where the law allows may order it online:
http://www.sonomacutrer.com/sonoma_coast.aspx
FIND THIS WINE ONLINE:
Find vendors and compare prices Sonoma-Cutrer wines on Wine-Searcher.com:
http://www.wine-searcher.com/
find/Sonoma%2bCutrer/-/-/USD/A?referring_site=WLP

Talk About Wine Online
If you have questions, comments or ideas to share about today's article
or wine in general, you're always welcome to drop by our online
WineLovers Discussion Group. This link will take you to the forum home page, where you can read discussions in all the forum sections:
http://www.wineloverspage.com/forum/village
Everyone is free to browse. If you'd like to post a comment, question or reply, you must register, but registration is free and easy. Do take care to register using your real name, or as a minimum, your real first name and last initial. Anonymous registrations are quietly discarded.
To contact me by E-mail, write wine@wineloverspage.com. I'll respond personally to the extent that time and volume permit.
PRINT OUT TODAY'S ARTICLE
Here's a simply formatted copy of today's Wine Advisor, designed to be printed out for your scrapbook or file or downloaded to your PDA or other wireless device.
http://www.wineloverspage.com/wineadvisor2/2008/09/stylish_california_chardonnay-print.html