Two well-aged Cal Cabs
After weeks of promises, let's finally go over my report on two delicious, mature 1992 Napa Cabernets - Joseph Phelps and Clos du Val - that I received last month from our friends at The Aged Cabernet Series.
It's a rare thing for me to report on older wines or wines at a higher price point. But having a rare opportunity to enjoy a couple of mature Cal Cabs fresh out of the box, I thought you might enjoy hearing about my reactions to them and the ways in which aging changes the style of the wine from the fruit and tannins in youthful Napa and other California Cabernets.
It's hardly practical to offer a detailed tutorial about aging wine in a short article, and it's arguable that the best education comes from tasting. But let's hit a few highlights about cellaring and aging that are well worth keeping in mind.
• Most wines don't age. This point is simple but often overlooked. Probably 99 percent of all the wines made in the world, including virtually all inexpensive wines, are never better than when they are first bottled. Only a tiny fraction are made to age, and an even smaller number require aging. Look to the most "noble" red grapes - Cabernet Sauvignon and the Bordeaux blends, Syrah and Shiraz, top Italian red grapes and, of course, the finer Pinot Noirs, for your cellar candidates. Ageworthy white wines are even more rare, although Riesling and Chenin Blanc and a few exceptional Chardonnays will gain from aging. Sweet and fortified wines, particularly Port and late-harvest whites like Sauternes, will also age into a golden maturity. But never assume that a $5 jug wine - or even a $10 "QPR" value - will benefit from cellaring. Chances are it won't.
• Aging wines need care.. Even the most cellarworthy wines won't thrive if you keep them under poor conditions. The kitchen cabinet or other warm place is worst. A wine rack at room temperature (or a wine-shop rack in the open store environment) is slightly better, assuming horizontal storage position and air-conditioning. But for long-term cellaring, as we're discussing here, keeping find young wines for 10, 20 years or more, you must have a temperature-controlled cellar that holds the wines horizontally at a constant temperature close to 55F (13C), the approximate temperature of natural caves.
• What happens when wine ages? Again assuming an ageworthy wine kept under excellent conditions, the primary reaction that takes place over time involves changes (technically, polymerization, primarily) in the organic compounds called tannins that occur naturally in ageable wines from the red grape skins and seeds as well as the oak barrels in which the wine may be fermented and stored. As time goes by, the wine's color may change a bit, taking on more brownish or golden colors or, among reds, sometimes becoming lighter. The youthful fruit aromas and flavors (sometimes called "primary") and the aroma characteristics associated with wine making - yeast and oak, for example - (called "secondary") will begin to fade somewhat, ideally remaining present but taking a back seat to the intriguing, complex earthy flavors ("tertiary"), which may evoke a wide range of attractive aromas and flavors from toast or leather to woodsy or spicy scents. At the same time, the changes in tannins reduce or remove the rough astringency associated with young tannins, replacing this with a more smooth and mellow texture. And all this assumes that the young wine offered a good balance of fruit, acidity and tannins in the first place. A youthful wine that's out of whack and imbalanced isn't likely to achieve greater grace and elegance with age.
The two wines I report today - Clos du Val 1992 Stags Leap District Napa Valley Cabernet Sauvignon and Joseph Phelps Vineyards 1992 Napa Valley Cabernet Sauvignon, both showed delightfully and, I think, characteristically for maturing Napa Cabernet - in recent tastings, 16 years after the vintage.
I received them both in a recent special shipment from The Aged Cabernet Series, which will be releasing both of them in club shipments this autumn.
For details on this club, which distributes only well-cellared Napa Valley Cabernet Sauvignon in the range of 10 to 15 years old, see its sponsorship notice in Monday's 30 Second Wine Advisor.
As I've written about this series before, I can't recall when I've ever been as excited about a wine opportunity. For those of us who love CalCabs but neglected to build a cellar, it's like a second chance in wine life to have access to these beauties from so many of the classic producers, carefully cellared and ready to drink. If you love mature CalCabs, and especially the older classics, as much as I do, then I strongly recommend that you sign on soon. Some of these treasures are necessarily available in only small quantities, and they surely won't last long.
For information about The Aged
Cabernet Series, call 1-800-777-4443 or visit
http://www.cawineclub.com/aged-cabernet-series
Here are my reports on these two recently tasted treasures:
Clos du Val 1992 Stags Leap District Napa Valley Cabernet Sauvignon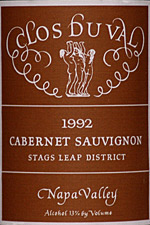 Roses and cedar nuances over blackcurrant Cabernet fruit, a hint of old-fashioned rose potpourri. Similar on the palate, subtle fruit and elusive aromatics in the mouth, good acidity and still a surprising, not unpleasant edge of tannins remaining. Mature now, but shows the material to continue to evolve under good cellar conditions for another decade. A wonderful match with pan-seared grass-fed rib eye steaks with plenty of cracked pepper. Winery Website: http://www.closduval.com (July 12, 2008)
Joseph Phelps Vineyards 1992 Napa Valley Cabernet Sauvignon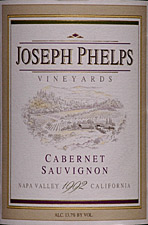 Dark garnet color, still clear at the edge. Good dusty mineral nuances and subtle licorice aromas over Cabernet blackcurrant on the nose. Mouth-filling and fresh, still plenty of good black fruit surviving, crisp acidity and smooth tannins integrating nicely with age. Beautifully balanced, from the days when 13.7% alcohol was a rational level for Cabernet. No rush to drink it yet if you have good cellar conditions for further storage, but it's showing beautifully now. Always excellent with rare red meat, beef or lamb, it was a delight with fresh, locally grown lamb burgers scented with a little curry and cumin. Winery Website: http://www.jpvwines.com (July 13, 2008)
Today's Sponsor
Announcing Gary Vaynerchuk's Thunder Cruise!
This is the vacation opportunity no wine lover will want to miss! Gary Vaynerchuk's Thunder Cruise is sure to be the most over-the-top, spectacular wine event ever produced. Reserve your spot on the Thunder Cruise today ... visit garyvthundercruise.com for full details!
Launching from Fort Lauderdale, FL on April 18, 2009, this 7-day wine cruise will be a week chock full of wine tasting events, including an elaborate super tasting and much, much more! Tickets are on sale now, book early to ensure the best possible price. Log on to garyvthundercruise.com to reserve your space on the ship.
Are you on Wine Library's e-mail service? If not, you are missing out on the hottest new 90+ pointers at rock bottom prices! Log on to winelibrary.com to sign up for our daily offering or weekly recap today! Wine Library offers the lowest prices, the largest selection, lightning-fast shipments and the greatest customer service in the industry! Winelibrary.com is your one-stop shop for everything wine ... so what are you waiting for? Log on to winelibrary.com today!

Talk About Wine Online
If you have questions, comments or ideas to share about today's article
or wine in general, you're always welcome to drop by our online
WineLovers Discussion Group. This link will take you to the forum home page, where you can read discussions in all the forum sections:
http://www.wineloverspage.com/forum/village
Everyone is free to browse. If you'd like to post a comment, question or reply, you must register, but registration is free and easy. Do take care to register using your real name, or as a minimum, your real first name and last initial. Anonymous registrations are quietly discarded.
To contact me by E-mail, write wine@wineloverspage.com. I'll respond personally to the extent that time and volume permit.
PRINT OUT TODAY'S ARTICLE
Here's a simply formatted copy of today's Wine Advisor, designed to be printed out for your scrapbook or file or downloaded to your PDA or other wireless device.
http://www.wineloverspage.com/wineadvisor2/
2008/08/two_wellaged_cal_cabs-print.html