An organic Zinfandel
Our Wine Focus discussions on the various styles of Zinfandel (plus Italian Primitivo) have been unusually active this month, underscoring the popularity of this Croatian-immigrant grape variety that was once considered uniquely American but that's gaining attention around the world.
As a wine enthusiast who's okay with Zin but not really a huge fan, it's been an educational month for me. Given the opportunity to shop and taste more Zinfandel than I usually do, I'm developing a growing affection for this grape, with the caveat that I'm still not warming up much to the high-octane "grape cocktail" approach that we see from some wineries.
Still, in today's tasting report, I'm forced to admit that I enjoyed a Zin built at a potent 14.5% alcohol, but made with the texture and balance to carry that strength. It's the 2006 Mendocino Zinfandel from Bonterra Vineyards, a producer of whom I'm becoming increasingly fond, not only because of its significant commitment to organic and sustainable agriculture but because its wines generaly provide good value in a style that I enjoy.
I praised the 2006 Cabernet Sauvignon in the July 7, 2008 Wine Advisor. I'm happy to report that the 2006 Zinfandel was a pleasure, too.
Typical of Bonterra's product line, this zin is made from certified organically grown grapes with select lots of certified biodynamic grapes.
Although I'm not convinced that "organic" and "biodynamic" show up in the bottle in a way that can be detected in a blind tasting, I do harbor respect for producers - not only artisanal but also larger companies like Bonterra and its parent Brown-Forman Corp. - willing to undertake the additional effort necessary to practice sustainable agriculture and tread lightly on the earth.
If you, like me, didn't realize that Bonterra made a Zinfandel, there's an interesting side story on Bonterra Zinfandel, passed along by Brown-Forman wine educator Hoke Harden in our WineLovers Discussion Group.
Because there's only a limited supply of organic Mendocino Zinfandel grapes, the company originally decided not to market it in the United States but to export the entire production to Europe and the United Kingdom. So, for years, Europeans had access to this tasty Zin, but it wasn't sold in the U.S.
It was only in recent years, Harden said, with more organic Mendocino fruit available, that company officials "sat up and said, 'Hey, Zinfandel is the heritage grape for Mendocino, and we're in Mendocino. Maybe we should be selling Bonterra Zinfandel here in the U.S.'"
So, recent vintages are now available here, and I'm glad. You'll find my tasting report on the 2006 below.
Remember, you're warmly welcome to participate in our Wine Focus discussions with your questions, comments or tasting notes about Zinfandel or Primitivo this month. Simply click to
http://www.wineloverspage.com/forum/village/viewforum.php?f=18
The discussions are open for public viewing, but you must register to post. Registration is free and easy; we ask only that you join following our Real Names Real Format system, using your real name in the format "John Doe" or "John D".
Today's Sponsor
Announcing Gary Vaynerchuk's Thunder Cruise!
This is the vacation opportunity no wine lover will want to miss! Gary Vaynerchuk's Thunder Cruise is sure to be the most over-the-top, spectacular wine event ever produced. Reserve your spot on the Thunder Cruise today ... visit garyvthundercruise.com for full details!
Launching from Fort Lauderdale, FL on April 18, 2009, this 7-day wine cruise will be a week chock full of wine tasting events, including an elaborate super tasting and much, much more! Tickets are on sale now, book early to ensure the best possible price. Log on to garyvthundercruise.com to reserve your space on the ship.
Are you on Wine Library's e-mail service? If not, you are missing out on the hottest new 90+ pointers at rock bottom prices! Log on to winelibrary.com to sign up for our daily offering or weekly recap today! Wine Library offers the lowest prices, the largest selection, lightning-fast shipments and the greatest customer service in the industry! Winelibrary.com is your one-stop shop for everything wine ... so what are you waiting for? Log on to winelibrary.com today!

Bonterra Vineyards 2006 Mendocino County Zinfandel ($14.99)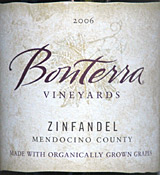 Very appetizing aromas of mixed berries - I persuade myself that I can make out blackberry, black raspberry and blueberry all three, plus maybe a hint of raspberry liqueur. Similar flavors fill the palate with juicy but reasonably restrained bramble fruit, well balanced with appropriate acidity. The 14.5% alcohol really doesn't show in any objectionable way; it fits the structure of this hearty but balanced wine. (Aug. 8, 2008)
FOOD MATCH: As is typical of Bonterra's portfolio in my experience, it's a food-friendly Zin. Zinfandel just about always sings with grilled red meat or poultry, but it was fine, too, with spaghetti with a summer garden sauce of fresh tomatoes and summer squash, made into an Italian-American style "gravy" with local natural ground beef.
VALUE: The middle teens are more than fair for Zin of this quality, and for those who prefer to go "green," you're paying no apparent premium for the organic certification.
WHEN TO DRINK: As always, we return to the debate over whether Zin benefits from aging. There's no rush here, but I'd drink this one during the next few years rather than aging it as a cellar keeper.
WEB LINK:
Here's a winery fact sheet on the Bonterra Zinfandel:
http://bonterra.com/wine_info.asp?winetype=zinfandel2006
For a more detailed winery tasting report, see this PDF file:
http://bonterra.com/popup/Zinfandel2006.pdf
FIND THIS WINE ONLINE:
Find vendors and compare prices for Bonterra Zinfandel on Wine-Searcher.com:
http://www.wine-searcher.com/
find/Bonterra%2bZinfandel/-/-/USD/A?referring_site=WLP

Talk About Wine Online
If you have questions, comments or ideas to share about today's article
or wine in general, you're always welcome to drop by our online
WineLovers Discussion Group. This link will take you to the forum home page, where you can read discussions in all the forum sections:
http://www.wineloverspage.com/forum/village
Everyone is free to browse. If you'd like to post a comment, question or reply, you must register, but registration is free and easy. Do take care to register using your real name, or as a minimum, your real first name and last initial. Anonymous registrations are quietly discarded.
To contact me by E-mail, write wine@wineloverspage.com. I'll respond personally to the extent that time and volume permit.
PRINT OUT TODAY'S ARTICLE
Here's a simply formatted copy of today's Wine Advisor, designed to be printed out for your scrapbook or file or downloaded to your PDA or other wireless device.
http://www.wineloverspage.com/wineadvisor2/
2008/08/an_organic_zinfandel-print.html