Old-fashioned Zin
So many modern Zinfandels are ramped up with high-octane, almost liquorish intensity that they've come to seem more like a cocktail than an accompaniment with dinner for me.
It's just another chapter in the overall trend that I've discussed (and decried) many times before, a complex collection of events that range from warmer world temperatures that yield riper fruit with more sugars to be converted to alcohol, to a marketplace driven at least in part by critics who seem to prefer a beverage with a boozy whack to a subtle and elegant accompaniment to food.
The growing power and monolithic intensity of many modern wines is often critized as a New World phenomenon, and certainly such treats as Napa Cabernets with 16 percent alcohol, Central Coast Pinot Noirs that taste like overripe Syrah, and Australian Shiraz that resembles blueberry milkshakes have a lot to answer for. But we're seeing similar trends in the Old World too, not only from such warm climates as Southern Italy and parts of Spain but even the French Rhone, Alsace and even, for heaven's sake, Burgundy.
But I've ranted this rant before, and that's enough of a reprise for today. Let's circle back to the subject du jour, Zinfandel, a wine that I loved in the 1980s but that has generally become so turbo-charged that I rarely enjoy it any more.
With a few glorious exceptions. Here and there across the map of California, a few old-style producers hold the stylistic line, making classically styled, "old-fashioned" Zins that take me back to the days when I bought the variety with pleasure.
Sure, alcohols have crept upward - a pattern of record warm seasons will do that. But when you're stuck with lemons, you make lemonade; and when you're stuck with ripe, sugar-laden grapes, you can still bring the wine-maker's art to bear and produce a wine that's both ripe and exuberant and elegant and graceful, that marry well with appropriate food and that don't prompt you to summon the bartender for a glass of water back.
Today's featured wine is from Pedroncelli in Sonoma, one of the many Italian families that broke the ground for California wine and that sticks to the old traditions.
Its 2005 Dry Creek Valley "Mother Clone" Zinfandel is a beauty. Yes, at a lusty 14.9 percent alcohol, it's a big boy. But its clean, fresh and exuberant expression of "bramble" berry fruit takes me back to Zin the way it used to be. You'll find my notes below

Today's Sponsor
A message from WineLibrary.com
Starting Wednesday July 23, Wine Library's biggest sale of the year! Wine Library's Customer Appreciation Sale has arrived. Click here for details!
Are you on Wine Library's e-mail service? If not, you are missing out on the hottest new 90+ pointers at rock bottom prices! Log on to winelibrary.com to sign up for our daily offering or weekly recap today!
You may have seen us featured in GQ magazine, The Wall Street Journal, New Jersey Monthly and elsewhere. Wine Library features a huge collection of top wines from around the world, great gifts and accessories, a daily video blog (Wine Library TV), a wide selection of futures, and much, much more!
Bottom line, we offer the lowest prices, the largest selection, lightning fast shipments and the greatest customer service in the industry! Winelibrary.com is your one-stop shop for everything wine... so what are you waiting for? Log on to winelibrary.com today!

Pedroncelli 2005 Dry Creek Valley Sonoma County "Mother Clone" Zinfandel ($17)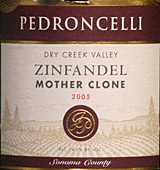 Clear, very dark garnet, with reddish-violet glints against the light. Excellent Zinfandel aromas, blackberry and black raspberry, luscious and ripe but stops short of overly "jammy." Flavors follow the nose, juicy bramble fruit nicely shaped by crisp acidity and the body and warmth that attend 14.9% alcohol, on the potent side but well handled and balanced, carries all that alcohol well.
FOOD MATCH: Grilled meat will handle just about any good Zin, but we went in a Mediterranean direction, pairing it with a flavorful summer garden saute of ground lamb and fresh Italian eggplant, onions and green peppers and fresh Roma tomatoes over cavatappi pasta with a good sprinkle of Pecorino Romano cheese.
VALUE: Zin this good in the middle teens is a rare treat, and it's widely available for a few bucks under the $17 winery price. At its current $10.99 price in California Wine Club's online store, you might want to buy it by the case.
http://www.cawineclub.com/Pedroncelli-Winery-%26-Vineyards-
2005-Dry-Creek-Valley-Zinfandel-Mother-Clone_PD364.html
WHEN TO DRINK: Wine lovers engage in neverending debate as to the merits of cellaring Zin. I love it while it's still full of youthful, exuberant fruit, so I think this one is drinking perfectly. But it would likely gain style and grace - at the possible cost of more subtle fruit - after a few years of careful cellaring.
WEB LINK:
Here's a link to the Pedroncelli Website:
http://www.pedroncelli.com/
FIND THIS WINE ONLINE:
As noted above, the Pedroncelli 2005 "Mother Clone" Zinfandel is currently available from California Wine Club's online store for $10.99 while it lasts.
http://www.cawineclub.com/Pedroncelli-Winery-%26-Vineyards-
2005-Dry-Creek-Valley-Zinfandel-Mother-Clone_PD364.html
Find vendors and check prices for Pedroncelli Zinfandel on Wine-Searcher.com:
http://www.wine-searcher.com/
find/Pedroncelli%2bZinfandel/-/-/USD/A?referring_site=WLP

Talk About Wine Online
If you have questions, comments or ideas to share about today's article
or wine in general, you're always welcome to drop by our online
WineLovers Discussion Group. This link will take you to the forum home page, where you can read discussions in all the forum sections:
http://www.wineloverspage.com/forum/village
Everyone is free to browse. If you'd like to post a comment, question or reply, you must register, but registration is free and easy. Do take care to register using your real name, or as a minimum, your real first name and last initial. Anonymous registrations are quietly discarded.
To contact me by E-mail, write wine@wineloverspage.com. I'll respond personally to the extent that time and volume permit.
PRINT OUT TODAY'S ARTICLE
Here's a simply formatted copy of today's Wine Advisor, designed to be printed out for your scrapbook or file or downloaded to your PDA or other wireless device.
http://www.wineloverspage.com/wineadvisor2/
2008/07/oldfashioned_zin-print.html