Wine Focus - Sauvignon Blanc
As the Northern Hemisphere moves into the summer heat of July, it makes sense to aim our monthly Wine Focus at a grape variety that can yield wines with serious class and distinction but that also can be chilled right down to make a cooling summer quaff.
Sauvignon Blanc traces its native home to the Loire Valley, where it builds its reputation with tart, aromatic regional wines such as Sancerre and Pouilly-Fumé (not to be confused with the Pouilly-Fuissé of Burgundy).
It's one of the two primary players (with Semillon) in White Bordeaux; and it's grown literally around the world, in just about every region where wine is made. It has found a particularly welcoming home in the Southern Hemisphere, from South Africa to Chile and Down Under, where New Zealand has made Sauvignon Blanc its trademark wine.
If a single word can be used to describe the grape's aromatic flavor, it might be "zest," evoking both a refreshing tartness and distinct citrus character. In many Sauvignon Blancs, the second word might be "catbox," or to be more socially acceptable, "boxwood," the striking aroma attributable to the chemical methoxypyrazine. Depending largely on sun exposure during ripening, Sauvignon Blancs tend to span a spectrum from bright and citric to "green" and "grassy," depending on growing conditions.
One of the most interesting factoids about this grape is the relatively recent discovery by Dr. Carole Meredith of the University of California at Davis that Sauvignon Blanc is actually a parent (crossed with Cabernet Franc) of Cabernet Sauvignon, a variety that most people likely consider of significantly more gravitas than either of its ancestors.
To participate, simply bring your tasting notes, comments and questions on Sauvignon Blanc to the Wine Focus section of our WineLovers Discussion Group,
http://www.wineloverspage.com/forum/village/viewforum.php?f=18
You're welcome to tell us about any Sauvignon Blanc from around the world, but since the French models get so much attention, we're particularly interested in hearing about your New World wines. You'll find my notes below on a Chilean example, Casa Lapostolle 2007 Rapel Valley Sauvignon Blanc, which I praised for its sunny aromatics but dinged a bit for a hot, alcoholic finish.
Today's Sponsor
A message from WineLibrary.com
Are you on Wine Library's e-mail service? If not, you are missing out on the hottest new 90+ pointers at rock bottom prices! Log on to winelibrary.com to sign up for our daily offering or weekly recap today! One recently featured wine you may have missed: Alamos Seleccion Malbec. Named a Best Buy by Robert Parker's The Wine Advocate and scored 90 points by Jay Miller, this Argentinean red provides undeniable value at just $11.99 per bottle. Now available at Wine Library... log on to place your order today! Click here for details!
You may have seen us featured in GQ magazine, The Wall Street Journal, New Jersey Monthly and elsewhere. Wine Library features a huge collection of top wines from around the world, great gifts and accessories, a daily video blog (Wine Library TV), a wide selection of futures, and much, much more!
Bottom line, we offer the lowest prices, the largest selection, lightning fast shipments and the greatest customer service in the industry! Winelibrary.com is your one-stop shop for everything wine ... so what are you waiting for? Log on to winelibrary.com today!

Casa Lapostolle 2007 Rapel Valley Sauvignon Blanc ($10.99)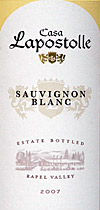 Transparent, pale straw color. Fragrant aromas of peach, melon and grapefruit and a touch of a more characteristic Sauvignon Blanc "grassy" note in the background. Ripe and tart citrus flavors, perhaps just a hint of sweetness cloaked by fresh acidity. Relatively high (14.1%) alcohol adds a breath of heat in the finish. U.S. importer: Marnier-Lapostolle Inc., NYC. (June 30, 2008)
FOOD MATCH: The producer recommends it as an aperitif; I think aromatic chicken or seafood and fish dishes might better tame that high alcohol and acidity. It was fine with a summery potato salad made with wood-smoked salmon and Greek yogurt.
VALUE: Provided you're on board with the high-alcohol style, the $10 range is hard to beat. It may pay to shop around, as prices vary; Wine-Searcher.com shows it ranging from $8 to $15 at various merchants.
WHEN TO DRINK: Best drunk up within a year or two, while those fruity aromatics are fresh.
WEB LINK:
The winery Website comes up in English. Here's a link to a fact sheet about the Sauvignon Blanc:
http://www.casalapostolle.com/casalapostolle/index.php?id=94
FIND THIS WINE ONLINE:
Find vendors and check prices for Root:1 wines on Wine-Searcher.com:
http://www.wine-searcher.com/
find/Lapostolle%2bBlanc/-/-/USD/A?referring_site=WLP

Talk About Wine Online
If you have questions, comments or ideas to share about today's article
or wine in general, you're always welcome to drop by our online
WineLovers Discussion Group. This link will take you to the forum home page, where you can read discussions in all the forum sections:
http://www.wineloverspage.com/forum/village
Everyone is free to browse. If you'd like to post a comment, question or reply, you must register, but registration is free and easy. Do take care to register using your real name, or as a minimum, your real first name and last initial. Anonymous registrations are quietly discarded.
To contact me by E-mail, write wine@wineloverspage.com. I'll respond personally to the extent that time and volume permit.
PRINT OUT TODAY'S ARTICLE
Here's a simply formatted copy of today's Wine Advisor, designed to be printed out for your scrapbook or file or downloaded to your PDA or other wireless device.
http://www.wineloverspage.com/wineadvisor2/
2008/07/wine_focus_sauvignon_blanc-print.html