Bargain anti-Chardonnay
Chardonnay, which became the grape that many wine lovers loved to hate for a while there, seems to be regaining a bit of its luster as more producers move away from the "butter and sweet oak" formula that made so many of the Chards of the '90s all taste alike.
But even if we're starting to make exceptions, there's still an active "anything but Chardonnay" movement in the wine-geek community.
A couple of years ago I ran across a California Chenin Blanc that, tongue firmly in cheek, played into the anti-Chard phenomenon with the wacky moniker "Chard-No-Way." The other day I spotted the 2006 release, and it's just as good as the original.
Although it's a modestly priced bottle with a pop-wine look, it uses fruit from the Wilson Vineyards in Northern California's Clarksburg region west of Sacramento, a microclimate that many consider one of the best sources for Chenin Blanc outside its natural home in France's Loire Valley.
A citric, minerally, complex Chenin Blanc in a screw-capped bottle that sells at the winery for just $11 and that turned up at a local retailer for 8 bucks? This is the kind of deal that inspires wine lovers to joke, "back up the truck" to the wine shop door and fill 'er up. You'll find my tasting notes below.
Today's Sponsor Brix House Wine: Save Gas, Drink Wine
Brix House Wine is your source for rare, boutique and award winning wines.
Enjoy the boutique vineyards of California without spending a dime on gas or shipping! With our Save Gas, Buy Wine package, you'll enjoy six boutique wines from California without starting your car engine.
Package includes an Old Vine Merlot, a Napa Cabernet, an elegant Syrah, a crisp Sauvignon Blanc, a bright Dry Rosé and a barrel-fermented
Chardonnay for only $79.62 with free shipping.
These are limited-production, hand-crafted wines from a few of the hidden boutique wineries in California. Why drive over 1200 miles and use over 50 gallons of gas just to find these boutique wineries, when you can have the wine delivered to your door for free?
Buy six hand-picked California boutique wines at a 30% discount with free shipping! No wine club to join, just great wine to enjoy for a remarkable price! Click here for more information.

Vinum Cellars 2006 "CNW Chard-No-Way" Wilson Vineyards Clarksburg Chenin Blanc ($8.99)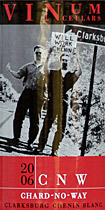 Clear light straw color. Delicious lemon-lime aroma with a subtly earthy back note. Fresh, crisp and tart, ripe and juicy white-fruit flavors built on zippy acidity. Although it's barrel-fermented in French oak, I don't find perceptible wood here, just mouth-watering and approachable Chenin Blanc. (June 17, 2008)
FOOD MATCH: A versatile pairing with poultry, pork or fish; it was fine with a simple Italian-style linguine with white clam sauce.
VALUE: A very good buy at the $11 winery price, and a great buy at this local price.
WHEN TO DRINK: Although it's meant as a drink-now sipper, Chenin Blanc can age capably for years, particularly under the sturdy metal screw cap.
WEB LINK: Here's the winery fact sheet on 2006 "Chard-No-Way" Chenin Blanc.
http://www.vinumcellars.com/
vinum/catalog/view_product.jsp?product_id=1001&cat_id=1001
FIND THIS WINE ONLINE:
Seek vendors and compare prices for Vinum Cellars "CNW Chard-No-Way" Chenin Blanc on Wine-Searcher.com:
http://www.wine-searcher.com/
find/Vinum%2bChard%2bWay/-/-/USD/A?referring_site=WLP

Talk About Wine Online
If you have questions, comments or ideas to share about today's article
or wine in general, you're always welcome to drop by our online
WineLovers Discussion Group. This link will take you to the forum home page, where you can read discussions in all the forum sections:
http://www.wineloverspage.com/forum/village
Everyone is free to browse. If you'd like to post a comment, question or reply, you must register, but registration is free and easy. Do take care to register using your real name, or as a minimum, your real first name and last initial. Anonymous registrations are quietly discarded.
To contact me by E-mail, write wine@wineloverspage.com. I'll respond personally to the extent that time and volume permit.
PRINT OUT TODAY'S ARTICLE
Here's a simply formatted copy of today's Wine Advisor, designed to be printed out for your scrapbook or file or downloaded to your PDA or other wireless device.
http://www.wineloverspage.com/wineadvisor2/
2008/06/bargain_antichardonnay-print.html