Premature oxidation
Wine geeks are starting to notice an odd pattern of white Burgundies turning brown and Sherrylike before their time.
Premature oxidation - sometimes nicknamed "Premox" or the snarky and perhaps judgmental "Pox" - shows itself in the form of a dark color, dark gold to brown, and the familiar walnut-like, stale aromas that betray the effect of oxygen on the wine.
Oxidation is not unusual in older whites after years of cellaring. But it's justly considered premature when it afflicts a cellarworthy white within just a few years after the vintage.
According to online discussion, this phenomenon appears to have primarily afflicted white Burgundy vintages from the middle '90s, particularly 1996, with reports of premature oxidation starting to appear widely on Internet wine forums around 2002.
According to a thoughtful post on the topic in our WineLovers Discussion Group, blame for the phenomenon has focused on the quality of corks and cork treatment, reduced sulfiting in the winemaking and bottling, and other vine growing and winemaking practices. There's no consensus, but corks and sulfur seem to gain the most attention.
I don't drink a lot of high-end white Burgundy, but this month's quest for affordable Burgundies, which we've been featuring in all three 30 Second Wine Advisor editions this week, led me to an intriguing potential case in today's featured wine.
The 2004 Marsannay "Au Champ Salomon" from Domaine Charles Audoin is by no means Sherried or over the hill. But its golden color and rich and complex texture, as appealing as they are, strike me as mighty unusual in a four-year-old wine. (A New World-style whack of spicy oak was less to my personal taste, but that's a whole 'nother story.)
Domaine Charles Audoin 2004 Marsannay "Au Champ Salomon" ($16.99)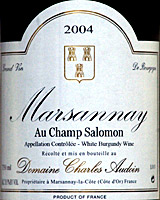 Clear gold, looks a bit aged for an '04. Spicy oak and white fruit, an earthy whiff of wet wool; rich and full-bodied flavor follows the nose, apples and spice with just a touch of oxidative character. First taste bears a slight impression of sweetness, but the wine finishes tart and dry. Interesting wine, oak a bit dominant, but there's much more going on. Not at all over the hill, although it does seem a bit mature for a four-year-old wine. U.S. importer: Martine's Wines Inc., Novato, Calif. (May 27, 2008)
FOOD MATCH: Beautiful with the poultry, cream and fresh herbs in a simple chicken tarragon.
VALUE: Good buy for a decent white Burgundy in the mid-teens.
WHEN TO DRINK: Given its seemingly premature oxidation, I would be wary of holding it much longer. If you have a stash in your cellar, I recommend trying a bottle to see how it's faring.
FIND THIS WINE ONLINE:
Compare prices and find vendors for Audoin Marsannay on Wine-Searcher.com:
http://www.wine-searcher.com/
find/Audoin%2bMarsannay%2bSalomon/-/-/USD/A?referring_site=WLP

Talk About Wine Online
If you have questions, comments or ideas to share about today's article
or wine in general, you're always welcome to drop by our online
WineLovers Discussion Group. This link will take you to the forum home page, where you can read discussions in all the forum sections:
http://www.wineloverspage.com/forum/village
Everyone is free to browse. If you'd like to post a comment, question or reply, you must register, but registration is free and easy. Do take care to register using your real name, or as a minimum, your real first name and last initial. Anonymous registrations are quietly discarded.
To contact me by E-mail, write wine@wineloverspage.com. I'll respond personally to the extent that time and volume permit.
PRINT OUT TODAY'S ARTICLE
Here's a simply formatted copy of today's Wine Advisor, designed to be printed out for your scrapbook or file or downloaded to your PDA or other wireless device.
http://www.wineloverspage.com/wineadvisor2/
2008/05/premature_oxidation-print.html