Another budget Burgundy
Let's continue wrapping up this month's Wine Focus on affordable Burgundy with a look at another decent red Bourgogne under $20.
Today's featured Bourgogne Pinot Noir comes from Louis Jadot, one of Burgundy's largest producers, a Beaune-based firm that owns substantial vineyard property and also is a major negociant, assembling wines from many sources and bottling them under its respected label.
At the top end, many of Jadot's estate-bottled Burgundies rank among the most respected; but even at the generic level, I find it a consistently reliable label for quality and value.
With the understanding that the rule "you get what you pay for" applies in Burgundy as in most consumer products - just-plain Bourgogne isn't likely to match a premier cru bottling in flavor interest or in price - Jadot's Bourgogne Pinot Noir from the excellent 2005 vintage is clean and fresh, nicely balanced and varietally correct. That's a lot to expect from a generic Burgundy under $20. My tasting notes are below.
Today's Sponsor
A message from WineLibrary.com
Announcing Gary Vaynerchuk's first book! At long last, Gary Vaynerchuk puts the energy and passion that has fueled the 450+ episodes of Wine Library TV into print! In 101 Wines Gary V unveils his 1st list of favorites and recommendations. Every wine identified in the book represents a lesson in a glass, complete with the technical notes, availability, and the story behind the vintage and flavors ... all brought to life as only Gary knows how!
Gary Vaynerchuk has been featured by many publications including The Wall Street Journal, Time, and The Washington Post, and has appeared on Late Night with Conan O'Brien, The Ellen Degeneres Show, and Nightline.
To order 101 Wines today, click here! Order 2 copies and send your receipt to book@winelibrary.com to receive exclusive promotions including free shipping offers valid at Wine Library, your source for the lowest prices, largest selection, and greatest customer service in the wine industry.

Louis Jadot 2005 Bourgogne Pinot Noir ($18.99)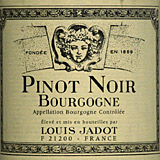 Clear ruby. Red cherry fruit and a touch of earth on the nose and palate; nicely balanced with fresh acidity and smooth tannins; alcoholic content is rationally restrained at 12.5%. Not the most complex or exciting Burgundy, but well balanced and a good example of basic red Burgundy style at an affordable price. U.S. importer: Kobrand Corp, NYC. (May 26, 2008)
FOOD MATCH: Very good indeed with a simple dinner crafted for Pinot: Bite-size cubes of strip steak sauteed with mushrooms, onions and tomatoes over rigatoni pasta.
VALUE: Fairly priced against the strong Euro, but my local retail is on the high end; Wine-Searcher.com shows it in the lower teens in some regions.
WHEN TO DRINK: Like Monday's featured Bourgogne Pinot Noir, it's not a long-term keeper, but tannins, fruit and acidic balance should give it the stuffing to last several years in a good cellar.
WEB LINK: The winery Website is published in French and English. Click the French tricolor or British Union Jack for the language of your choice:
http://www.louisjadot.com
FIND THIS WINE ONLINE:
Look for vendors and compare prices for Louis Jadot Bourgogne Pinot Noir on Wine-Searcher.com:
http://www.wine-searcher.com/
find/Jadot%2bBourgogne%2bPinot/-/-/USD/A?referring_site=WLP

Talk About Wine Online
If you have questions, comments or ideas to share about today's article
or wine in general, you're always welcome to drop by our online
WineLovers Discussion Group. This link will take you to the forum home page, where you can read discussions in all the forum sections:
http://www.wineloverspage.com/forum/village
Everyone is free to browse. If you'd like to post a comment, question or reply, you must register, but registration is free and easy. Do take care to register using your real name, or as a minimum, your real first name and last initial. Anonymous registrations are quietly discarded.
To contact me by E-mail, write wine@wineloverspage.com. I'll respond personally to the extent that time and volume permit.
PRINT OUT TODAY'S ARTICLE
Here's a simply formatted copy of today's Wine Advisor, designed to be printed out for your scrapbook or file or downloaded to your PDA or other wireless device.
http://www.wineloverspage.com/wineadvisor2/
2008/05/another_budget_burgundy-print.html