Australian white blend
In recent months I've reported on a number of white wines from around the world made from blends of grape varieties. Without going to the books for a rigorous analysis, it seems to me that white blends are a bit less common than blends of red grapes.
The great white varieties - Riesling in particular, but also Chenin Blanc, Chardonnay and Sauvignon Blanc - tend to stand alone in 100 percent varietal wines; whereas red blends like the Bordeaux blends, Chianti and Super Tuscans tend to outnumber the classic red "monovarietals" like Pinot Noir and Nebbiolo.
Even the 100 percent Cabernet Sauvignon that made Napa famous seems to be giving way to Cabernet-heavy blends that incorporate more than 75 percent of Cabernet and thus may bear the varietal name on the label, but often include a splash of Merlot or other varieties to round off the edges and add complexity to the flavor.
Once you get past White Bordeaux (and other international Sauvignon Blanc and Semillon blends), on the other hand, white blends mostly fall into niche markets - delicious but relatively little-known white Rhone wines or local blends of indigenous Italian grapes.
Some of my wine-expert pals shun most white blends, arguing that the mix of varieties "muddies" the resulting flavors to yield a result that lacks the clear, transparent purity of "monovarietals." Maybe. But one man's "mud" is another's "complexity." In support of the white-blend faction, I present today's featured wine, a delicious and fairly priced Semillon-Sauvignon Blanc blend from Western Australia. My notes are below.
Today's Sponsor
A message from WineLibrary.com
Announcing Gary Vaynerchuk's first book! At long last, Gary Vaynerchuk puts the energy and passion that has fueled the 450+ episodes of Wine Library TV into print! In 101 Wines Gary V unveils his 1st list of favorites and recommendations. Every wine identified in the book represents a lesson in a glass, complete with the technical notes, availability, and the story behind the vintage and flavors ... all brought to life as only Gary knows how!
Gary Vaynerchuk has been featured by many publications including The Wall Street Journal, Time, and The Washington Post, and has appeared on Late Night with Conan O'Brien, The Ellen Degeneres Show, and Nightline.
To order 101 Wines today, click here! Order 2 copies and send your receipt to book@winelibrary.com to receive exclusive promotions including free shipping offers valid at Wine Library, your source for the lowest prices, largest selection, and greatest customer service in the wine industry.

"The Life of Riley" 2005 Western Australia Semillon Sauvignon Blanc ($14.99)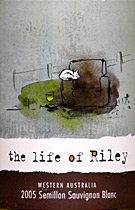 Clear straw color. Musky melon and a lighter whiff of lime. Rich-textured, mouth-filling, white fruit consistent with the nose - melons and pears and zippy lime - all wrapped up with bracing acidity. U.S. importer: Vine Street Imports, Philadelphia. (April 14, 2008)
FOOD MATCH: Worked very well with pork chops sauted with browned onions and topped with melted Gruyere cheese and a bit of dry mustard.
VALUE: No complaints for a wine of this quality in the middle teens.
WHEN TO DRINK: Best drunk up over the next year or two.
WEB LINK:
The producer, Swings & Roundabouts Ltd., of Yollingup, Western Australia, has its Website here:
http://www.swings.com.au
For more, see the U.S. importer's fact sheet,
http://www.vsimports.com/
new/vsimports_winery.asp?wineryid=29
FIND THIS WINE ONLINE:
Wine-Searcher.com lists only Australian vendors for "The Life of Riley" Semillon Sauvignon Blanc:
http://www.wine-searcher.com/
find/Swings%2bSemillon/-/-/USD/A?referring_site=WLP
To locate it in other countries, ask your better local wine shops, or check the importer's Website for distributors in most states of the U.S.:
http://www.vsimports.com/new/vsimports_distributors.asp

Talk About Wine Online
If you have questions, comments or ideas to share about today's article
or wine in general, you're always welcome to drop by our online
WineLovers Discussion Group. This link will take you to the forum home page, where you can read discussions in all the forum sections:
http://www.wineloverspage.com/forum/village
Everyone is free to browse. If you'd like to post a comment, question or reply, you must register, but registration is free and easy. Do take care to register using your real name, or as a minimum, your real first name and last initial. Anonymous registrations are quietly discarded.
To contact me by E-mail, write wine@wineloverspage.com. I'll respond personally to the extent that time and volume permit.
PRINT OUT TODAY'S ARTICLE
Here's a simply formatted copy of today's Wine Advisor, designed to be printed out for your scrapbook or file or downloaded to your PDA or other wireless device.
http://www.wineloverspage.com/wineadvisor2/
2008/05/australian_white_blend-print.html