Wine Focus - Affordable Burgundy
When many wine lovers think of Burgundy, the first thought that comes to mind is "complicated and hard to understand." The second thought is "expensive."
There's some basis for this reaction. Great Burgundy is rarely cheap, and cheap Burgundy isn't often great. Good buys are out there, but you have to work to find them.
In our Wine Focus topic for May, we hope to solve some of these mysteries as we seek affordable Burgundy, hoping to zero in on - and share information about - some happy exceptions to the "Burgundy is expensive" rule.
For purposes of this discussion, we'll set the bar at about $30 U.S. or Canadian dollars; or, for participants in other countries, the approximate local equivalent - 20 Euros, 15 Pounds Sterling, 32 Australian dollars, and so it goes.
It's easy to participate in Wine Focus: Find a good Burgundy for $30 or less. Taste it, then visit the online forum at
http://www.wineloverspage.com/forum/village/viewforum.php?f=18
and tell us about it. Or drop by the forum at any time to ask questions about Burgundy, or share your expertise.
To set the scene for the month, let's revisit a "Burgundy quick reference sheet" that I put together for our Burgundy tour in 2004.
• WHERE: Most broadly defined, Burgundy runs north and south along the Saone river in France between the cities of Lyons and Dijon (plus Chablis, which is a good distance northwest of all the rest). The southern portion of Burgundy incorporates the Chalonnaise, Maconnais and Beaujolais regions; but when most wine enthusiasts speak of Burgundy, they are talking about the relatively small section around Beaune, just south of Dijon, where the hillside stretch called Cote d'Or incorporates the Cote de Nuits and the Cote de Beaune, where some of Earth's most favored vineyards grow.
• WHAT: Called Bourgogne ("Boor-gon-yuh") in French, Burgundy wines are almost invariably made from only two grape varieties: Pinot Noir for the reds, and Chardonnay for the whites. There are a few exceptions, like the Gamay grape in Beaujolais and the white Aligote and Pinot Blanc. We'll talk about them another day.
• WHEN: In terms of the length and texture of its vinous history, Burgundy is one for the books. Legend asserts that the ancient Romans found vineyards here when they conquered Gaul in 50 B.C., and vine growing has carried on without a break for more than 2,000 years since: by monks in the Dark Ages through Charlemagne's time, by dukes and barons thereafter, and by small farmers and entrepreneurs after the Revolution, when Napoleon's empire broke up the old holdings of the church and the nobility, a policy further complicated by inheritance to create a jigsaw-puzzle map of tiny properties that befuddles wine enthusiasts to this day.
• WHY: What makes Burgundy so desirable? There is little debate that both Pinot Noir and Chardonnay reach their quality pinnacle in these relatively small places; and Pinot in particular, while one of the most challenging grapes to get right, is one of the most rewarding when it all works out. Two millennia of wine-making tradition and as much experience in selecting the best possible vineyard sites further contribute to the quality factor; and sheer rarity based on limited yields from tiny vineyards drives the supply-and-demand ratio for the most sought-after wines out of all proportion. Most of us will have little opportunity to taste the greatest Burgundies. But with a little effort and care, we can certainly enjoy some good ones.
Again, to participate in Wine Focus, visit
http://www.wineloverspage.com/forum/village/viewforum.php?f=18
to talk about Burgundy ... especially the affordable kind.
Frédéric Magnien 2005 Bourgogne Pinot Noir ($22)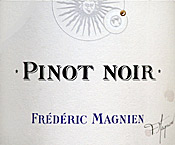 Clear ruby with reddish-orange glints. Appetizing black-cherry aromas and a hint of tomato skin. Juicy and ripe, tart-cherry flavors laced up with fresh acidity and an edge of tannins. Not overly complex but nicely structured, shows at least moderate cellar potential for maybe three to five years. U.S. importer: North Berkeley Imports, Berkeley, Calif. (Feb. 1, 2008)
FOOD MATCH: Pork chops Liègiose, a simplified version of an old Pierre Franey recipe: Sauteed and then topped with shredded Gruyère blended with seeded Dijon mustard.
VALUE: Generic Bourgogne Pinot Noir pretty much marks the bottom point for red Burgundy, and you'll rarely find one, particularly from a sought-after vintage like 2005, for less than $20 or so.
WHEN TO DRINK: Although Bourgogne Pinot Noir isn't intended for long cellaring, a quality, well-balanced example like this can be cellared for three to five years or so.
WEB LINKS: Here's a fact sheet on Frédéric Magnien from Michael Skurnik wines, another regional importer:
http://www.skurnikwines.com/
prospects.cgi?rm=view_prospect_detail&prospect_id=251
FIND THIS WINE ONLINE:
Find vendors and check prices for Frédéric Magnien Bourgogne Pinot Noir on Wine-Searcher.com:
http://www.wine-searcher.com/
find/Frederic%2bMagnien%2bRouge/-/-/-/USD/A?referring_site=WLP

Talk About Wine Online
If you have questions, comments or ideas to share about today's article
or wine in general, you're always welcome to drop by our online
WineLovers Discussion Group. This link will take you to the forum home page, where you can read discussions in all the forum sections:
http://www.wineloverspage.com/forum/village
Everyone is free to browse. If you'd like to post a comment, question or reply, you must register, but registration is free and easy. Do take care to register using your real name, or as a minimum, your real first name and last initial. Anonymous registrations are quietly discarded.
To contact me by E-mail, write wine@wineloverspage.com. I'll respond personally to the extent that time and volume permit.
PRINT OUT TODAY'S ARTICLE
Here's a simply formatted copy of today's Wine Advisor, designed to be printed out for your scrapbook or file or downloaded to your PDA or other wireless device.
http://www.wineloverspage.com/wineadvisor2/
2008/05/wine_focus_affordable_burgundy-print.html