Organic favorite
Organic food is becoming a hot item in the grocery store. Organics have grown at a rate of nearly 20 percent per year for the last seven years, the U.S. Department of Agriculture's Agricultural Marketing Resource Center reported in June 2006, adding that industry experts forecast continued growth in the sector.
But organic wine doesn't seem to have gained as much traction in the marketplace as, say, organic bananas or broccoli.
According to the Organic Trade Association, a trade association of organic food producers and distributors, U.S. sales of wines made with organic grapes comprised only about 1 percent of the domestic wine market in 2005.
The market's relative lack of enthusiasm for organic wines may stem at least in part because viticulture - particularly among the kind of small, artisanal producers that most wine enthusiasts treasure - doesn't tend to make heavy use of chemical fertilizers and pesticides anyway.
Even so, industry experts expect organic wine sales to increase in parallel with the growing organic food trend. And a fair number of wine producers already label their wines as organic (or the more offbeat "biodynamic").
I can't honestly say that I can detect any flavor or intrinsic quality difference between organic and non-organic wines; but I'm happy to consider buying organic wine, as I do organic food, as an alternative that seems healthy for the environment, and for me.
One of my perennial organic wine favorites is Mas de Gourgonnier in Provence. The winery's owners, brothers Luc and Fred Cartier, make all-organic wines ("Produit de l'agriculture biologique") from vineyards that never see chemical fertilizers, weed-killers or artificial insecticides. They make a red, white and rosé as well as somewhat more pricey "reserve" wines.
I keep coming back to the basic Mas de Gourgonnier red for good value, year in and year out, and was delighted to run across the 2005 red recently, decked out with a new label and a slightly more streamlined version of its familiar squat bottle.
The label may be new, but the wine remains an earthy, rustic, sturdy but well-balanced blend of Grenache, Carignan and Syrah and - for the U.S. export market - a splash of Cabernet Sauvignon. My tasting notes are below.
Today's Sponsor
A message from WineLibrary.com
Are you on Wine Library's e-mail service? If not, you are missing out on the hottest new 90+ pointers at rock-bottom prices! Log on to winelibrary.com to sign up today! Dorothy J. Gaiter and John Brecher of The Wall Street Journal wrote a piece on Jan. 11, 2008 reviewing inexpensive wines from the historic 2005 vintage in Bordeaux. The wine they named "Best value" was the Chateau Au Grand Paris, now available at Wine Library for just $9.99! Click here for details!
You may have seen us featured in GQ magazine, The Wall Street Journal, New Jersey Monthly and elsewhere. WineLibrary.com features a huge collection of top wines from around the world, great gifts and accessories, a daily video blog (WineLibraryTV), huge selection of futures and much, much more!
Bottom line, we offer the lowest prices, the largest selection, lightning fast shipments and the greatest customer service in the industry! WineLibrary.com is your one-stop shop for everything wine ... so what are you waiting for? Log on to WineLibrary.com today!

Mas de Gourgonnier 2005 Les Baux de Provence ($12.99)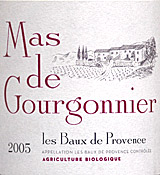 Dark garnet, clear violet edge. Mixed fresh berry aromas, black raspberry and strawberry and just a hint of grilled meat. Very clean and fresh, tart berry fruit backed by lip-smacking acidity and a distinct but smooth edge of tannins. Excellent food wine, continues Gourgonnier's long tradition of excellence at a very reasonable price. U.S. importer: Vintner Select, Mason, Ohio, and other regional importers. (Feb. 5, 2008)
FOOD MATCH: Versatile and food-friendly, works well with red meat or pork and poultry. It was an exceptional match with pork chops Liègeoise topped with Gruyère cheese, modified from an old Pierre Franey "60 Minute Gourmet" recipe.
VALUE: A perennial bargain favorite, still fairly priced in the age of the strong Euro.
WHEN TO DRINK: Best drunk up young and fresh, but it won't hurt to keep it on the wine rack or in a cellar for two or three years.
WEB LINK:
National flag icons indicate both French and English on the winery Web page, but the English pages remain under construction. It's worth struggling through even if your French is limited, though, for fairly extensive information about the winery ... or even if you have no French at all, for the scenic pictures of Provence.
http://www.gourgonnier.com
FIND THIS WINE ONLINE:
Locate vendors and compare prices for Hayman & Hill Interchange on Wine-Searcher.com:
http://www.wine-searcher.com/
find/Gourgonnier%2bRouge/-/-/USD/A?referring_site=WLP

Talk About Wine Online
If you have questions, comments or ideas to share about today's article
or wine in general, you're always welcome to drop by our online
WineLovers Discussion Group. This link will take you to the forum home page, where you can read discussions in all the forum sections:
http://www.wineloverspage.com/forum/village
Everyone is free to browse. If you'd like to post a comment, question or reply, you must register, but registration is free and easy. Do take care to register using your real name, or as a minimum, your real first name and last initial. Anonymous registrations are quietly discarded.
To contact me by E-mail, write wine@wineloverspage.com. I'll respond personally to the extent that time and volume permit.
PRINT OUT TODAY'S ARTICLE
Here's a simply formatted copy of today's Wine Advisor, designed to be printed out for your scrapbook or file or downloaded to your PDA or other wireless device.
http://www.wineloverspage.com/wineadvisor2/
2008/04/organic_favorite-print.html