Recession, inflation
There's been a lot of talk lately about inflation and economic recession, and we've been responding in recent weeks by focusing many of the wines featured in these pages at the $10 point or even below.
Even $10 is a bit of a shock to those of us who remember when the cutoff between "affordable" and "special occasion" wines fell around $5. If inflation in wine prices doesn't quite approach the shock of gasoline at $3.50 to $4 a gallon in the U.S., it's startling enough, and prompts wine lovers to watch our budgets a little more closely than we might have done in the past.
To put a number on just how inflation is affecting our wine buying habits, we've resurrected the old Wine Lovers Voting Booth and invite you to select the point at which budget discomfort begins for you in the wine shop. The poll invites you to check off the most you're comfortable paying for a bottle of "everyday" wine: $5, $10, $15, $20, $25, $30 or even more?
To ensure a meaningful result, I hope as many of you as possible will take a moment to click to the Voting Booth,
http://www.wineloverspage.com/votebooth/vb20080427.shtml
and select the choice that feels right for you. (If you're outside the US, simply guesstimate the conversion between your local currency and US dollars.)
Then, if you'd like to discuss this issue in more detail, drop by our WineLovers Discussion Group, where I've posted today's article at this link:
http://www.wineloverspage.com/forum/village/viewtopic.php?f=3&t=15529
Now, for my recommendation on another good $10 wine, see today's featured wine below.
Today's Sponsor
Pour With Confidence! The California Wine Club!
If you are uncertain about which wine to buy and are tired of throwing money away on bad wine, The California Wine Club can help.
The California Wine Club guarantees every wine featured because they do what other wine clubs do not:
• Guarantees that every wine comes from a smaller, real-working winery
• Visits each winery, gets to know the family and shares their stories with you
• Tastes thousands of wines before choosing the best
• Promises that every wine you receive is one you will pour with confidence
Experience The California Wine Club for yourself! Each month includes two bottles of award-winning wine and our detailed 12 page publication, Uncorked. Just $34.95 per month and you may choose to receive wines monthly, every other month or quarterly. Visit www.cawineclub.com to become a member now, or call 1-800-777-4443.
The California Wine Club takes the guesswork out of picking wine and delivers the best wine, every time!

Château Saint Martin de la Garrigue 2005 Coteaux du Languedoc Blanc ($9.99)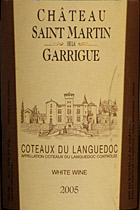 Clear straw color. Simple white fruit, citrus and a hint of almond; a "vinous" character suggests higher alcohol than the label's 13% would provide. Fresh, medium-bodied, seems richer and more complex on the palate than the nose with melon and delicate citrus with a hint of beeswax over tart acidity. The subtle flavors and sharp acidity work particularly well with the mixed toppings and cheese on an excellent veggie pizza. U.S. importer: Kermit Lynch Wine Merchant, Berkeley, Calif. (March 9, 2008)
FOOD MATCH: A natural match with seafood or fish; fine with vegetarian fare such as my choice, primavera pizza with spinach, red and green bell peppers, red onions, tomatoes and artichokes.
VALUE: Very good buy at $10.
WHEN TO DRINK: Not a cellar keeper, but no rush to drink it. It should hold up well for the next year or two.
WEB LINKS: For a brief comment on the 2006 vintage, page down to the end of this PDF newsletter on the importer's Website:
http://www.kermitlynch.com/0710-October2007.pdf
FIND THIS WINE ONLINE:
Check prices and find vendors for Château Saint Martin de la Garrigue Coteaux du Languedoc Blanc on Wine-Searcher.com:
http://www.wine-searcher.com/
find/Martin%2bGarrigue%2bBlanc/-/-/-/USD/A?referring_site=WLP

Talk About Wine Online
If you have questions, comments or ideas to share about today's article
or wine in general, you're always welcome to drop by our online WineLovers Discussion Group. This link will take you to the forum home page, where you can read discussions in all the forum sections:
http://www.wineloverspage.com/forum/village
Everyone is free to browse. If you'd like to post a comment, question or reply, you must register, but registration is free and easy. Do take care to register using your real name, or as a minimum, your real first name and last initial. Anonymous registrations are quietly discarded.
To contact me by E-mail, write wine@wineloverspage.com. I'll respond personally to the extent that time and volume permit.
PRINT OUT TODAY'S ARTICLE
Here's a simply formatted copy of today's Wine Advisor, designed to be printed out for your scrapbook or file or downloaded to your PDA or other wireless device.
http://www.wineloverspage.com/wineadvisor2/
2008/04/recession_inflation-print.html

This week on WineLoversPage.com
• Italian Wine Guide: 2004 Vinitaly 2008
Tom Hyland is back from VinItaly, the massive wine fair held each year in early April in Verona. He tasted more than 250 wines during five days at the fair, and reports on a number of the best.
http://www.wineloverspage.com/italwineguide/vinitaly08.phtml
• WineLovers Discussion Group: Intentionally drink "corked" wine?
You open a bottle of wine only to discover to your disappointment that it's spoiled by the musty stench of "cork taint." Would you ever consider drinking the wine anyway? You'll find plenty of debate on both sides of this question in our WineLovers Discussion Group:
http://www.wineloverspage.com/forum/village/viewtopic.php?f=3&t=15464