Wild white blend
When it comes to bagel toppings, I'd rather have something simple like onion or poppy rather than one of those wacky "everything" blends, where so many flavors compete that it's hard to sort them all out.
Generally speaking, I'm pretty much the same way about wine. If I don't have a single-varietal wine in my glass, I want a blend that works - a Bordeaux blend, for example, or a Chianti or Cotes-du-Rhone - its carefully chosen components coming together to create a whole that's more than the sum of its parts.
In wine as in cooking, if you throw in too many disparate flavors, you mess up the recipe, or so it seems to me.
Accordingly, you might expect that I wouldn't be smitten by today's featured wine, a wild Santa Barbara County blend of 47 percent Chardonnay, 34 percent Sauvignon Blanc, 7 percent Muscat Canelli, 5 percent Malvasia Bianca, 4 percent Semillon and 3 percent Gewürtztraminer.
Surprisingly, Hayman & Hill gets it right with this white blend called "Interchange." Hayman & Hill is one of several labels under the corporate umbrella of Cellar Door, in turn a component of Constellation Wines (formerly Canandaigua), a giant wine corporation that recently blew past Gallo to become the largest wine company on Earth.
Hayman and Hill, a partnership of wine makers David Hayman and Dennis Hill of California's Blackstone Winery, has built a reputation for impressive wines in the affordable range of $10 to $15 in most markets.
Frankly, I haven't been overwhelmed with their reds, which are made in a heavily oaked, "fruit-bomb" style that wins critical points but doesn't particularly appeal to me. Their 2002 Monterey County "Reserve Selection" Shiraz-Viognier, for instance, earned my less-than-admiring comments, "spoiled by a whack of new oak that brings to the nose an unfortunate impression of freshly sanded wooden floors. ... the wine's woody, almost resinous oak aromas are less than appealing."
Happily, the "Interchange" white merits no such disdain. It's fruity, all right, with plenty of fresh, juicy pineapple. But the fruit is cut by tart, mouth-watering acidity, and oak, if any, is restrained and subtle. It's tempting to compare it with the highly popular and much more expensive Caymus Conundrum; but to its credit, the Interchange doesn't come across nearly as sweet. My tasting notes are below.
Today's Sponsor
A message from WineLibrary.com
Are you on Wine Library's e-mail service? If not, you are missing out on the hottest new 90+ pointers at rock-bottom prices! Log on to winelibrary.com to sign up today! Dorothy J. Gaiter and John Brecher of The Wall Street Journal wrote a piece on Jan. 11, 2008 reviewing inexpensive wines from the historic 2005 vintage in Bordeaux. The wine they named "Best value" was the Chateau Au Grand Paris, now available at Wine Library for just $9.99! Click here for details!
You may have seen us featured in GQ magazine, The Wall Street Journal, New Jersey Monthly and elsewhere. WineLibrary.com features a huge collection of top wines from around the world, great gifts and accessories, a daily video blog (WineLibraryTV), huge selection of futures and much, much more!
Bottom line, we offer the lowest prices, the largest selection, lightning fast shipments and the greatest customer service in the industry! WineLibrary.com is your one-stop shop for everything wine ... so what are you waiting for? Log on to WineLibrary.com today!

Hayman & Hill 2006 "Interchange" Santa Barbara County "Reserve No. 22" White Blend ($12.99)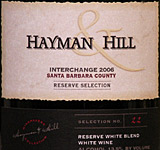 Transparent straw color. Fresh pineapple aroma, clean and true, like cutting into a ripe, juicy fruit. Medium body, rich but dry, more pineapple with a tart lemon overtone. Textured and fresh, no lightweight on the palate at 13.5% alcohol, but acidic cut and balance make it an outstanding match with fresh seafood. (March 7, 2008)
FOOD MATCH: A fine partner with seafood and fish. It made a great match with fresh halibut simply pan-seared with garlic and Meyer lemon.
VALUE: Good value in the lower teens.
WHEN TO DRINK: Its tutti-frutti style is probably best enjoyed within two or three years after the vintage, although it could be interesting to cellar one just to see what happens with a little time.
WEB LINK:
Cellar Door, the corporate parent of Hayman & Hill, has a brochure-style Web page about the label at this link:
http://www.cdwine.com/ourwineries/haymanhill.htm
FIND THIS WINE ONLINE:
Locate vendors and compare prices for Hayman & Hill Interchange on Wine-Searcher.com:
http://www.wine-searcher.com/
find/Hayman%2bHill%2bInterchange/-/-/USD/A?referring_site=WLP

Talk About Wine Online
If you have questions, comments or ideas to share about today's article
or wine in general, you're always welcome to drop by our online
WineLovers Discussion Group. This link will take you to the forum home page, where you can read discussions in all the forum sections:
http://www.wineloverspage.com/forum/village
Everyone is free to browse. If you'd like to post a comment, question or reply, you must register, but registration is free and easy. Do take care to register using your real name, or as a minimum, your real first name and last initial. Anonymous registrations are quietly discarded.
To contact me by E-mail, write wine@wineloverspage.com. I'll respond personally to the extent that time and volume permit.
PRINT OUT TODAY'S ARTICLE
Here's a simply formatted copy of today's Wine Advisor, designed to be printed out for your scrapbook or file or downloaded to your PDA or other wireless device.
http://www.wineloverspage.com/wineadvisor2/
2008/04/wild_white_blend-print.html