Benchmark Grenache
Let's continue our quest for "recession buster" wines, bottles in the $10 range (or, if possible, even a bit less) that exceed expectations for their relatively affordable price.
Economic reality usually ensures that a low retail price can't support expensive oak barrels or fruit from limited-production, sought-after vineyards.
But there's still plenty of room for enjoyment on the bargain shelves, particularly if we steer well clear of industrially made, mass-market labels in favor of artisanal producers who bring pride to their work at all price points.
What's more, in the absence of oak and intense extraction and the other characteristics that wine-making choices can bring to more pricey bottles, wines of modest price - if well-made - can assist in our wine education by offering "benchmark" examples of varietal character. Without those tasty but complicating variables in the mix, an affordable, simple varietal wine can offer a fine way to train our palates while enjoying the wine.
Today's featured wine is a fine example. Domaine André Brunel 2005 Vin de Pays de Vaucluse Grenache - from the producer of Les Cailloux Chateauneuf du Pape, not to be confused with Daniel Brunel of Vieux-Telegraphe - is a simple, almost single-varietal (it has 10 percent Carignan in the blend). Made entirely in stainless steel with no oak exposure, it shows plenty of Grenache character (think raspberries) in an enjoyable wine that offers a lot of value for the price.
Today's Sponsor
Rhone and Bordeaux Reds This Month at The California Wine Club!
This month's International Selection from The California Wine Club features two French wines that satisfy!
Chateauneuf-du-Pape 2005 Louis d'Armont - A complex nose of black fruit and velvety palate.
Chateau Guionne 2003 Cotes de Bourg - A fine Bordeaux of dusky red fruit and solid structure.
Sample this month's International Selections for $135 (includes all shipping, handling and import charges). Or take advantage of the reorder savings and mix a case or half case of either wine.
Visit www.cawineclub.com or call 1-800-777-4443.
The California Wine Club imports their international selections directly from small family-owned wineries around the world.

Domaine André Brunel 2005 Vin de Pays de Vaucluse Grenache ($10)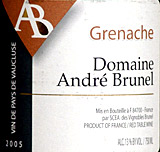 Very dark garnet with a thin, clear edge. Good, fresh and rather delicate raspberry aroma. Red fruit carries over in the flavor, appealing but no "fruit bomb," with a subtle "stony" minerality adding character and fresh-fruit acidity building balance. Very attractive wine. U.S. importer: Robert Kacher Selections, Washington, D.C. (March 1, 2008)
FOOD MATCH: A good companion with red meat or sharp cheese. It worked well with beef carbonnades a la flammande. Although this classic Belgian stew is made with beer and goes well with beer, it bridged the gap nicely with this tart, fruity Grenache.
VALUE: Makes my annual best-values list at $10, and widely available for even less.
WHEN TO DRINK: Made for immediate enjoyment, but it's holding up well and should last for a couple more years.
PRONUNCIATION:
"Grenache" = "Greh-NAHSH"
WEB LINKS: The U.S. importer has a detailed fact sheet on the Brunel 2005 Grenache:
http://www.robertkacherselections.com/
portfolio_detail.php?itemno=b501405
FIND THIS WINE ONLINE:
Check prices and find vendors for André Brunel Grenache on Wine-Searcher.com:
http://www.wine-searcher.com/
find/Brunel%2bGrenache/-/-/-/USD/A?referring_site=WLP

Talk About Wine Online
If you have questions, comments or ideas to share about today's article
or wine in general, you're always welcome to drop by our online WineLovers Discussion Group. This link will take you to the forum home page, where you can read discussions in all the forum sections:
http://www.wineloverspage.com/forum/village
Everyone is free to browse. If you'd like to post a comment, question or reply, you must register, but registration is free and easy. Do take care to register using your real name, or as a minimum, your real first name and last initial. Anonymous registrations are quietly discarded.
To contact me by E-mail, write wine@wineloverspage.com. I'll respond personally to the extent that time and volume permit.
PRINT OUT TODAY'S ARTICLE
Here's a simply formatted copy of today's Wine Advisor, designed to be printed out for your scrapbook or file or downloaded to your PDA or other wireless device.
http://www.wineloverspage.com/wineadvisor2/
2008/04/benchmark_grenache-print.html

This week on WineLoversPage.com
• Oxford Town Wines: Serious health stuff
A common tactic of the anti-alcohol faction is to cloak their agenda in grossly misrepresented research data, seeking to scare people into accepting their arguments. John Juergens demolishes a few of the anti-alcohol myths.
http://www.wineloverspage.com/oxford/health08.phtml
• WineLovers Discussion Group: A year of being a wine geek
A British participant in the WineLovers Discussion Group reflects on his first year of serious wine appreciation. His thoughtful post is worth reading for anyone who loves wine, whether you're new to the topic or an old-timer.
http://www.wineloverspage.com/forum/village/viewtopic.php?f=3&t=15305