Vermentino
Let's wrap up another week with one of our periodic excursions down one of the less well-known roads in the world of wine as we taste a full-bodied, well-structured Vermentino from Sardinia.
Vermentino, a grape that comes with a number of synonyms (in Southern France it's "Rolle" and in Corsica "Malvasoie de Corse"), is grown throughout the Western Mediterranean, with plantings in Northwestern Italy around Genoa - and, increasingly, coastal Tuscany; Provence and the Languedoc in France; Spain, and the Mediterranean islands Corsica and Sardinia.
Its history dates back at least 700 years, and grape historians debate whether it got its start in Northern Italy, Sardinia or Spain; certainly it was widely traded as far back as the 13th century, earning it a place of respect in the grape family tree on the basis of longevity alone.
Today's featured wine, from the Pala brothers' winery in Sardinia, bears the proprietary name "Crabilis," which I really wanted to believe means "goes great with crab" but actually translates as an ancient Sardinian goat shelter. Made in stainless steel with no exposure to oak, it presents a pretty balance of luscious fruit and mouth-watering acidity, with a pleasant hint of bitterness to add complexity in the finish.
Fratelli Pala 2006 "Crabilis" Vermentino di Sardegna ($13)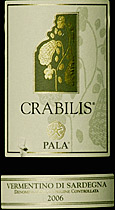 Clear light gold. Full, almost opulent fruit aromatics, peach and pear, on the nose and palate, where the first impression of all that white fruit comes across so textured and luscious that it almost seems sweet, but a firm acidic structure quickly banishes that concept, and the wine finishes dry and tart, with just a hint of peach-pit bitterness at the end. U.S. importer: Banville & Jones Wine Merchants, North Bergen, N.J. (April 9, 2008)
FOOD MATCH: Versatile and food-friendly, it would go well with fish, poultry, veal or pork and a range of vegetarian cuisine. It was splendid, for example, with a hearty but meatless asparagus and mushroom risotto.
VALUE: A fine value in the lower teens.
WHEN TO DRINK: It's intended for early drinking while it's young and fresh, but richness, body and structure should protect it for at least a few years in the bottle.
WEB LINKS: The winery Website is published in Italian and English, with some information about the wines also available in German. Here's a link to the English-language home page:
http://www.pala.it/eng/
The U.S. importer has a fact sheet on the Vermentino at this link:
http://www.banvilleandjoneswinemerchants.com/
portfolio/pala.php?item_id=86
FIND THIS WINE ONLINE:
Check prices and find vendors for Fratelli Pala "Crabilis" Vermentino on Wine-Searcher.com:
http://www.wine-searcher.com/
find/Pala%2bCrabilis/-/-/-/USD/A?referring_site=WLP

Talk About Wine Online
If you have questions, comments or ideas to share about today's article
or wine in general, you're always welcome to drop by our online
WineLovers Discussion Group. This link will take you to the forum home page, where you can read discussions in all the forum sections:
http://www.wineloverspage.com/forum/village
Everyone is free to browse. If you'd like to post a comment, question or reply, you must register, but registration is free and easy. Do take care to register using your real name, or as a minimum, your real first name and last initial. Anonymous registrations are quietly discarded.
To contact me by E-mail, write wine@wineloverspage.com. I'll respond personally to the extent that time and volume permit.
PRINT OUT TODAY'S ARTICLE
Here's a simply formatted copy of today's Wine Advisor, designed to be printed out for your scrapbook or file or downloaded to your PDA or other wireless device.
http://www.wineloverspage.com/wineadvisor2/
2008/04/vermentino-print.html