Wild cat, decent Malbec
The latter-day trend toward plastering pictures of cute animals on the labels of inexpensive, mass-market wines has created some buying resistance by wine "geeks," who instinctively react negatively when yet another animal label appears on the shelf.
Always eager to find the exception that "proves" the rule, I like to dispute this notion by pointing out the pricey Chateau Cheval Blanc Pomerol, whose label - as its French name implies - bears a drawing of a white horse. Or maybe the sought-after Northwestern Italian wines of La Spinetta, where wine maker Giorgio Rivetti emblazons his labels with a detailed drawing of a rhinoceros that would do justice to a zoology textbook.
It could be argued, of course, that neither a white stallion nor a hulking rhino qualifies as "cute;" nor are these wines made in vast quantities nor sold at single-digit prices, which pretty much takes them out of the realm of marsupials with brightly colored tails or miniature flightless Antarctic birds.
Today's tasting, however, falls a little closer to the line. Budini 2006 Mendoza Malbec features a colorful cat on the label, a feline depicted with unreasonably extended forelegs perhaps half-again the length of its body.
The drawing may take artistic license, but the cat is real. The back label explains: "The rare and beautiful wild Pampas cat of Argentina has always been elusive, both in the open grazing lands and the Andean foothills."
Budini, the winery Website goes on to say, is named after the rare and beautiful wild pampas cat of Argentina, Oncifelis colocolo budini. "This furry and elusive cat can be found from the grassy grazing plains of the Argentine pampas to the high-elevation foothills of the Andes where Argentina's finest wine grapes are grown. This attractively striped feline has the unusual ability to make itself look much larger than it actually is by straightening its fur up to almost 3 inches when frightened. Its diet consists primarily of guinea pigs, ground-dwelling birds, and even poultry."
Sounds awfully carnivorous to me. The good news, however, is that this is one of the better low-end Malbecs I've run into lately, selling from $8 to $12 a bottle depending on your market. It's a typically earthy Malbec not fruited-up in an international style; plums and fragrant pepper and subtle earth come together on a structure of tart acidity and soft but substantial tannins. It's a good wine and a good value. My tasting notes are below.
Today's Sponsor
A message from WineLibrary.com
Are you on Wine Library's e-mail service? If not, you are missing out on the hottest new 90+ pointers at rock-bottom prices! Log on to winelibrary.com to sign up today! Dorothy J. Gaiter and John Brecher of The Wall Street Journal wrote a piece on Jan. 11, 2008 reviewing inexpensive wines from the historic 2005 vintage in Bordeaux. The wine they named "Best value" was the Chateau Au Grand Paris, now available at Wine Library for just $9.99! Click here for details!
You may have seen us featured in GQ magazine, The Wall Street Journal, New Jersey Monthly and elsewhere. WineLibrary.com features a huge collection of top wines from around the world, great gifts and accessories, a daily video blog (WineLibraryTV), huge selection of futures and much, much more!
Bottom line, we offer the lowest prices, the largest selection, lightning fast shipments and the greatest customer service in the industry! WineLibrary.com is your one-stop shop for everything wine ... so what are you waiting for? Log on to WineLibrary.com today!

Budini 2006 Mendoza Malbec ($12)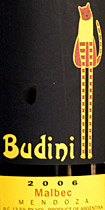 Inky purple, almost black; bright garnet at the edge. Attractive aromas, red plums and a grind or two of black pepper. Flavors consistent, tart plums and subtle earth, a hint of red clay behind the fruit, nicely built on tart acidity and soft but substantial tannins. U.S. importer: Vine Connections, Sausalito, Calif. (April 6, 2008)
FOOD MATCH: A wine made for carnivores, well suited to burgers, steaks or rare roast beef. It fared well with a lightly spicy dinner of small ground beef meatballs in an Indian curry-style sauce.
VALUE: Up a dollar from previous vintages but still a good value; shop around for even better buys, as it's listed as low as $8 from some U.S. vendors.
WHEN TO DRINK: Ready to go, but a good balance of fruit, acidity and tannins suggests it will hold well for a few years in the cellar.
WEB LINK:
Here's a link to a Budini fact sheet on the U.S. importer's Website, with further links to the winery's portfolio including today's 2006 Malbec:
http://www.vineconnections.com/wines/budini.html
FIND THIS WINE ONLINE:
Look for sources and check prices for Budini Malbec on Wine-Searcher.com:
http://www.wine-searcher.com/
find/Budini%2bMalbec/-/-/USD/A?referring_site=WLP

Talk About Wine Online
If you have questions, comments or ideas to share about today's article
or wine in general, you're always welcome to drop by our online
WineLovers Discussion Group. This link will take you to the forum home page, where you can read discussions in all the forum sections:
http://www.wineloverspage.com/forum/village
Everyone is free to browse. If you'd like to post a comment, question or reply, you must register, but registration is free and easy. Do take care to register using your real name, or as a minimum, your real first name and last initial. Anonymous registrations are quietly discarded.
To contact me by E-mail, write wine@wineloverspage.com. I'll respond personally to the extent that time and volume permit.
PRINT OUT TODAY'S ARTICLE
Here's a simply formatted copy of today's Wine Advisor, designed to be printed out for your scrapbook or file or downloaded to your PDA or other wireless device.
http://www.wineloverspage.com/wineadvisor2/
2008/04/wild_cat_decent_malbec-print.html