Wine Focus - Loire Chenin Blanc
Quick! Name the world's five greatest wine-grape varieties! Okay, I see a hand raised for Pinot Noir over there. Someone just called out Cabernet Sauvignon. Certainly Riesling would make just about anyone's list; and from Northern Italy's Nebbiolo to the Chardonnay of White Burgundy and Champagne, there's plenty of competition to fill out the group.
Did anyone mention Chenin Blanc?
Arguably the greatest of the "undiscovered" grapes, Chenin Blanc gets relatively scant respect because, in many world wine regions, it's greedily over-produced in a bid for quantity, not quality, cranked out by the gallon as forgettable jug wine.
At its best, though, Chenin Blanc deserves parity with Riesling for rich, complex, minerally white wines of startling ageworthiness. And nowhere is Chenin done better than in France's Loire Valley.
Wine lovers who dub themselves "Loireheads" already know this, but it's surprising how many serious wine enthusiasts have yet to discover that the Loire's take on Chenin Blanc ranks right up there with the world's other top wine grapes. Complex, balanced, subtle and food-friendly, capable of aging into stunning complexity, Chenin Blanc deserves far more attention than it gets.
Vouvray is probably the most familiar appellation among Loire Chenin Blanc, but there's plenty more, from cellarworthy Savennières to less familiar names like Montlouis and today's tasting, Saumur; a dazzling array of worthy dessert wines (Coteaux du Layon, Bonnezeaux, Quarts de Chaume, Moulin Touchais and many more), not to mention a regional sparkling wine - Cremant de Loire - that can be outstanding in its better examples.
We're featuring Loire Chenin Blanc as this month's Wine Focus in our WineLovers Discussion Group forums, and hope you'll join us in the exploration by picking up a Loire Chenin or two, tasting and talking about it with us. At least a little Loire Chenin gets out around the world, so it should be possible to join in wherever you live. But if you're in a Loire-deprived region, Please feel free to substitute Chenin Blanc from other parts of the world for comparison.
To participate in Wine Focus, simply click http://www.wineloverspage.com/forum/village/viewforum.php?f=18 and feel free to post a response in any of the discussion topics. Everyone may read the discussions; to post requires registration, but it's free and simple. We ask only that you register using your real name, or if you're shy, your real first name and last initial. We look forward to welcoming you to our friendly online conversations.
Today's tasting report features a 2006 Saumur ("So-muhr") from a district in Anjou, just west of Touraine on the South Bank of the Loire. Saumur white wines are made predominanty to entirely from Chenin Blanc, but it's permissible to blend in small amounts of Chardonnay and, less commonly, Sauvignon Blanc. I find Saumur similar to Vouvray, although in my experience it's more likely to be dry, and often reflects the district's limestone soils with a chalky, oyster-shell minerality.
Today's Sponsor
A message from WineLibrary.com
Are you on Wine Library's e-mail service? If not, you are missing out on the hottest new 90+ pointers at rock-bottom prices! Log on to winelibrary.com to sign up today! Dorothy J. Gaiter and John Brecher of The Wall Street Journal wrote a piece on Jan. 11, 2008 reviewing inexpensive wines from the historic 2005 vintage in Bordeaux. The wine they named "Best value" was the Chateau Au Grand Paris, now available at Wine Library for just $9.99! Click here for details!
You may have seen us featured in GQ magazine, The Wall Street Journal, New Jersey Monthly and elsewhere. WineLibrary.com features a huge collection of top wines from around the world, great gifts and accessories, a daily video blog (WineLibraryTV), huge selection of futures and much, much more!
Bottom line, we offer the lowest prices, the largest selection, lightning fast shipments and the greatest customer service in the industry! WineLibrary.com is your one-stop shop for everything wine ... so what are you waiting for? Log on to WineLibrary.com today!

Château de Villeneuve 2006 Saumur ($15.99)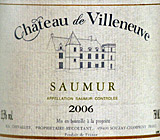 Clear straw color. Good, characteristic Chenin Blanc aromas, honeydew melon and a floral back note reminiscent of citrus blossoms. Dry and tart, medium-bodied with a chalky touch of minerality; some richness evident on the palate. A pleasant peach-pit bitter note shows up in the finish, ending with a slightly spicy touch of meyer lemon. Complex and balanced, mouth-watering acidity makes it a particularly good pairing with seafood or fish. U.S. importer: Vintner Select, Mason, Ohio, and other regional importers. (April 1, 2008)
FOOD MATCH: Perfect with scallops seared in butter with garlic and ginger and a touch of chili flakes.
VALUE: In the face of the falling dollar, a mid-teens price is about as good as you can expect for a Loire Chenin Blanc of this quality.
WHEN TO DRINK: Although it's ready to drink and very enjoyable now, this would be an excellent experiment in aging Chenin Blanc. Try cellaring a few for five years or even longer.
WEB LINK:
I couldn't find a winery Website on a quick search, but here's a tasting report and information about Château de Villeneuve Saumur on the site of a British wine merchant, Christopher Piper:
http://www.christopherpiperwines.co.uk/
acatalog/france-loire_valley_anjou_and_saumur_A059006.html
FIND THIS WINE ONLINE:
Look for sources and check prices for Château de Villeneuve Saumur on Wine-Searcher.com:
http://www.wine-searcher.com/
find/Villeneuve%2bSaumur/-/-/USD/A?referring_site=WLP

Talk About Wine Online
If you have questions, comments or ideas to share about today's article
or wine in general, you're always welcome to drop by our online
WineLovers Discussion Group. This link will take you to the forum home page, where you can read discussions in all the forum sections:
http://www.wineloverspage.com/forum/village
Everyone is free to browse. If you'd like to post a comment, question or reply, you must register, but registration is free and easy. Do take care to register using your real name, or as a minimum, your real first name and last initial. Anonymous registrations are quietly discarded.
To contact me by E-mail, write wine@wineloverspage.com. I'll respond personally to the extent that time and volume permit.
PRINT OUT TODAY'S ARTICLE
Here's a simply formatted copy of today's Wine Advisor, designed to be printed out for your scrapbook or file or downloaded to your PDA or other wireless device.
http://www.wineloverspage.com/wineadvisor2/
2008/04/wine_focus_loire_chenin_blanc-print.html