Cork taint or not?
A few days off
I'm taking a little personal time off, so we'll publish The 30 Second Wine Advisor only on Mondays this week and next, and there'll be no Thursday FoodLetters during this period. I'll plan to resume regular publication later in the month.
I've often written about cork "taint," the nasty, chlorine-reeking, moldy stench of wet basement or damp newspaper that spoils any wine damaged by a fungus that randomly afflicts natural cork.
It's an unpleasant effect, one that's variously estimated to damage 2 percent to 10 percent of all wine sealed with natural cork, and it's the primary force behind the growing market share of wine under alternative closures that range from metal screwcaps to synthetic plugs to glass stoppers.
Maybe 90 times of out 100, cork taint is obvious. Open the wine, smell that musty, moldy stench - once learned, it's not easily forgotten - and pour the wine down the drain. Mutter a few bad words, open another bottle. The offending pollutant (most often "TCA," or tricloroanisole, to use its technical name) is so overwhelming that it renders even the best wine unpalatable.
Occasionally, though, cork taint is a tougher call, one you'll occasionally see debated at wine judging or wine-geek gatherings. A slightly afflicted wine may not show an obvious moldy or chlorine stink, but it's subliminal, and the wine's fruit seems muted or "scalped," as some wine tasters say. It can be hard to call a marginally "corked" wine, particularly since individual thresholds of TCA perception vary. Sometimes the only way to be sure is to try another bottle.
The other night's wine, however, presented an unusual challenge, one that I don't recall encountering before.
When I first opened Chateau de Lancyre 2005 "La Coste d'Aleyrac," a dusty whiff of dried wild mushrooms wafted out of the bottle, prompting an instinctive "uh oh." This scent bore an alarming resemblance to a cork-tainted wine, yet it was intriguing - like sniffing dried Italian porcini from the jar - and not unpleasant.
I can't stand TCA and consistently dump a corked wine as soon as I detect the telltale stench, but here it was different. The dried-mushroom character didn't dominate the flavor as TCA does, and there was none of the back note of chlorine that's particularly offensive in cork taint. The wine was delicious on the palate, fresh, tart red plums and mouth-watering acidity and no hint of corkiness.
Still, I spent half the evening sniffing and sipping and trying to make up my mind. I ultimately declared it an earth element in the wine - there's no damp basement here, no wet newspaper, no Clorox tang. The only way to tell for sure would have been to go back to the store for another bottle, and frankly, it wasn't worth that effort.
Philosophers used to ask, when a tree falls in the forest with no one there to hear it, does it make a sound? This wine left me with a question something like that, too. If you have an opinion or comment, I'd love to hear it on our WineLovers Discussion Group, where you can check in to read this post and any ensuing discussion at
http://www.wineloverspage.com/forum/village/viewtopic.php?f=3&t=14588
Today's Sponsor
A message from WineLibrary.com
Are you on Wine Library's e-mail service? If not, you are missing out on the hottest new 90+ pointers at rock bottom prices! Log on to WineLibrary.com to sign up today! The 2005 Pasodoble has turned into quite an amazing deal. Rated 90 Points by Jay Miller of Robert Parker's The Wine Advocate, this wine is available for just $11.98 per bottle! Click here for details!
You may have seen us featured in GQ magazine, The Wall Street Journal, New Jersey Monthly and elsewhere. WineLibrary.com features a huge collection of top wines from around the world, great gifts and accessories, a daily video blog (WineLibraryTV), huge selection of futures and much, much more!
Bottom line, we offer the lowest prices, the largest selection, lightning fast shipments and the greatest customer service in the industry! WineLibrary.com is your one-stop shop for everything wine ... so what are you waiting for? Log on to WineLibrary.com today!

Chateau de Lancyre 2005 "La Coste d'Aleyrac" Pic Saint-Loup ($17.99)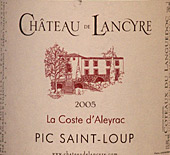 Inky dark purple with a violet edge. Red fruit, a whiff of fresh herbs, and an odd, intriguing "dusty dried mushroom" scent that's reminiscent of "cork taint" but lacks the offputting stench of the all-too-familiar natural-cork fungus defect. I'm inclined to call it "earthy" and let it ride - it's delicious on the palate, fresh, tart red plums and mouth-watering acidity that confers a food-friendly snap in the finish. A typical Languedoc blend of 40% each Syrah and Grenache, 10% each Cinsault and Carignan. U.S. importer: Hand Picked Selections Inc., Warrenton, Va. (March 6, 2008)
FOOD MATCH: Sheerly by chance, the dried-mushroom element seemed to marry unusually well with a simple dish of chicken braised with onions, garlic and smoked paprika.
VALUE: As with so many idiosyncratic wines, its value at this upper-teens price depends on your tolerance for earthy character in European reds ... and, of course, a final determination as to whether my sample was typical or flawed.
WHEN TO DRINK: Based on fruit, acid and balance, it should hold well for a few years; its flavor evolution with the offbeat earthy aromas is harder to predict.
WEB LINK: Here's a fact sheet on Chateau de Lancyre from the U.S. importer, Hand Picked Selections:
http://www.winemerchant.net/pages/cc-fr-lancyre.htm
FIND THIS WINE ONLINE:
Check prices and find vendors for the wines of Chateau de Lancyre Pic Saint-Loup on Wine-Searcher.com:
http://www.wine-searcher.com/
find/Lancyre%2bLoup/-/-/USD/A?referring_site=WLP

Today's Sponsor
Colossal Wine Sale Starts Now! Shop early for the best selection this month with The California Wine Club!
Save up to 70 percent off normal retail prices during this month's Colossal Wine Sale at The California Wine Club. Choose from more than 100 award-winning, limited-production wines. Super Savers are just $6.50 per bottle! Order two cases or more and receive two bonus gifts. Visit www.cawineclub.com or call 1-800-777-4443.
Every wine featured by The California Wine Club has been hand selected by club owners Bruce and Pam Boring and comes from one of California's best "mom & pop" wineries. Since 1990 The California Wine Club has been introducing wine enthusiasts to wines normally only found by visiting wine country and the wineries themselves. If you've not yet experienced The California Wine Club, try it during this month's wine sale. Mix a case of wines and save up to 70% off normal retail prices.
As always, every wine is 100 percent guaranteed! Call 1-800-777-4443 or visit www.cawineclub.com

Talk About Wine Online
If you have questions, comments or ideas to share about today's article
or wine in general, you're always welcome to drop by our online WineLovers Discussion Group. This link will take you to the forum home page, where you can read discussions in all the forum sections:
http://www.wineloverspage.com/forum/village
Everyone is free to browse. If you'd like to post a comment, question or reply, you must register, but registration is free and easy. Do take care to register using your real name, or as a minimum, your real first name and last initial. Anonymous registrations are quietly discarded.
To contact me by E-mail, write wine@wineloverspage.com. I'll respond personally to the extent that time and volume permit.
PRINT OUT TODAY'S ARTICLE
Here's a simply formatted copy of today's Wine Advisor, designed to be printed out for your scrapbook or file or downloaded to your PDA or other wireless device.
http://www.wineloverspage.com/wineadvisor2/
2008/03/cork_taint_or_not-print.html

This week on WineLoversPage.com
• Oxford Town Wines: What would Jesus drink?
One of the most popular stories of the Bible is the Wedding Feast at Cana, where Jesus turned water into fine wine. Speaking light-heartedly but not irreverently, writer John Juergens tosses out a few ideas.|
http://www.wineloverspage.com/oxford/wwj08.phtml
• WebWineMan: Wine's winning ways
What makes wine so different, more interesting, challenging, and satisfying than other beverages? Richard Fadeley suggests four facets to the enjoyment of wine that you may not have stopped to consider.|
http://www.wineloverspage.com/webwineman/winning08.phtml
• Internet radio Community Call ("TalkShoe"): Wine and chocolate!
Would you be surprised to hear that fine chocolate can be great with a dry red Bordeaux? We'll talk about this and other wine-and-chocolate possibilities on this week's Internet radio Community Call ("TalkShoe"), Monday, March 10, at Noon US EDT (9 a.m. Pacific, 5 p.m. in Western Europe). Click for the details!
http://wineloverspage.com/talkshoe/
All our previous TalkShoe Community Calls are available for listening or downloading from the archives. Click for the podcast!
http://wineloverspage.com/talkshoe/latest.htm
• WineLovers Discussion Group: Vinovation!
A controversial process conducted by a California firm can reduce the alcohol content in wine, seeking to improve flavor and balance. Is this a good thing, or an undesirable technological intrusion into the natural process of making wine? This topic is grist for an intriguing, informed conversation in our WineLovers Discussion Group.
http://www.wineloverspage.com/forum/village/viewtopic.php?f=3&t=14543