Wine Focus - Value Bordeaux
Can cheap Bordeaux ever be good, and can good Bordeaux ever be cheap? Finding the answers to these wine bargain hunter's questions will occupy us during March in our monthly Wine Focus forum.
Top Bordeaux, critically acclaimed and sought after by a growing horde of wealthy collectors around the world, has reached the point where most of the wines ranked as "first growth" in the Medoc Classification of 1855 are no longer practical options for many middle-class wine enthusiasts.
And even among the less ethereal labels, some might argue that the connection between quality and value has become all but lost amid the great supply-and-demand rush.
At the lower end of the budget scale, there are thousands of less sought-after labels in relatively affordable price ranges. But there's a bewildering array of minor and "satellite" appellations outside the desirable Medoc on the Left Bank of the Gironde river and its estuaries and St.-Emilion and Pomerol on the Right Bank, and no handy classification system to sort it out.
We know that Bordeaux reds are a blend of Cabernet Sauvignon, Cabernet Franc and Merlot, mostly, with small lots of Petite Verdot, Malbec and other varieties permitted. But the exact composition, vineyard age, terroir and just about everything else varies from property to property. It's no surprise that, while the high-end "cult" wines of Bordeaux fly off the shelves at inflated prices, much of the region's wine languishes unsold.
This month we hope to scout out some of the best wines and best values among these "other" Bordeaux, and shart our impressions and buying tips in our WineLovers Discussion Group forums. I hope you'll pick up a bottle of your favorite modest Bordeaux from Blaye, Bourg, Castillon or other little-known quarter and chime in with your tasting reports and buying advice.
Today's featured wine opens the discussion with a red wine at about as low a price as you'll ever see for Bordeaux in today's market: Chateau Malbec 2005 Bordeaux, available locally for $12.99, comes from a property that bears the name of one of the minor Bordeaux grapes, but curiously the wine apparently contains no Malbec. It's a blend of 60 percent Merlot and 40 percent Cabernet Sauvignon, grown and estate-bottled in Bordeaux' Entre-Deux-Mers ("Between two seas") region, so called because it lies on a low plain between the Dordogne and Garonne rivers. Entre-Deux-Mers is generally dismissed as the source of unexciting wines, but I can't complain about this one. Perhaps lifted by the overall quality of the fine 2005 vintage, it offers a good, clear example of simple Bordeaux in its traditional style. My tasting notes are below.
Today's Sponsor
Wine Sale Starts Now! Save up to 70% this month with The California Wine Club
There is a Colossal Wine Sale going on now at The California Wine Club. More than 100 award-winning wines are on sale up to 70 percent off normal retail prices.
Visit www.cawineclub.com to see the full list of limited production wines on sale.
The California Wine Club makes it convenient to shop, easy to save and fun to experience something new:
• Search and shop by winery, varietal, region and even price
• Read tasting notes, reviews and ratings
• Mix a case with as many as 12 different wines (try 93 point Cab you've been coveting alongside a $6.50 Super Saver)
Call 1-800-777-4443 to order during this month's Wine Sale or visit www.cawineclub.com

Chateau Malbec 2005 Bordeaux ($12.99)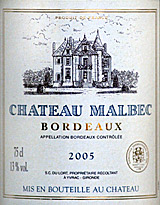 Very dark ruby, almost black at the center, with scarlet glints against the light. Black fruit and cedar aromas add a touch of characteristic Bordeaux "lead pencil" in the flavor; plenty of acidity, and a curtain of marked but palatable tannins drops in the finish. A good benchmark Bordeaux at the low end of the budget range. U.S. importer: Wine Service Inc., Neptune City, N.J. (Feb. 17, 2008)
FOOD MATCH: My idea of a perfect match with Bordeaux is lamb chops (we used a batch from Michigan's Wolverine Packing Co.), pan-seared with garlic and rosemary. Rare beef is another classic pairing.
VALUE: If you can find this wine and match the price, it's a fine value; over $15 I would be more skeptical.
WHEN TO DRINK: Quite drinkable now with a good red-meat match, but even a modest Bordeaux like this may benefit from a few years' cellaring.
FIND THIS WINE ONLINE:
Because the label consists of the common wine words "Chateau" and "Malbec," it's not feasible to search for it on Wine-Searcher.com. I understand it is widely available in Britain and France through the Oddbins and Nicolas retail chains, but it appears to be less widely distributed in the U.S. Ask local retailers or follow the discussions in our Wine Focus, where we hope to have plenty more tips to excellent affordable Bordeaux this month.

Talk About Wine Online
If you have questions, comments or ideas to share about today's article
or wine in general, you're always welcome to drop by our online WineLovers Discussion Group. This link will take you to the forum home page, where you can read discussions in all the forum sections:
http://www.wineloverspage.com/forum/village
Everyone is free to browse. If you'd like to post a comment, question or reply, you must register, but registration is free and easy. Do take care to register using your real name, or as a minimum, your real first name and last initial. Anonymous registrations are quietly discarded.
To contact me by E-mail, write wine@wineloverspage.com. I'll respond personally to the extent that time and volume permit.
PRINT OUT TODAY'S ARTICLE
Here's a simply formatted copy of today's Wine Advisor, designed to be printed out for your scrapbook or file or downloaded to your PDA or other wireless device.
http://www.wineloverspage.com/wineadvisor2/
2008/03/wine_focus_value_bordeaux-print.html

This week on WineLoversPage.com
• Dibbern on Wine: Something Old, Something New
Traveling through the Cape Winelands of South Africa, glancing over to see a palm tree growing right next to a grapevine, drives home the point of this region as a land of striking contrasts and great natural beauty.
http://www.wineloverspage.com/dibbern/southaf08.phtml
• Internet radio Community Call ("TalkShoe"): Your first wine
Do you always remember your first ... wine? What was your first wine and the circumstances under which you tasted it? What wines would you recommend those just starting their path towards wine awareness? We'll take on these topics in today's Internet radio Community Call ("TalkShoe"), Monday, March 3, at Noon US EST (9 a.m. Pacific, 6 p.m. in Western Europe). Here's how to tune in:
http://wineloverspage.com/talkshoe/
All our previous Community Calls are available for listening or downloading from the archives. Click to listen!
http://wineloverspage.com/talkshoe/latest.htm
• WineLovers Discussion Group: Will fear of recession change how you buy wine?
Wall Street has the jitters, and the Dow Jones Index is going down as gasoline and grocery prices rise. Will fear of recession change our wine-buying habits? Join the discussion and vote in a poll in our WineLovers Discussion Group.
http://www.wineloverspage.com/forum/village/viewtopic.php?f=3&t=14351