Malbec inflation
What ever happened to the good $5 Malbec?
Looking back over my past tasting reports and articles as we wrap up a month of Malbec in our Wine Focus forum, I'm intrigued to note what a short time line Malbec covers for most wine enthusiasts outside the regions where it's produced.
The first Argentine Malbec tasting note in my archives dates back only to 1997, just over a decade ago; and as recently as February 2000, I wrote, "I wish Argentine wines were more readily available in the U.S. At least where I shop, Argentina seems to be the last great undiscovered wine region."
After that, Malbec came on fast, and just two years later, Malbec notes were becoming frequent fodder for 30 Second Wine Advisor reports. I covered it repeatedly during 2002, observing, "And now, just as some wine enthusiasts are starting to look around at Pinot Gris/Grigio and other white alternatives to Chardonnay, Malbec is starting to show up as an intriguing option for those bored with Merlot. I see it taking up more shelf space in our town, and showing up even more as a by-the-glass option in local restaurants."
Argentine Malbec in those days was deliciously affordable, often selling for $5 a bottle and rarely over $10.
Happily, there's still modest Malbec about, although more and more of it seems made in a fruit-forward, often oaky "international" style; and there's a surprising amount of high-end Malbec around nowadays at prices reaching well above my everyday wine budget at $50 or more.
Let's wrap up the Wine Focus month with notes on a pair of recently tasted Malbecs, one that's still selling at yesterday's prices but that, sadly, doesn't offer much value for the low-end price; and another in the $20 mid-range that's a decent bottle of red with a bit of old-fashioned Mendoza earthiness. Monday we'll unveil the Wine Focus topic for March.
Catena Zapata 2005 Mendoza Malbec ($20)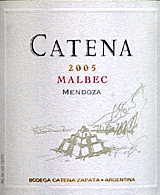 Inky blackish-purple, dark violet at the edge. Lots of black fruit on the nose, fresh black-skinned plums and hints of earth, happily without the intrusive oak that's becoming unfortunately commonplace in Argentine Malbec, particularly the more pricey models. Tart, ripe plums on the palate, too, nicely structured with mouth-watering acidity and smooth tannins. Appealing, balanced, not overly complex at this point, but shows possibilities for at least a few years' cellar time. U.S. importer: Billington Imports Inc., Springfield, Va. (Feb. 26, 2008)
FOOD MATCH: Fine with the hamburgers pan-seared Italian-style with green peppers and onions featured in yesterday's 30 Second Wine Advisor FoodLetter.
VALUE: Not underpriced at $20, but the tag seems fair against other sturdy and somewhat ageworthy reds in the same range.
WHEN TO DRINK: Ready to go, but as noted, may gain complexity with cellar time.
WEB LINK:
The Catena Website is available in English and Spanish. Click the link for your choice of language.
http://www.catenawines.com/
FIND THIS WINE ONLINE:
Look for vendors and compare prices for Catena Zapata Mendoza Malbec on Wine-Searcher.com. (Note that results will also cover the less pricey Catena Alamos):
http://www.wine-searcher.com/
find/Catena%2bZapata%2bMalbec/-/-/USD/A?referring_site=WLP

Trapiche 2006 Mendoza Malbec ($6.99)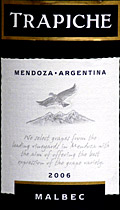 Inky blackish-purple, dark garnet even at the edge. Fruit-forward, simple plums and a whiff of smoke. Flavors consistent with the nose, juicy fruit and tart acidity in a simple, rather modern-style Malbec. Passable with food, no real flaws, but not my favorite style; probably not a repeat buy even at the price. U.S. importer: Frederick Wildman & Sons Ltd., NYC. (Feb. 21, 2008)
FOOD MATCH: Malbec's natural companion is beef, but this fare well with a "meaty" vegetarian dish, short pasta in a simple sauce of fresh domestic mushrooms and dried porcini.
VALUE: The price is cheap and the wine is drinkable, but frankly, the wine isn't particularly inspiring. Worth what you pay for it.
WHEN TO DRINK: It doesn't strike me as a wine with much to gain from aging, but it won't die over a year or two on the wine rack.
WEB LINK:
The Trapiche Website is published in Spanish and English. Click "Comenzar" or "Start" for the language you prefer.
http://www.trapiche.com.ar/
The U.S. importer's Website includes an article about Trapiche with scenic photos:
http://www.frederickwildman.com/
wildmansite/wmphp/winery.php3
FIND THIS WINE ONLINE:
Check prices and find sources for Trapiche Malbec on Wine-Searcher.com:
http://www.wine-searcher.com/
find/Trapiche%2bMalbec/-/-/USD/A?referring_site=WLP

Talk About Wine Online
If you have questions, comments or ideas to share about today's article
or wine in general, you're always welcome to drop by our online WineLovers Discussion Group. This link will take you to the forum home page, where you can read discussions in all the forum sections:
http://www.wineloverspage.com/forum/village
Everyone is free to browse. If you'd like to post a comment, question or reply, you must register, but registration is free and easy. Do take care to register using your real name, or as a minimum, your real first name and last initial. Anonymous registrations are quietly discarded.
To contact me by E-mail, write wine@wineloverspage.com. I'll respond personally to the extent that time and volume permit.
PRINT OUT TODAY'S ARTICLE
Here's a simply formatted copy of today's Wine Advisor, designed to be printed out for your scrapbook or file or downloaded to your PDA or other wireless device.
http://www.wineloverspage.com/wineadvisor2/
2008/02/malbec_inflation-print.html