France made simple?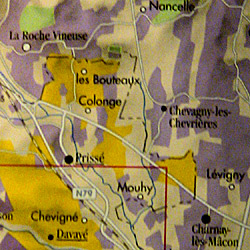 A particularly interesting Chardonnay from a tiny Burgundian village comes together with a thoughtful conversation in our WineLovers Discussion Group to highlight coming changes in French wine law that wine lovers around the world will soon be hearing more about.
The wine bears the geographical designation "Macon La Roche Vineuse," after the village near the southern end of Burgundy where its grapes are grown. An appellation so obscure offers a vivid example of the almost byzantine hierarchy of French wine geography, a concept deeply rooted in the real-estate rule of "Location, location, location."
All of France's wine regions are carefully subdivided into geographical regions and subdivisions, within which wine producers work under strict controls that limit grape varieties, vineyard yields and rules of vinification. All this is done in honor of maintaining "typicity" and "terroir" in the finished wine, honoring tradition and custom so wines reflect the local soil and, in theory, taste just the same to us as they did to our parents and great-grandparents.
It's a system beloved by sommeliers, connoisseurs and advanced "wine geeks," who enjoy memorizing the maps and customs of each region and learning to recognize its terroir. But it arguably makes French wine less than competitive on a world market where other countries' wine rules seem simpler, more straightforward and frankly easier to learn.
Faced with declining sales and a growing lake of excess wine (much of it converted into industrial alcohol financed by government subsidies), and under pressure to conform French wine law to European Union standards, French wine authorities have proposed consolidating the current appellations into a somewhat simplified three-tier system.
I'm indebted to WineLovers Discussion Group participant Tim York, a French-fluent Englishman who lives in Belgium, for posting a summary in his own words of an extended article on the proposal from the March edition of the French wine magazine La Revue du vin de France:
• The third (bottom) tier will consist of "vins de table" (table wines). Beginning with the 2009 vintage, "vins de table" will be allowed to show grape variety and vintage on their labels. Grapes may be blended from any part of France. There will no longer be any constraints on production methods, for example on yields and irrigation, other than those of international wine industry norms (e.g. the banning of flavouring additives, certain chemical stabilisers, etc.) It is hoped that this will permit the appearance of French commercial wine brands to compete with those of the New World. The old regional "Vins de Pays" designation will disappear progressively after 2009.
• The second tier will consist of "vins de territoire" (territorial wines). Into this category will fall the more ambitious artisan-produced wines which are "vins de pays" at present; existing regional appellations such as "Bordeaux" and "Bourgogne," and regroupings of existing lesser AOCs. An example of the last is the regrouping into "Côtes de Bordeaux" of the appellations Blaye, Castillon, Cadillac and Francs. As many as 50 to 100 appellations are expected to disappear in the next few years. The creation of new appellations will not be allowed.
• The first (top) tier will consist of "vins de terroir" (terroir wines) which will reinforce the AOC system at the top level. The intention is to guarantee quality as well as origin. New style-tasting committees for accepting or refusing wines will replace local vignerons, considered too subject to complaisance with poor quality and jealousy of outstanding performers, with presumably more independent judges such as journalists, oenologists, wine merchants and the like. The AOCs will draw up new specifications to replace existing decrees; it is intended that these should be in place for the 2008 vintage.
Naturally all this raises a lot of questions and speculation among French wine enthusiasts, and a spirited, civil discussion as already well under way in our online forum. You're welcome to read the conversation, at
http://www.wineloverspage.com/forum/village/viewtopic.php?f=3&t=14190
You're welcome to read the conversation without registration, but if you would like to join in - and I hope you will - it's necessary to register and log in. Registration is free and simple, requiring only that you register using your real name (or, as a minimum, first name and last initial). If you have difficulties, feel free to E-mail me for help at wine@wineloverspage.com. See you in the forum!
Now, let's have a short-form look at that obscure French village. While I don't know of specific plans for Macon La Roche Vineuse, it's the type of tiny, obscure appellation that seems likely to disappear under the new regulatory system.
If La Roche Vineuse were to disappear into a broad "Macon" or even broader "Bourgogne" appellation, would producer Alain Normand continue to hand-craft this crisp, defined and minerally Chardonnay that surely speaks with an accent unique to "the vinous rock"? Or would the necessities of the marketplace ensure that this fine wine eventually ends up as part of an anonymous blend?
I'd like to believe that passionate artisans like Normand would stay the course, counting on his name and reputation to sell the wine to a small but devoted audience. But who knows? While the big French producers are likely secure in their reputations even through a storm of change, you have to wonder how the small, less-known properties will fare.
Domaine Alain Normand 2005 Macon La Roche Vineuse ($15.99)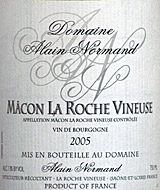 Transparent straw color. Delicious baked apples and just a homeopathic touch of spice. Fresh and tart, appley fruit and crisp acidity; a touch of chalky minerality adds complexity and flavor interest. Medium-bodied and very long, apples and rainwater minerality untouched by oak in a long finish. U.S. importer: Vintage '59 Imports, Washington, D.C. (Feb. 18, 2008)
FOOD MATCH: Poultry, pork or seafood all would make a fine match; it was particularly well-suited with a vegetarian option, the "double asparagus" risotto featured in yesterday's 30 Second Wine Advisor FoodLetter.
VALUE: A white Burgundy of this quality and distinction in the middle teens? It doesn't get much better than this.)
WHEN TO DRINK: Already a delight, but I wouldn't bet against it gaining some richness and additional complexity with several years in the bottle.
WEB LINK:
The U.S. importer's Website contains this short report on Alain Normand and his wines from La Roche Vineuse:
http://www.vintage59.com/
portfolio/france/burgundy/alain_normand.php
FIND THIS WINE ONLINE:
Alain Normand's label unfortunately yields few hits on Wine-Searcher.com, but here's a link to a more extensive list of vendors for the wines of Macon La Roche Vineuse:
http://www.wine-searcher.com/
find/Roche%2bVineuse/-/-/USD/A?referring_site=WLP
The U.S. importer has contact information for distributors in most states. Distributors can't sell direct to the public, but should be able to refer you to nearby retail sources:
http://www.vintage59.com/distributors.php

Talk About Wine Online
If you have questions, comments or ideas to share about today's article
or wine in general, you're always welcome to drop by our online WineLovers Discussion Group. This link will take you to the forum home page, where you can read discussions in all the forum sections:
http://www.wineloverspage.com/forum/village
Everyone is free to browse. If you'd like to post a comment, question or reply, you must register, but registration is free and easy. Do take care to register using your real name, or as a minimum, your real first name and last initial. Anonymous registrations are quietly discarded.
To contact me by E-mail, write wine@wineloverspage.com. I'll respond personally to the extent that time and volume permit.
PRINT OUT TODAY'S ARTICLE
Here's a simply formatted copy of today's Wine Advisor, designed to be printed out for your scrapbook or file or downloaded to your PDA or other wireless device.
http://www.wineloverspage.com/wineadvisor2/
2008/02/france_made_simple-print.html