Dancing label
I was surfing the wine shops the other day, looking for a good, affordable Malbec for this month's online Wine Focus feature, when suddenly a label jumped out at me.
I mean "jumped" literally here: This label was moving! A pair of legs - male in slacks, female in stockings and heels - were sliding around a dance floor in an Argentine tango, right there on the wine-shop shelf.
Closer examination revealed that the label on Lo Tengo Mendoza Malbec contains a holographic image, one of those special photos that break up an image into tiny dots in many layers, built in such a way that the picture looks vaguely three-dimensional and seems to go into action when you move your eyes across it.
Let's pause at this point for a basic reality check: Wild, wacky and creative labels don't tell us a thing about the quality of the wine in the bottle, and it's senseless to make a wine-buying choice just because of an unusually eye-catching label.
But for those of us who enjoy watching trends and developments in the wine business, new ideas in wine labeling are worth following. In the highly competitive international market for wine, with tens of thousands of labels fighting for the consumer's attention, just about anything that makes a wine stand out among its neighbors on the shelf.
A dancing hologram grabs your attention if only because it's innovative and eye-catching. It's the first I've seen, but will it be the last? I doubt that.
Would I buy this wine only because of the unusual label? Certainly not! But the price looked right at $9.99, and the fine print on the back label reveals it was made by the respected Bodegas Norton; since I had no particular reason not to choose it, it danced right into my shopping basket. It turned out to be a pretty decent cheap Malbec, too, fruity, crisp and a bit "rustic," a good match with burgers or steaks and a very decent value. No extra charge for the moving tango show. My notes are below.
Today's Sponsor
A message from WineLibrary.com
Are you on Wine Library's e-mail service? If not, you are missing out on the hottest new 90+ pointers at rock bottom prices! Log on to WineLibrary.com to sign up today! Recently featured was the brilliant 91 Point Robert Parker rated D'Arenberg D'Arrys Original Shiraz/Grenache. This wine is available on preorder now for just $12.98 per bottle! Click here for details!
You may have seen us featured in GQ magazine, The Wall Street Journal, New Jersey Monthly and elsewhere. WineLibrary.com features a huge collection of top wines from around the world, great gifts and accessories, a daily video blog (WineLibraryTV), huge selection of futures and much, much more!
Bottom line, we offer the lowest prices, the largest selection, lightning fast shipments and the greatest customer service in the industry! WineLibrary.com is your one-stop shop for everything wine ... so what are you waiting for? Log on to WineLibrary.com today!

Bodegas Norton 2006 "Lo Tengo" Mendoza Malbec ($9.99)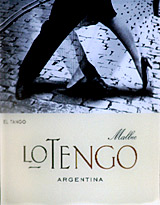 Very dark garnet, reddish-violet glints. Attractive red fruit, fresh and juicy plums. Tart red-plum flavors, mouth-watering acidity and soft tannins, well structured and food-friendly if a bit on the rustic side. Slightly hot on the finish although its claimed 13.5% alcohol level is unexceptional, especially by modern standards. Good everyday Malbec and a good value. U.S. importer: TGIC Importers Inc., Woodland Hills, Calif. (Feb. 19, 2008)
FOOD MATCH: Malbec, Argentina's flagship wine variety, is a natural partner with beef, another Argentine specialty. This one stood up nicely to an offbeat, aromatic preparation, seared mini-burgers with a light Indian-style curry-and-cumin sauce with rice.
VALUE: Young, fresh and food-friendly, it's quite a good value for less than $10.
WHEN TO DRINK: Simple, low-end Malbecs are just as well drunk up within a couple of years of the vintage, and the slick-sleeve artificial cork underscores my advice not to keep it longer.
WEB LINK:
The Bodegas Norton Website is available in Spanish, German and English; unfortunately, it's over-engineered, starting with a slow-loading Flash intro page and music, and I found its popup windows and links uncooperative with my installation of Firefox on Windows XP. If you choose to persevere, you'll find it at:
http://www.norton.com.ar
FIND THIS WINE ONLINE:
Wine-Searcher.com reveals a surprising range of prices for Lo Tengo Malbec, with many sources offering it for well under $10, and one cheeky profit-taker in Connecticut offering it in the middle teens. Check prices and find vendors here:
http://www.wine-searcher.com/
find/Tengo%2bMalbec/-/-/USD/A?referring_site=WLP

Talk About Wine Online
If you have questions, comments or ideas to share about today's article
or wine in general, you're always welcome to drop by our online
WineLovers Discussion Group. This link will take you to the forum home page, where you can read discussions in all the forum sections:
http://www.wineloverspage.com/forum/village
Everyone is free to browse. If you'd like to post a comment, question or reply, you must register, but registration is free and easy. Do take care to register using your real name, or as a minimum, your real first name and last initial. Anonymous registrations are quietly discarded.
To contact me by E-mail, write wine@wineloverspage.com. I'll respond personally to the extent that time and volume permit.
PRINT OUT TODAY'S ARTICLE
Here's a simply formatted copy of today's Wine Advisor, designed to be printed out for your scrapbook or file or downloaded to your PDA or other wireless device.
http://www.wineloverspage.com/wineadvisor2/
2008/02/dancing_label-print.html