One drink healthy, two not so much?
A new Canadian study of the heart-healthy benefits of beverage alcohol suggests that this medicine may be best taken in small doses.
Many previous studies have suggested that the beneficial effects of alcohol, particularly red wine, on cardiovascular health increase with dosage.
This intriguing finding - which has kicked up world sales of red wine since it was first publicized as "The French Paradox" during the 1990s - is complicated by the undeniable health hazards associated with over-consumption. Drinking to excess to protect your heart offers cold comfort if you poison your liver or lose your life in a drunken-driving accident in the process.
As it turns out, the issue may be moot, if researchers at the Peter Munk Cardiac Centre of the Toronto General Hospital are on track in a study published this month in the American Journal of Physiology, Heart and Circulatory Physiology and summarized in a press release from University Health Network.
"After one drink of either red wine or alcohol, blood vessels were more 'relaxed' or dilated, which reduced the amount of work the heart had to do," according to the summary report. "But, after two drinks, the heart rate, amount of blood pumped out of the heart, and action of the sympathetic nervous system all increased. At the same time, the ability of the blood vessels to expand in response to an increase in blood flow diminished. This counteracted the beneficial effect of one drink of red wine or alcohol."
What's more, those who love Pinot Noir, Cabernet Sauvignon or Shiraz will be further disheartened to learn that the Canadian group found no difference in the effects of red wine or any other form of beverage alcohol.
"We had anticipated that many of the effects of one ethanol drink would be enhanced by red wine," reported Dr. John Floras, director of cardiology research at the Peter Munk center. "What was most surprising was how similar the effects were of red wine and ethanol. Any benefits that we found were not specific to red wine."
Participants attended three morning sessions, each two weeks apart, in which they consumed random samples of water, 1.5-ounce glasses of ethanol and 4-ounce glasses of a moderately priced Pinot Noir selected by the Liquor Control Board of Ontario for its high content of resveratrol, an anti-oxidant found in red wine.
Researchers found that one sample of either red wine or alcohol had no effect on heart rate, brachial artery dilation or sympathetic nerve activity. A second drink of either beverage, however, did increase sympathetic nerve activity, heart rate and the amount of blood the heart pumps out, and also blunted the ability of the brachial artery to expand further in response to blood flow. These responses, researchers said, "are recognized markers for high blood pressure, heart failure and sudden death."
Floras concluded: "Our findings point to a slight beneficial effect of one drink - be it alcohol or red wine - on the heart and blood vessels, whereas two or more drinks would seem to turn on systems that stress the circulation. If these actions are repeated frequently because of high alcohol consumption, these effects may expose individuals to a higher risk of heart attacks, stroke or chronic high blood pressure."
I'm not panicking just yet. Before you make any lifestyle decisions based on the Canadian finding, it should be noted that the study was limited to 13 volunteers - seven men and six women, ranging in age from 24 to 47, described as "healthy, non-smoking adults who were not heavy drinkers or total alcohol abstainers." Indeed, Floras pointed out, " ... this study measured the effects of these drinks on one occasion only. The effects of daily wine or alcohol intake may be quite different."
My advice remains, as it has since the first appearance of the French Paradox: Wine consumed in moderation by non-alcoholic adults is certainly benign and may be beneficial. If you choose to enjoy wine, do so moderately as part of a healthy lifestyle of sensible diet and exercise. But it's silly to take it as medicine.
If you'd like to evaluate this report for yourself from primary and secondary sources, here are some useful links:
• The news release on University Health Network:
http://www.uhn.ca/news/Index.asp?ID=5092&category=8
• The abstract of the full study in the American Journal of Physiology, Heart and Circulatory Physiology:
http://ajpheart.physiology.org/cgi/content/abstract/294/2/H605
(The abstract is free. Should you wish to purchase the complete report, it's available in text or PDF format for $8. Click the links This Article, Full Text or Full Text (PDF) on the right-hand side of the abstract page.)
Today's tasting report
Now, for today's tasting, let's continue Wednesday's inquiry into unusual and offbeat French varieties with a look at an intriguing, value-priced Languedoc red made from Cinsault (sometimes spelled "Cinsaut"). Like Wednesday's white Picpoul de Pinet, it's an occasional player in the 13-grape blend permitted in Chateauneuf-du-Pape and the Cotes-du-Rhone, but grown more often as a blending element or single-varietal wine in Languedoc. Cinsault may be best known, however, as Pinot Noir's partner in the cross that produced the South African trademark grape, Pinotage.
Domaine des Terres Falmet 2006 Cinsault Vin de Pays d'Oc ($11)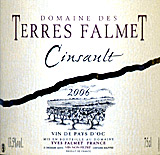 Garnet, with a pale violet edge. Strawberries and red apple skin, attractive fruit with just a hint of the earthy scent that the French call "sous bois" ("under the woods"), an evocative aroma that evokes thoughts of walks in a forest on a hot summer day. More good strawberry fruit and earth on the palate, "rainwater over rocks" minerality and soft but substantial tannins, balanced with sufficient acidity and more tart strawberries in the finish. Very interesting and complex, a fine demonstration of pure 100 percent varietal Cinsault in a rare solo performance. U.S. importer: United Estates Wine Imports Ltd., Worthington, Ohio. (Feb. 13, 2008)
FOOD MATCH: We went beyond the standard red-wine-with-beef option to try something more exotic, but the complex red was well up to it: Chicken steamed over aromatic cinnamon and star anise, cloaked with a curry-Dijon bechamel.
VALUE: A surprisingly complex wine for this price tag, a value perhaps explained by the generally modest reputation of Cinsault. (For an even finer price, Wine-Searcher.com indicates that our friends at Wine Library in New Jersey list it for $9.99.)
WHEN TO DRINK: Its good structure, tannins and excellent fruit-acid balance would normally hint at some cellar potential, but I'm wary of aging wines for more than a couple of years under the slick-sleeve artificial cork.
WEB LINK:
Here's a link to the U.S. importer's Website:
http://www.unitedestateswines.com/
FIND THIS WINE ONLINE:
Compare prices and look for vendors for Domaine des Terres Falmet Cinsault on Wine-Searcher.com:
http://www.wine-searcher.com/
find/Falmet%2bCinsault/-/-/USD/A?referring_site=WLP

Talk About Wine Online
If you have questions, comments or ideas to share about today's article
or wine in general, you're always welcome to drop by our online WineLovers Discussion Group. This link will take you to the forum home page, where you can read discussions in all the forum sections:
http://www.wineloverspage.com/forum/village
Everyone is free to browse. If you'd like to post a comment, question or reply, you must register, but registration is free and easy. Do take care to register using your real name, or as a minimum, your real first name and last initial. Anonymous registrations are quietly discarded.
To contact me by E-mail, write wine@wineloverspage.com. I'll respond personally to the extent that time and volume permit.
PRINT OUT TODAY'S ARTICLE
Here's a simply formatted copy of today's Wine Advisor, designed to be printed out for your scrapbook or file or downloaded to your PDA or other wireless device.
http://www.wineloverspage.com/wineadvisor2/
2008/02/one_drink_healthy_two_not_so_m-print.html