Today's Sponsor
• The California Wine Club
Is saving money one of your New Year's resolutions? Get your first month with The California Wine Club for just $12!
www.cawineclub.com
In This Issue
• Wine Focus - Malbec around the world
This month we taste and compare Malbecs from Argentina, from Bordeaux, Cahors and the Loire Valley in France, and anywhere else that's giving Malbec a try.
• The California Wine Club Is saving money one of your New Year's resolutions? Get your first month with The California Wine Club for just $12!
• Altos Las Hormigas 2006 Mendoza Malbec ($11)
Big, loaded with alcohol and oaky, this Malbec is distinctly "modern" in style, but balance and structure save it.
• This week on WineLoversPage.com
Tom Hyland's Italian Wine Guide offers a preview of the 2004 Amarone vintage, and our Internet radio Community Call (TalkShoe) discusses men, women, Mars and Venus when it comes to wine. Our wine forums debate inept restaurant wine service; our weekly poll rates "least useful" wine magazines.
• Administrivia Change E-mail address, frequency, format or unsubscribe.
Wine Focus - Malbec around the world
When most of us hear the grape name "Malbec" nowadays, we likely think of Argentina. The South American country has surely awarded Argentinian citizenship to this red variety that was once a key supporting player in Bordeaux and a few other French wine regions.
For this month's Wine Focus in our online forum, the WineLovers Discussion Group, we're taking another look at Malbec as a worldwide grape. As availability permits, we'll taste and compare Malbecs from Argentina, from Bordeaux, Cahors and the Loire Valley in France, and from New Zealand, Australia, California and anywhere else in the world that's giving Malbec a try.
You're invited to join the fun by visiting the Wine Focus forum section,
http://www.wineloverspage.com/forum/village/viewforum.php?f=18
and posting your own comments, questions and tasting reports.
For quick background, allow me to summarize some points I made about Malbec as an international grape in an article last year, Malbec by any other name.
I say "Malbec," you say "Auxerrois," and someone else says "Côt." Curiously, we're all talking about the same red wine grape ... and just to make matters even more confusing, it's also known, mostly in less prominent French wine regions, as Pressac, Pied Rouge, Jacobain and Grifforin.
The British wine writer Jancis Robinson says authorities list "several thousand" synonyms for Malbec, a remarkable statistic explained by the grape's once widespread planting in more than 30 of France's départements; every region seemed to come up with a distinct local name.
In Argentina, Malbec has become the signature grape, widely exported to the U.S. and around the world. However, its popularity has plummeted in France over the same time span as it has boomed in South America.
The problem is largely agricultural: In the climate of Western Europe, Malbec is hard to grow economically, subject to frost and mildew and a vine disease called coulure. In Argentina's high, dry Mendoza region, however, these problems are offset by its relatively heavy production.
Argentina calls the grape Malbec, as did modern Bordeaux. It's Auxerrois in Cahors in Southwestern France, and Côt in the Loire Valley. Other New World countries observing Argentina's success, are starting to try it, although not yet in large quantity.
East or West, by whatever name you call it, Malbec makes an enjoyable wine, generally distinguished by plummy dark-fruit flavors, subtle tastes of the earth and good acidity, all of which makes it a worthy food wine. Price it right, as the Argentines generally do, and you've got a recipe for success.
Featured in that column was a delicious Loire Valley Malbec, er, Côt, Clos Roche Blanche 2005 Touraine "Cuvée Côt". Today's tasting takes us back to Argentina for a value favorite, the 2006 vintage of Altos Las Hormigas. The winery is owned by an Italian-Argentine group that includes the well-known Italian wine importer Marco de Grazia, and as you might expect from a figure well-known for "modern," "international" wines, it's fruit-forward, oaky and high in alcohol. It's also quite good, and a very fine value.
I hope you'll drop in on Wine Focus this month and tell us about your Malbec, Côt and Auxerrois. Again, you'll find the discussions at
http://www.wineloverspage.com/forum/village/viewforum.php?f=18
Today's Sponsor
Get your first month with The California Wine Club for just $12!
Since 1990 The California Wine Club has featured the best of California's small "mom & pop" wineries. Club owners Bruce and Pam Boring tour wine country, get to know the winemaking families, then taste and choose their best wines to feature.
Exciting monthly deliveries include two bottles of award-winning wine and the club's full-color, 12-page publication, Uncorked. Experience wines you can't find in local stores and read all about the winery and California's wine scene. Uncorked includes a recipe from the winery, plus tasting notes and wine tips.
Try the club now and you'll save $34.95. Just mention The 30 Second Wine Advisor and pay only $12 for your first month! Following shipments will be $34.95 plus shipping, and you can choose to receive shipments monthly, every other month or quarterly.
Call 1-800-777-4443 to order or visit www.cawineclub.com and use promo code RENEW during checkout.
Save even more! When you taste a wine you love, reorder directly with The California Wine Club and save up to 50 percent off normal retail prices.

Altos Las Hormigas 2006 Mendoza Malbec ($11)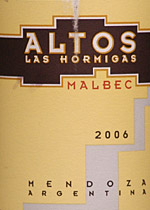 Inky blackish-purple with reddish-violet glints. Black and red plum aromas add hints of red clay and smoke. Full-bodied and fruit-forward, substantial structure built on tart acidity and a hefty 14.6 percent alcohol content. On the one hand, it's a distinctly "modern" wine that would likely earn high points from the critics for its fruit-forward, blockbuster-alcohol style. On the other hand, it's full and ripe, put together well and works with food, a marked advantage over the competition especially when price is taken into account. U.S. importer: Vintner Select, Mason, Ohio. (Feb. 2, 2008)
FOOD MATCH: Chicken thighs steamed with porcini mushrooms and Asian aromatics, then cloaked in a Mornay-style Pecorino Romano and porcini sauce.
VALUE: Good value at this price, assuming you're in the market for a high-octane, "modern-style" Malbec. Bargain hunters should shop around, as this wine can be found widely in the $7 to $9 range.
WHEN TO DRINK: Malbec in France's Cahors will cellar and improve for a decade or longer. Mendoza's shorter track record makes it difficult to call, but this structured, powerful example might be worth the modest investment involved in cellaring a few to find out.
WEB LINK:
You'll find in-depth information about Altos Las Hormigas and its wines in English and Spanish on the winery Website. Here's the English-language start page:
http://www.altoslashormigas.com/index_en.php
FIND THIS WINE ONLINE:
Compare prices and locate vendors for Altos Las Hormigas Malbec on Wine-Searcher.com:
http://www.wine-searcher.com/
find/Altos%2bHormigas%2bMalbec/-/-/USD/A?referring_site=WLP

Talk About Wine Online
If you have questions, comments or ideas to share about today's article
or wine in general, you're always welcome to drop by our online WineLovers Discussion Group. This link will take you to the forum home page, where you can read discussions in all the forum sections:
http://www.wineloverspage.com/forum/village
Everyone is free to browse. If you'd like to post a comment, question or reply, you must register, but registration is free and easy. Do take care to register using your real name, or as a minimum, your real first name and last initial. Anonymous registrations are quietly discarded.
To contact me by E-mail, write wine@wineloverspage.com. I'll respond personally to the extent that time and volume permit.
PRINT OUT TODAY'S ARTICLE
Here's a simply formatted copy of today's Wine Advisor, designed to be printed out for your scrapbook or file or downloaded to your PDA or other wireless device.
http://www.wineloverspage.com/wineadvisor2/
2008/02/wine_focus_malbec_around_the_w-print.html

This week on WineLoversPage.com
• Italian Wine Guide: 2004 Amarone preview
Amarone, big and rich, is a wine to go with game or quiet contemplation. Many wine drinkers who love Amarone do not realize that it is in fact a Valpolicella, albeit a very special one. Writer Tom Hyland recently attended the Anteprima (preview) tasting in Verona of the newly bottled 2004 Amarone vintage.http://www.wineloverspage.com/italwineguide/amarone08.phtml
• Our Internet radio Community Call ("TalkShoe"): WOW! Women on wine
Are men and women different in their approaches to wine? Call in today and tell us what you think, or listen to find out as we take on this subject in our weekly Internet radio Community Call ("TalkShoe") Monday, Feb. 4, at 1 p.m. US EDT (10 a.m. Pacific, 7 p.m. in Western Europe). Here's how to tune in:
http://wineloverspage.com/talkshoe/
All our previous Community Calls, including last week's program on the sense of taste, are available for listening or downloading from the archives. Click to listen!
http://wineloverspage.com/talkshoe/latest.htm
• WineLovers Discussion Group: Inept wine service
A restaurant server starts pouring wine for a table of four; she pours so generously for the first three diners that there's none left for the fourth. The server suggests buying another bottle. What would you do? This true story has inspired a long conversation about restaurant wine service and tipping in our WineLovers Discussion Group. You're invited to come by and join in!
http://www.wineloverspage.com/forum/village/viewtopic.php?f=3&t=13655
• Compuserve Community Poll: Least useful wine magazine
Here's an offbeat, perhaps slightly cynical way to view the world of print-media wine magazines: Which of the popular periodicals do you consider least useful? The ballot provide a short list of candidates, along with the usual "other" for your thoughtful consideration in this week's poll.
http://community.netscape.com/winelovers?nav=messages&tsn=1&tid=5561