Valpolicella revisited
My recent tastings and talk about Italian red wines made from the Montepulciano grape in Abruzzo and Marche has inspired quite a conversation on our WineLovers Discussion Group about Montepulciano as an attractive alternative to Chianti when you're in the mood for an amiable, food-friendly Italian red.
Today, let's take a quick look at yet another tasty and table-ready Northern Italian favorite, Valpolicella.
Made in the Veneto region, in the scenic hill country north of Verona and east of Lake Garda in Italy's beautiful lake country, Valpolicella's name sounds like Italian music. One legend, accepted as fact in many references (including Jancis Robinson's hefty Oxford Companion to Wine), holds that the name comes from "Val - poly - cella," or "the valley of many cellars."
Many authorities doubt this story, perhaps because it's almost too pretty to be true. An extended discussion on our forums a couple of years ago brought up other possible translations: "Valley of the Little Po river" or "Doubly blessed valley." All these alternatives, unfortunately, leave open the question of why the early Valpolicellans would have chosen a name that mixed Latin and Greek.
Perhaps it's best to forget the etymology and just enjoy the wine. It's worth noting that Valpolicella's most famous and expensive wine, Amarone, is an unusual variation indeed, a wine made by drying ripe grapes into raisins before pressing them to yield a rich, powerful potion. For a sort of poor man's Amarone, look for Ripasso, a regular Valpolicella boosted in octane by aging it with the left-over grape skins from the previous year's Amarone, a process that adds body and power, albeit at the expense, it seems to me, of freshness and elegance.
Everyday Valpolicella is good enough for me, particularly if it's Valpolicella Classico, made in the older, central zone that comprised the entire wine region until the late '60s, when - like many other Italian wine regions - its boundaries were expanded to increase production capacity.
Valpolicella is made primarily from Corvina Veronese, Rondinella and Molinara, indigenous grapes rarely seen in other wine regions; under modern regulations, wine makers may add smaller amounts of Barbera, Sangiovese or even non-Italian grapes like Cabernet and Merlot.
Today's featured wine shows plenty of the typical dried-cherry flavor that's often a dead giveaway for Valpolicella in "blind" tastings, with a touch of fruit-forward character and a whiff of smoke that give it a slight, not overly obnoxious hint of New World style.
Tommasi 2005 "Vigneto Rafael" Valpolicella Classico Superiore ($13.99)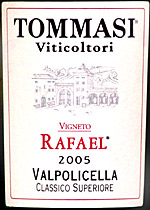 Very dark garnet. Characteristic Valpolicella dried-cherry flavor with a not-so-characteristic edge of smoke and grilled meat. A load of cherries on the palate, a mix of dried and red Maraschino, bold and fresh; there's a core of mouth-watering acidity, but it stays in the background behind all the bright cherry fruit. Tart dried cherries and a whiff of smoke linger in a long finish. Intriguing but a bit offbeat, on the fruit-forward side for a Valpolicella. U.S. importer: Solar Wine Imports Ltd., Great Neck, N.Y. (Nov. 13, 2007)
FOOD MATCH: Its bright cherry fruit made a particularly appealing match with a fancified "Welsh rabbit" made with sharp Cheddar, chicken, broccoli, green peppers and onions.
VALUE: With the strong Euro hammering the prices of quality European wines, there's no ground for complaint with this lower-teens price.
WHEN TO DRINK: Valpolicella isn't intended for aging, although I wouldn't worry about keeping this sturdy example around for another year or two.
PRONUNCIATION:
Valpolicella = "Vahl-po-lee-CHEL-lah"
WEB LINK:
The winery Website offers a fact sheet in English on this wine:
http://www.tommasiwine.it/Tommasi2/wines/rafael.htm
FIND THIS WINE ONLINE:
Locate retail vendors and compare prices for Tommasi "Vigneto Rafael" Valpolicella on Wine-Searcher.com:
http://www.wine-searcher.com/
find/Tommasi%2bRafael%2bValpolicella/-/-/USD/A?referring_site=WLP

Talk About Wine Online
If you have questions, comments or ideas to share about today's article
or wine in general, you're always welcome to drop by our online WineLovers Discussion Group. This link will take you to the forum home page, where you can read discussions in all the forum sections:
http://www.wineloverspage.com/forum/village
Everyone is free to browse. If you'd like to post a comment, question or reply, you must register, but registration is free and easy. Do take care to register using your real name, or as a minimum, your real first name and last initial. Anonymous registrations are quietly discarded.
To contact me by E-mail, write wine@wineloverspage.com. I'll respond personally to the extent that time and volume permit.
PRINT OUT TODAY'S ARTICLE
Here's a simply formatted copy of today's Wine Advisor, designed to be printed out for your scrapbook or file or downloaded to your PDA or other wireless device.
http://www.wineloverspage.com/wineadvisor2/
2008/01/valpolicella_revisited-print.html