Wine Focus - Great value wines
Life, as a wine-loving sage once wrote, is too short to drink poor wine; but for most of us, drinking expensive wine is at best an infrequent option. Hence the ongoing pursuit of wines of good value.
But what exactly constitutes "good value"? For me, a low price is not enough. In order to pass my value test, a wine must not only be affordable in price but exceptional in quality as well.
Although a wine flawed in wine making or fruit is an instant deal-breaker, the mere absence of flaws is not sufficient to catch my attention.
While I might sacrifice exceptional complexity or awe-inspiring intensity in an affordable wine, I think it's fair to expect even a modest wine to show such fundamental criteria as balance, food-friendly acidity, varietal character or regional typicity, and at least a degree of complexity and flavor interest.
In short, low price does not excuse a wine that's poorly made, or wine that's boring.
This are not just academic matters, especially at the chilly dawn of a new year, when many of us have put both our bodies and our wallets on a diet after a season of holiday excess.
To turn the quest for wine value into a community effort, we've declared "Great Value Wines" the topic for January's Wine Focus in our online WineLovers Discussion Group. We'll be spending the month talking about what constitutes value in wine, how to find it, and most important, sharing tips and tasting reports on affordable wines of exceptional value.
For the purposes of this discussion, we're facing reality and setting the cutoff for "affordable" at a rather spendy $15 (or, for those outside the U.S., your local equivalent in Euros, pounds sterling, loonies, Australian or Kiwi dollars or what have you. As noted in Monday's Wine Advisor, My best wine values of 2007, and my just posted The Year's Best Wine Values the realities of the marketplace have pushed the threshold for most good wine well past the $10 mark. Still, the hunt for really good, really inexpensive wine continues, and any tips and tasting notes on single-digit wines of real value will win special applause,
To get things started, I've posted my notes on two recently tasted Côtes-du-Rhône reds that I found for less than $10, a rare achievement for any European wine of quality in the era of the strong Euro and the weak dollar. You'll find my tasting notes below. Tell us about your favorites!
To participate in this month's online tastings, click to Wine Focus in the WineLovers Discussion Group,
http://www.wineloverspage.com/forum/village/viewforum.php?f=18
Registration isn't necessary to read the discussions, but we hope you'll register in order to post your notes, comments and questions. Registration is free and easy; we ask only that you use your real name to join.
Today's Sponsor
A message from WineLibrary.com
You may have seen us featured in GQ magazine, The Wall Street Journal, New Jersey Monthly and elsewhere. WineLibrary.com features a huge collection of top wines from around the world, great gifts and accessories, a daily video blog (WineLibraryTV), huge selection of futures (including red hot 2005 Bordeaux at incredible pricing) and much, much more!
Search our quick loading/high speed database of the hottest new wines from California, France, Italy, Australia, New Zealand, Spain, Germany, Austria, South America and more. Join our e-mail service and get an early heads up when wines like Bryant, Harlan, Dominus and others arrive!
Bottom line, we offer the lowest prices, the largest selection, lightning fast shipments and the greatest customer service in the industry! WineLibrary.com is your one-stop shop for everything wine ... so what are you waiting for? Log on to WineLibrary.com today!
For our Free Shipping Item of the Day, log on to http://free.winelibrary.com!

Each day at 1 p.m. we add a new item that is set for Free Shipping!!
Quantity is limited and products will sell out, so be sure to check out http://free.winelibrary.com each day at 1 p.m. for the new item!

Delas Freres 2005 "Saint-Esprit" Côtes-du-Rhône ($8.99)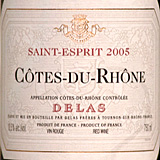 Very dark garnet, with a clear reddish-violet edge. Slight black-cherry fruit, rather shy in the nose department. More open flavor, fresh if simple cherry-berry and a distinct note of black pepper that meshes well with snappy acidity and rather chewy tannins. Typical modest Rhône red, appealing if a bit simple, a fine value. U.S. importer: Maisons, Marques & Domaines USA Inc., Oakland, Calif. (Sept. 14, 2007)
FOOD MATCH: Its combination of fruit, pepper and earth made an exceptional pairing with a quick pasta dish inspired by both Italian and Asian flavors, featuring ground lamb (and just a bit of pork belly) with stir-fried onions, red and green bell peppers over spaghetti.
FIND THIS WINE ONLINE:
Check prices and locate vendors for Delas Freres "Saint-Esprit" Côtes-du-Rhône on Wine-Searcher.com:
http://www.wine-searcher.com/
find/Delas%2bEsprit/-/-/-/USD/A?referring_site=WLP

Georges Duboeuf 2006 "Domaine des Moulins" Côtes-du-Rhône ($9.99)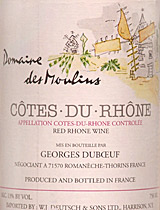 Georges Duboeuf, the storied "King of Beaujolais," is a bit less well-known for his Rhône bottlings, but this clean, youthful red is a value winner. Very dark garnet with crimson glints, clear at the edge. Raspberry and red-cherry scent, fresh and clean. Fresh cherry-berry fruit and a whiff of subtle earth in good balance on the palate. On the simple side but nicely balanced, a good, fresh expression of basic Côtes-du-Rhône at a price you'll rarely see in the age of the shrinking dollar. U.S. importer: W.J. Deutsch & Sons Ltd., Harrison, N.Y. (Dec. 9, 2007)
FOOD MATCH: Red Côtes-du-Rhône is always a natural with grilled red meat, but this light, fruity model served well with a vegetarian alternative, a curry-scented eggplant and mushroom soup.
FIND THIS WINE ONLINE:
Compare prices and find vendors for Georges Duboeuf "Domaine des Moulins" Côtes-du-Rhône on Wine-Searcher.com:
http://www.wine-searcher.com/
find/Duboeuf%2bMoulins/-/-/-/USD/A?referring_site=WLP

Talk About Wine Online
If you have questions, comments or ideas to share about today's article
or wine in general, you're always welcome to drop by our online
WineLovers Discussion Group. This link will take you to the forum home page, where you can read discussions in all the forum sections:
http://www.wineloverspage.com/forum/village
Everyone is free to browse. If you'd like to post a comment, question or reply, you must register, but registration is free and easy. Do take care to register using your real name, or as a minimum, your real first name and last initial. Anonymous registrations are quietly discarded.
To contact me by E-mail, write wine@wineloverspage.com. I'll respond personally to the extent that time and volume permit.
PRINT OUT TODAY'S ARTICLE
Here's a simply formatted copy of today's Wine Advisor, designed to be printed out for your scrapbook or file or downloaded to your PDA or other wireless device.
http://www.wineloverspage.com/wineadvisor2/
2008/01/wine_focus_great_value_wines-print.html