My best wine values of 2007
Happy New Year! As the year 2007 ends, it's time for my annual end-of-the-year report on the best - and the best values - of the wines I've reviewed during the past 12 months.
As I do at the end of every year at this time, I've sorted all my wine-tasting reports of the year, using the power of the computer to spot the wines that I've rated best for quality and value. These are the wines that showed exceptional value at all price points, earning the admiring moniker that online wine "geeks" call "Quality-Price Ratio" or, for short, "QPR."
While there haven't been many dramatic new developments or unexpected trends in the wine world in 2007, a number of recent trends appear to be continuing. For instance:
• Farewell to the cork? The battle between natural cork and alternative closures go on. In spite of increased quality control measures by the cork industry that have led - at least in my experience - to a significantly reduced incidence of "cork taint" among recent wine releases, taint-free alternatives continue to capture market share. As in the past, Australia and New Zealand lead the charge, with virtually all white wines from Down Under now arriving under screw cap; perhaps even more significantly, more and more reds - even hefty Shirazes - are starting to turn up with the clean metal closure. Even in Europe, the floodgates are starting to open, with screwcaps and synthetic "corks" becoming widespread among modest wines. Austria and Germany, where aroma and flavor "transparency" are critical, seem to be on the verge of abandoning traditional cork for their whites, flirting with a variety of closures including the intriguing glass stopper as well as screwcaps and synthetics.
• Big changes coming in Europe Faced with dramatic declines in wine consumption among young people, rising anti-alcohol sentiment, and a glut of unsellable industrial wine that, at least in France, has led to government subsidies for distilling unsold wine into alcohol, the European Union and European marketers are looking at dramatic changes in wine regulation. While the top-level controlled-appellation wines that wine geeks love don't seem threatened for now, this development bears watching.
• Blockbusters and climate change A string of record-hot years and increasingly chaotic weather makes it increasingly difficult to deny the reality that something weird is going on with Earth's climate. Whether we blame climate change, vineyard and winery technology, critical pressure or a combination, the average alcohol level in wine is indisputably rising, with "blockbuster" wines, hard to match with food, becoming dominant in many New World regions and difficult to escape even in Europe. Those of us who prefer lighter, more delicate and food-friendly wines are finding our options diminishing.
• Inflation Alcohol isn't the only wine number that's going up. The continued rise of the Euro against the dollar shows no sign of abating, with the European currency unit approaching its all-time high of nearly 1 1/2 times the dollar at year's end. The "dollarette" may be a creature of intentional economic policy, seeking to boost U.S. corporations by making them more competitive with imports, but it's a whack in the wallet to wine lovers, as we see even modest European wines reaching the mid-teens to $20, and very little "interesting" wine selling for much below $12. Blame the Euro for the high price of imports; you'll have to ask a follower of Adam Smith or Milton Friedman why U.S. wines seem to be following a similar pattern, but I'm blaming the "invisible hand" of the market. Fine wine, it seems, is increasingly seen as a luxury good, and if you can't afford it, to paraphrase Marie Antoinette, "Let 'em drink beer."
Comparing my list of top-value wines of 2007 against the list for 2006 tells the tale: Last year, 60 wines made my cut for the honor-roll roster of value at all price points. Just five of them sold for more than $20, with 25 in the $12 to $20 mid-range, and 30 for $12 or less, of which 16 were tagged at $10 or below.
This year, 56 wines made the cut, with just nine of them priced under $10 and only seven more between $10 and $12. A dozen fell between $12 and $15, suggesting that, for budget purposes, $15 has become the new break point for "less expensive" wines.
Sorted by country or region, this year's QPR list includes 22 from France and 10 from Italy. Perhaps reflecting the Euro's rise, value wines from the United States and Australia both increased their share, with nine entries from California (and two from Washington State), and five Australians. Wrapping up the list, I have two each from Argentina, Portugal and Spain, and one each from Austria and South Africa.
The list includes 34 red wines, 20 whites and two rosés; among them you'll find six sparkling wines and one dessert wine.
To whet your appetite, here are links to some particular personal favorites from this year's list:
Gérard Raphet 2005 Bourgogne (France), $22.99. (Find it on Wine-Searcher.com)
Alkoomi 2004 Frankland River Western Australia Shiraz Viognier (Australia), $22.99. (Find it on Wine-Searcher.com)
Edmunds St. John 2004 "Rocks and Gravel" California Red Wine (California), $20. (Find it on Wine-Searcher.com)
Alain Jaume & Fils 2005 Domaine Grand Veneur "Les Champauvins" Côtes du Rhône Villages (France), $19.99. (Find it on Wine-Searcher.com)
Palacios 2005 "Pétalos" Bierzo (Spain), $18. (Find it on Wine-Searcher.com)
Tenuta Roveglia 2004 Lugana (Italy), $14. (Find it on Wine-Searcher.com)
Laurel Glen 2005 REDS Lodi Red Wine (California), $9.99. (Find it on Wine-Searcher.com)
Ken Forrester 2006 Stellenbosch Petit Chenin (South Africa), $9.99. (Find it on Wine-Searcher.com)
For a detailed look at all 56 of my top-value wines of 2006, ranked in order of the actual retail price that I paid, click to my annual report, QPR 2007, at
http://www.wineloverspage.com/qpr
For today's tasting report, following up on Friday's Champagne recommendation with yet another fine "farmer fizz" (estate-bottled "grower" Champagne), see below.
Today's Sponsor
Spread the Cheer with The California Wine Club
Say "Happy New Year" with a gift of award-winning wine from The California Wine Club! Call 1-800-777-4443 or visit www.cawineclub.com.
Since 1990 The California Wine Club has been discovering limited production wines from small California wineries. Every month features a new winery and a new adventure! If you're looking for a memorable gift that won't be found in local stores, try The California Wine Club.
Gift months include two bottles of hand-selected, award-winning wines and the club's entertaining and beautiful 12-page magazine, Uncorked. Just $34.95 per month plus shipping and handling. Send as many months as wish, and save on discounts of 3, 6, 9 and 12 months.
If there is someone on your gift list that you forgot, call us now and we'll help spread the New Year's cheer. 1-800-777-4443 or visit www.cawineclub.com.

Champagne René Geoffroy "Expression" Brut Coumières Premier Cru ($29.99)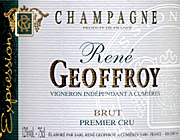 Clear pale gold, with a foamy mousse followed by a very persistent bubble fountain. Apples and a delicate whiff of rising bread dough; just a touch of cocoa. Tart and crisp, flavors follow the nose. Creamy and fresh, nicely balanced. Another "farmer fizz" from an individual grower (Récoltant-Manipulant), it's an unusual blend of 50% Pinot Meunier, 40% Pinot Noir and 10% Chardonnay. U.S. importer: Michael Skurnik Wines, Manhasset, N.Y.; a Terry Theise Estate Selection. (Dec. 28, 2007)
FOOD MATCH: Good with a diverse range of fare on a pre-New Year's buffet: French bread and Brie, avocado and grapefruit salad, spinach quiche and a vegetarian kale-and-garbanzo soup.
VALUE: More than competitive in the pricey realm of "real" Champagne at this price point, which appears to be a few dollars under the market.
WHEN TO DRINK: Made to drink up and requires no cellaring, but it should keep well for a year or two under good storage conditions, perhaps longer if you like the oxidized quality of older Champagne.
WEB LINK:
The importer's Website features this English-language fact sheet on Champagne René Geoffroy, with links to detailed reports on this and other specific wines:
http://www.skurnikwines.com/
prospects.cgi?rm=view_prospect_detail&prospect_id=423
FIND THIS WINE ONLINE:
Compare prices and locate vendors for Geoffroy "Expression" on Wine-Searcher.com:
http://www.wine-searcher.com/
find/Geoffroy%2bExpression/-/-/USD/A?referring_site=WLP

Today's Sponsor
Saratoga Wine Exchange One Stop Gift Shopping!
The Saratoga Wine Exchange is your source for fine wine online! Spend less time searching web sites for that rare vintage or gift - we've done the work for you! Our online store is easy to use, flash-free and full of fine, rare and collectible wines including Kistler, Turley, Screaming Eagle, Harlan Estates, Mouton, Domaine de la Romanée-Conti and many more. Find exactly what your cellar or gift list needs right here, 24-hours-a-day, with just a click of your mouse.
Check out our most popular section – wines rated 90 points and above. Wines are listed by price so you can easily search and find wines rated 90 points or above in your price range. Makes for easy holiday shopping!"

Talk About Wine Online
If you have questions, comments or ideas to share about today's article
or wine in general, you're always welcome to drop by our online WineLovers Discussion Group. This link will take you to the forum home page, where you can read discussions in all the forum sections:
http://www.wineloverspage.com/forum/village
Everyone is free to browse. If you'd like to post a comment, question or reply, you must register, but registration is free and easy. Do take care to register using your real name, or as a minimum, your real first name and last initial. Anonymous registrations are quietly discarded.
To contact me by E-mail, write wine@wineloverspage.com. I'll respond personally to the extent that time and volume permit.
PRINT OUT TODAY'S ARTICLE
Here's a simply formatted copy of today's Wine Advisor, designed to be printed out for your scrapbook or file or downloaded to your PDA or other wireless device.
http://www.wineloverspage.com/wineadvisor2/
2007/12/my_best_wine_values_of_2007-print.html

This week on WineLoversPage.com
• Oxford Town Wines: Surviving New Year's Eve
Preaching to the choir, columnist John Juergens offers a few tips on surviving the hedonistic whirlwind that sucks us through the maelstrom of New Year's Eve.
http://www.wineloverspage.com/oxford/gizmo07.phtml
• Our Internet radio "TalkShoe": Happy New Year 2008!
Come and join the festivities! There's (virtual) Champagne for everyone as we talk about the world of wine in the year just past and the year to come on our Internet Radio TalkShoe! Please join us today, Dec. 31, at Noon US EST (9 a.m. Pacific, 6 p.m. in Western Europe) to listen or talk. See our TalkShoe page for information about tuning in:
http://wineloverspage.com/talkshoe/
In last week's show, we talked about wine trends of 2007. Download it or listen online: All our TalkShoe programs are available for listening at any time in the archives!
http://wineloverspage.com/talkshoe/latest.htm
• WineLovers Discussion Group: Tips on building a wine cellar
A wine enthusiast plans to build a wine cellar, and gets lots of advice and tips from participants in our WineLovers Discussion Group. To read the conversation or join in, click:
http://www.wineloverspage.com/forum/village/viewtopic.php?t=11824
• Netscape/Compuserve Community Poll: Wine Resolutions for 2008
As 2007 nears its end, it's time for our annual discussion about our wine-related resolutions in the New Year. We're running this poll for another week, so if you haven't voted yet, now's your chance!
http://community.netscape.com/winelovers?nav=messages&tsn=1&tid=5509