The 15 percent solution
Looking back over the past 12 months as the year 2007 nears its end, it seems that one of the most visible issues in the world of wine this year has been a rising mutter of wine-geek crankiness over increasing levels of alcohol in wine.
I touched on this most recently in an August article, Recent Rants, inspired by a California wine merchant's decision to remove from his shelves any table wines claiming 14.5% alcohol or more.
For any wine enthusiast who remembers the days when most table wines hovered around 11 to 12.5 percent alcohol - and it hasn't been all that long since more powerful wines started to dominate the market - it's easy to sign on to a crusade against over-ripe grapes and the potent wines they make.
Quite a few of the more powerful modern wines seem to be made with an eye to pleasing the big-name critics with blockbuster "fruit bombs" that seem to have lost any connection with subtlety, elegance or the soil from which they grew, making these new wines veritable icons for a wine trend that more than a few of us decry. Many observers also see a link between increasing alcohol and global climate change, another issue that adds a distinct political note to the discussion.
But the problem here is that, as with all generalizations, one size doesn't fit all. Grape growing and wine making are complex pursuits, subject to many variables that range from the soil to the weather to the wine-maker's hand.
As the British wine writer Jamie Goode recently pointed out with his usual scientific rigor on his Wine Anorak Website ("Rising alcohol levels in wine: Are they a problem, and what can be done about them?"), over-ripeness is a more complicated matter than it seems. Simply declaring that grapes should be picked earlier as the climate grows hotter overlooks the reality that there is more than one kind of ripeness in wine grapes.
"Sugar ripeness," the traditional measure, is simply concerned with fruit reaching a level of sweetness that will produce the desired level of alcohol. But "physiological ripeness" or "flavor ripeness" is a more complicated process that may not occur at the same rate as sugar ripeness. If searing heat raises sugar levels beyond normal before physiological ripeness is achieved, the wine maker faces a dilemma: Pick early to hold alcohol in line, or delay picking to achieve better flavor at the risk of blockbuster-level alcohol? Neither option, frankly, is ideal.
Adding to the confusion is an emerging reality: As more wine makers learn to deal with high sugar levels and ripeness in the vineyard, we're starting to see some wines that carry their high alcohol with style and grace. When alcohol levels don't dominate the wine with a hot flavor or harsh "afterburn," and the overall flavor profile of the wine appeals, I'm more likely to overlook the frightening numbers on the label ... but it's still sensible to be aware of what you're drinking when you make that decision whether to have a second glass.
Today's featured wines - one from the Old World, one from the New - both come in at alcohol levels that would bar them from Mr. Corti's store. Nevertheless, both show excellent balance and complexity, and the alcohol doesn't make itself obnoxious. Demonstrating that blockbuster alcohol doesn't necessarily render a wine impossible to match with food, either would make a splendid match with a Christmas rib roast.
Perrin & Fils 2005 Vacqueyras "Les Christins" ($20.99)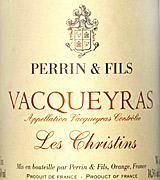 Inky dark garnet, almost black. Still youthful, a bit tight and closed at first; benefits from swirling and time in the glass; if you're considering serving it with beef for Christmas dinner, I suggest using a decanter and pouring it, with aeration, three or four hours in advance. A blend of 80% Grenache and 20% Syrah, it offers good if rather restrained Rhone aromas, blackberry corial and a touch of anise; fragrant black pepper is much more evident in the mouth than on the nose. Good body and structure, mouth-watering acidity shapes the wine, with rather mellow tannins becoming more evident in a long finish. Body and structure render a startling 14.5% alcohol entirely acceptable; it doesn't come across as alcoholically hot or harsh at all. U.S. importer: Vineyard Brands Inc., Birmingham, Ala. (Dec. 23, 2007)
FOOD MATCH: While it would be an outstanding choice with prime rib or rare steaks, it went well, too, with natural, locally raised pork chops sauteed with garlic and a rich cream sauce to bring them up to meet this hearty red.
WEB LINK:
For a fact sheet on Perrin's Vacqueyras "Les Christins," see the importer's Website,
http://www.vineyardbrands.com/SiteSearch.aspx?searchtext=vacqueyras
Unfortunately, it's only in French, but even if your command of the language is limited to a few wine words, it's worth a peek at the winery's blog-style page about its Vacqueyras "Les Christins":
http://www.perrin-et-fils.com/francais/vins_vacqueyras/index.html
FIND THIS WINE ONLINE:
Check prices and locate vendors for Perrin Vacqueyras on Wine-Searcher.com:
http://www.wine-searcher.com/
find/Perrin%2bVacqueyras/-/-/USD/A?referring_site=WLP
Rocca Family Vineyards 2003 Yountville Napa Valley Syrah ($42)
Clear but very dark garnet. Attractive and complex dark fruit aromas, cherries and berries, subtle smoke and "meat," a definite touch of the Northern Rhone. Flavors consistent, ripe Syrah fruit and firm acidity in balance. Again, 14.8% alcohol fits in and does not intrude.
FOOD MATCH: Beef is its natural partner; it blossomed even in a rather offbeat pairing with Italian-style meatballs in "gravy."
WEB LINK:
There's plenty of information about the winery and its wines here:
http://www.roccawines.com
FIND THIS WINE ONLINE:
Compare prices and find vendors for Rocca Syrah on Wine-Searcher.com:
http://www.wine-searcher.com/
find/Rocca%2bSyrah/-/-/USD/A?referring_site=WLP
Today's Sponsor
Gift Cards Available from The California Wine Club
Happy Holidays from The California Wine Club! For a last-minute gift that doesn't look it ... The California Wine Club can help.
Place your holiday gift orders now at www.cawineclub.com and you'll be given the opportunity to print a beautiful full-color gift card that you can sign and give to your gift recipient. Make it extra special and wrap the gift card with the latest issue of Wine Spectator or a set of wine glasses. No time for that either? Slip the gift card into a stocking for a Christmas morning surprise!
Since 1990 The California Wine Club has been making the holidays memorable with limited production wines, hand-selected from California's best "mom & pop" wineries. Call us now at 1-800-777-4443 to order.
Each gift month includes two bottles of award-winning wine and the club's beautiful and entertaining 12 page publication, Uncorked. Just $34.95 plus shipping. Send as many months as you wish and save on gifts of 3, 6, 9 and 12 months. Visit www.cawineclub.com or call 1-800-777-4443.

Today's Sponsor
Saratoga Wine Exchange One Stop Gift Shopping!
The Saratoga Wine Exchange is your source for fine wine online! Spend less time searching web sites for that rare vintage or gift - we've done the work for you! Our online store is easy to use, flash-free and full of fine, rare and collectible wines including Kistler, Turley, Screaming Eagle, Harlan Estates, Mouton, Domaine de la Romanée-Conti and many more. Find exactly what your cellar or gift list needs right here, 24-hours-a-day, with just a click of your mouse.
Check out our most popular section – wines rated 90 points and above. Wines are listed by price so you can easily search and find wines rated 90 points or above in your price range. Makes for easy holiday shopping!"

Talk About Wine Online
If you have questions, comments or ideas to share about today's article
or wine in general, you're always welcome to drop by our online WineLovers Discussion Group. This link will take you to the forum home page, where you can read discussions in all the forum sections:
http://www.wineloverspage.com/forum/village
Everyone is free to browse. If you'd like to post a comment, question or reply, you must register, but registration is free and easy. Do take care to register using your real name, or as a minimum, your real first name and last initial. Anonymous registrations are quietly discarded.
To contact me by E-mail, write wine@wineloverspage.com. I'll respond personally to the extent that time and volume permit.
PRINT OUT TODAY'S ARTICLE
Here's a simply formatted copy of today's Wine Advisor, designed to be printed out for your scrapbook or file or downloaded to your PDA or other wireless device.
http://www.wineloverspage.com/wineadvisor2/
2007/12/the_15_percent_solution-print.html

This week on WineLoversPage.com
• Our Internet radio "TalkShoe": The year in wine
Globalization, climate change, rising alcohol levels and rising Puritanism; Europe's regulators ponder changes in face of growing wine imports while many people are drinking less wine. Please join us today, Dec. 24, at Noon US EST (9 a.m. Pacific, 6 p.m. in Western Europe), to share your thoughts on the year's wine trends, and tell us about the best wines you enjoyed in 2007! See our TalkShoe page for information about tuning in:
http://wineloverspage.com/talkshoe/
Last week's show focused on Gewurztraminer. All our programs are available for listening at any time in the archives!
http://wineloverspage.com/talkshoe/latest.htm
• WineLovers Discussion Group: Holiday Champagne suggestions
Planning to pop the cork on a bottle of Champagne or other fine bubbly for Christmas dinner or to ring in the New Year? You'll find plenty of specific buying tips - and you're welcome to add your own - in this active conversation in our WineLovers Discussion Group.
http://www.wineloverspage.com/forum/village/viewtopic.php?t=12793
• Netscape/Compuserve Community Poll: Wine Resolutions for 2008
As 2007 nears its end, it's time for our annual discussion about our wine-related resolutions in the New Year. Will you drink more wine, or less? Spend more or economize? Try to learn something new? Or the always useful "other"? Tell us more about your resolutions in our weekly poll!
http://community.netscape.com/winelovers?nav=messages&tsn=1&tid=5509