Who knows Counoise?
It's Friday before Christmas, and nobody's in a mood to work. Let's wrap up the week with a quick look at Counoise.
This offbeat Southern Rhone grape variety (pronounced "Coon-wahz") is usually an anonymous player in blends; but - even as an assiduous seeker of unusual varieties and member in good standing of the Wine Century Club, I had never tasted it in solo varietal status except in components tastings from barrels in Chateauneuf-du-Pape.
Thanks to this affordable offering from Domaine Monpertuis, a Vin de Pays du Gard made across the Rhône from Avignon, I've now added Counoise to my "life list."
One of the 13 grapes permitted in Chateauneuf-du-Pape (but not one of the more important of that squadron), Counoise is also found in the Languedoc and, as here, at least occasionally throughout the Southern Rhone. Jancis Robinson, in her handy pocket-size Guide to Wine Grapes, calls it "one of the more rarefied ingredients in red Chateauneuf-du-Pape," its contributions to the blend being a peppery flavor and high acidity.
She couldn't have done a better job of describing this simple wine from Domaine Monpertuis: It's rustic and earthy, a jumble of dark plum, fragrant pepper, "green" herbaceousness and tart, mouth-watering acidity, it's a real wine-geek's wine, good for studying a range of Old World descriptors. Or building up your life list of grapes tasted.
Domaine Monpertuis 2004 "Vignoble de la Ramière" Vin de Pays du Gard "Cuvée Counoise" ($10.99)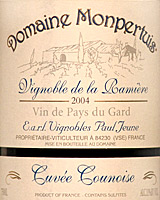 Garnet, clear but dark. An earthy mix of herbaceous and fruit aromas: Black plums and prunes jostle for position with black and white pepper and a "sappy" note as distinct as biting into a fresh stalk of alfalfa hay. Plums and fragrant pepper on the palate, mouth-filling and tart, with substantial but smooth tannins helping to build a sturdy structure. U.S. importer: Rosenthal Wine Merchant, NYC. (Dec. 15, 2007)
FOOD MATCH: Its acidic structure and peppery, earthy character make it a natural with grilled steak; it worked just about as well with leftover dry-aged rare filet mignon shredded and served in a tongue-in-cheek rendition of "scattered, smothered and covered" hash browns.
VALUE: Whether it's to add an offbeat grape to your life list or simply to enjoy a rustic, earthy, Old World red with your steak dinner, it's hard to beat this price.
WHEN TO DRINK: I don't have enough experience with Counoise to support a detailed opinion, but based on its structure and tannins and its presence in the Rhone blend, I'm satisfied that it would keep for several years; whether it would evolve into anything interesting with longer cellar time is a more difficult call.
PRONUNCIATION:
Counoise = "Coon-wahz"
Monpertuis = "MawN-pehr-twee"
WEB LINK:
Here's the importer's short fact sheet on the wines of Paul Jeune, proprietor of Domaine Monpertuis:
http://www.madrose.com/jeuneprint.html
FIND THIS WINE ONLINE:
To purchase this wine from Chambers Street Wines in NYC, locate Monpertuis La Ramière Counoise, then click the "Add to Cart" button to place it in your shopping basket.
http://www.chambersstwines.com/Search.asp?search=go&kw=counoise
Compare prices and locate vendors for Monpertuis Counoise on Wine-Searcher.com:
http://www.wine-searcher.com/
find/Monpertuis%2bCounoise/-/-/USD/A?referring_site=WLP

Today's Sponsor
TheWineBuyer.com
TheWineBuyer.com is your best source for wine on the Internet. Buy your old favorites and new discoveries and have them shipped right to your door! Try our Wine Gift Ideas for all your upcoming holiday wine gifts, whether personal or corporate. Sign up for our email newsletter and be the first to find out about special wines and sales: Right now we're counting down our Top 10 Wines of the Year. Check out our Wine Education Pages and enhance your wine knowledge.

E-Book on Cheap Wine
Looking for a last-minute "stocking stuffer"? Consider Atlanta-based wine enthusiast Ed Gandia's E-book, "Fool-Proof Wine Values" which incorporates the results of his extensive tastings of under-$10 wines into a useful consumer guide, featuring reports on 147 inexpensive wines from 44 producers that, he says, taste like $20 to $50 wines but cost $10 or less; deliver consistent quality year after year, and are readily available at wine shops in the U.S.
There's no waiting for shipment for "Fool-Proof Wine Values"! It's a downloadable E-book, available online as a PDF document that you can read on your computer or print out if you prefer to read it on paper.
"Fool-Proof Wine Values" is just $19, with Ed's 100 percent, 60-day, no-questions-asked, money-back guarantee. If you're regularly in the market for good, inexpensive wines, you'll find that this book pays for itself in just a few visits to the wine shop. To buy it and download it immediately, use this link, which will return a commission to help us pay the rent at WineLoversPage.com:
"Fool-Proof Wine Values"
http://winelovers.winebook1.hop.clickbank.net/?tid=124898SN

Talk About Wine Online
If you have questions, comments or ideas to share about today's article
or wine in general, you're always welcome to drop by our online WineLovers Discussion Group. This link will take you to the forum home page, where you can read discussions in all the forum sections:
http://www.wineloverspage.com/forum/village
Everyone is free to browse. If you'd like to post a comment, question or reply, you must register, but registration is free and easy. Do take care to register using your real name, or as a minimum, your real first name and last initial. Anonymous registrations are quietly discarded.
To contact me by E-mail, write wine@wineloverspage.com. I'll respond personally to the extent that time and volume permit.
PRINT OUT TODAY'S ARTICLE
Here's a simply formatted copy of today's Wine Advisor, designed to be printed out for your scrapbook or file or downloaded to your PDA or other wireless device.
http://www.wineloverspage.com/wineadvisor2/
2007/12/who_knows_counoise-print.html