Party Gewurz


A GREAT GIFT
Order my new wine book as a holiday gift for wine-loving friends, or for yourself, and your purchase through this link will help support this column and our other publications at WineLoversPage.com.
You can call it snobbery or you can call it caution born of experience; but whatever you call it, a lot of wine "geeks" are wary of mass-market wines made by industrial-size producers.
By and large, frankly, there's some justification for skepticism. Wines made in tank-car lots and destined for low-end sale in grocery stores or piled high on pallets in impulse-buy positions in the wine shop generally tend toward the least common denominator, a position that's economically safe for the stockholders but that rarely tickles the wine geek's taste buds.
But just as you can't judge a book by its cover, you can't always judge a wine by its label. Take today's featured wine, for example. The Gewurztraminer from Fetzer Vineyards, a fair-size Mendocino producer that's a property of corporate Brown-Forman, is a fine choice for quality and value.
While it's certainly no match for a rich, unctuous and powerful Alsatian Gewurz, its consistent pattern of fresh, spritzy refreshment coupled with balanced and clearly defined Gewurztraminer character makes it a winner, pleasant for sipping aperitif-style and as a match for a surprising variety of dishes at the table.
An old-time favorite rediscovered as part of our monthlong inquiry into Gewurztraminer in December's WineLovers Discussion Group Wine Focus, it offers a good benchmark for the lighter-weight California Gewurz style ... and it would be a fine, affordable pick to tote to your office Christmas party for sharing. You'll find my tasting report below.
Today's Sponsor
A message from WineLibrary.com
You may have seen us featured in GQ magazine, The Wall Street Journal, New Jersey Monthly and elsewhere. WineLibrary.com features a huge collection of top wines from around the world, great gifts and accessories, a daily video blog (WineLibraryTV), huge selection of futures (including red hot 2005 Bordeaux at incredible pricing) and much, much more!
Search our quick loading/high speed database of the hottest new wines from California, France, Italy, Australia, New Zealand, Spain, Germany, Austria, South America and more. Join our e-mail service and get an early heads up when wines like Bryant, Harlan, Dominus and others arrive!
Bottom line, we offer the lowest prices, the largest selection, lightning fast shipments and the greatest customer service in the industry! WineLibrary.com is your one-stop shop for everything wine ... so what are you waiting for? Log on to WineLibrary.com today!
For our Free Shipping Item of the Day, log on to http://free.winelibrary.com!

Each day at 1 p.m. we add a new item that is set for Free Shipping!!
Quantity is limited and products will sell out, so be sure to check out http://free.winelibrary.com each day at 1 p.m. for the new item!

Fetzer 2006 California Gewurztraminer ($10.99)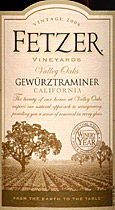 Clear, pale gold. Particularly attractive on the nose, peach and pink grapefruit forward, a hint of honeydew melon behind. An edge of sweetness on the palate, presents as just off-dry and not at all cloying, peach and citrus and sufficient acidity for balance. A touch of peach-pit bitterness joins in to add a bit of complexity in the long finish. Quite a good Gewurz in a balanced style, a fine aperitif but with the structure needed to fare well with appropriate food. (Dec. 11, 2007)
FOOD MATCH: Spaghetti with butter and sage proved to be a surprisingly effective match that went beyond "wash down the food" to create positive synergies. The wine's light but present acidity cut through the creamy butter; its floral fruit joined in a particularly attractive dance with the heady herbal aromatics of the sage. Try it also with richer "white meat" dishes from pork and onions to turkey with the trimmings.
VALUE: Fine value at the low end, but it's worth shopping around, as prices vary nationally across an unusually wide range - from $5.99 to $12.99 - in a Wine-Searcher.com report on the 2006.
WHEN TO DRINK: The "slick-sleeve" plastic cork protects against wood-cork taint, but it makes longer-term aging iffy, a disappointment because late '80s and early '90s vintages of this modest wine cellared remarkably well, drying out and gaining substantial richness over five years to a decade.
WEB LINK:
The winery's fact sheet on this wine is a bit on the PRish side, but it contains an unusually attractive feature that I would love to see more producers emulate: A variety of recipes designed to go with the wine.
http://www.fetzer.com/fetzer/wines/winedetail.aspx?id=20
FIND THIS WINE ONLINE:
Compare prices and find vendors for Fetzer Gewurztraminer on Wine-Searcher.com:
http://www.wine-searcher.com/
find/Fetzer%2bGewurztraminer/-/-/USD/A?referring_site=WLP

Talk About Wine Online
If you have questions, comments or ideas to share about today's article
or wine in general, you're always welcome to drop by our online
WineLovers Discussion Group. This link will take you to the forum home page, where you can read discussions in all the forum sections:
http://www.wineloverspage.com/forum/village
Everyone is free to browse. If you'd like to post a comment, question or reply, you must register, but registration is free and easy. Do take care to register using your real name, or as a minimum, your real first name and last initial. Anonymous registrations are quietly discarded.
To contact me by E-mail, write wine@wineloverspage.com. I'll respond personally to the extent that time and volume permit.
PRINT OUT TODAY'S ARTICLE
Here's a simply formatted copy of today's Wine Advisor, designed to be printed out for your scrapbook or file or downloaded to your PDA or other wireless device.
http://www.wineloverspage.com/wineadvisor2/
2007/12/party_gewurz-print.html