Today's Sponsor
• TheWineBuyer.com
Buy old favorites and try new discoveries shipped directly to your door. The only place to buy wine online.
TheWineBuyer.com
In This Issue
• Tardy but welcome
A very modest but fine-value Southwestern French white wine takes its time working down the supply pipeline, but it proves worth the wait.
• Domaine de Pouy 2006 Vin de Pays des Côtes de Gasgogne ($8.99)
Quenching and fresh and equipped with a sturdy screwcap to keep it that way, this perennial bargain favorite scores again for value.
• TheWineBuyer.com
Buy old favorites and try new discoveries shipped directly to your door. The only place to buy wine online.
• Fool-Proof Wine Values
Ed Gandia's new E-book is a useful consumer guide to inexpensive, widely available wines under $10 that meet his tough criteria for quality and value.
• Administrivia Change E-mail address, frequency, format or unsubscribe.
Tardy but welcome
I wouldn't want to sound like I'm complaining about the length of the supply pipeline for wine between vineyards in Europe and retail shops in the U.S. Still, it's sort of hard not to notice that today's featured wine, 2006 Domaine de Pouy, was bottled in February 2007 - just five or six months after the grapes were harvested - but didn't turn up at my local wine shop until last month.
The variables in play here could make a fine subject for a MBA case study: Did the wine languish at the winery, in transit, at the importer's warehouse or in the hands of the local distributor? What factors held it back, and why? Did someone decide to withold the 2006 vintage until the previous year's supply sold out? Or maybe it's actually been here for months and it simply took an average consumer (me, for example) a while to notice.
For that matter, the November arrival of the new vintage of this perennial bargain favorite is delightfully early compared with the previous year, which I didn't get around to tasting until May 2007, a full 15 months after bottling.
I don't have answers today, only questions. But in the overall scheme of things, it may not matter much. Domaine de Pouy, bottled again this year under a sturdy metal screw cap and sporting a new blue label with a modern style, holds its freshness very nicely for a year or two.
Bearing a particularly attractive $9 price tag at one local retailer this season, it's a fine choice for a "house" wine for everyday enjoyment, ideal with light seafood and fish dishes and a decent pairing with poultry, veal or any "white meat."
Made by Yves Grassa in Gascogne (Gascony in Southwestern France), Domaine de Pouy is a blend of 60 percent Ugni Blanc (also known as Trebbiano in Italy) and 40 percent Colombard. It's made to maximize freshness - the lab-clean screwcap technology helps with that - and never sees oak. It was worth the wait. Here's my tasting report:
Domaine de Pouy 2006 Vin de Pays des Côtes de Gasgogne ($8.99)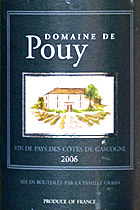 Clear, light straw color. Pleasant, fresh lemon-lime and green-apple aromas and flavors, crisp and dry, with a subtly "grassy" character behind the citric fruit on the nose and palate. Mouth-watering acidity joins a taste of lime in a medium-long finish. Nothing complex here, but it's a quenching table wine, on the light side at just 10.5% alcohol claimed on the label; fine with seafood and fish. U.S. importer: Robert Kacher Selections, Washington, D.C. (Nov. 20, 2007)
FOOD MATCH: A fine choice with just about any choice of delicate, white-fleshed fish or seafood; it made an excellent multi-national match with linguine with white clam sauce.
VALUE: At any price under $10 in today's inflationary wine marketplace, this one's a good candidate for buying by the case as a "house" wine for everyday enjoyment. Try shopping for sale prices, as Wine-Searcher.com lists it as low as $6 in a few competitive markets.
WHEN TO DRINK: Freshness is part of its virtue, so there's not much point in long-term aging. Still, the sturdy screw cap will help preserve it for at least a year or two.
PRONUNCIATION:
Domaine de Pouy = "Doh-mane duh P'wee"
Ugni Blanc = "Oon-yee BlahN"
WEB LINK:
For the importer's spec sheet on 2006 Domaine de Pouy, click:
http://www.robertkacherselections.com/
portfolio_detail.php?itemno=g350106
FIND THIS WINE ONLINE:
Check prices and find vendors for Domaine du Pouy on Wine-Searcher.com:
http://www.wine-searcher.com/
find/Pouy/-/-/USD/A?referring_site=WLP

Today's Sponsor
TheWineBuyer.com
TheWineBuyer.com is your best source for wine on the Internet. Buy your old favorites and new discoveries and have them shipped right to your door! Try our Wine Gift Ideas for all your upcoming holiday wine gifts, whether personal or corporate. Sign up for our email newsletter and be the first to find out about special wines and sales: Right now we're counting down our Top 10 Wines of the Year. Check out our Wine Education Pages and enhance your wine knowledge.

E-Book on Cheap Wine
Looking for a last-minute "stocking stuffer"? Consider Atlanta-based wine enthusiast Ed Gandia's E-book, "Fool-Proof Wine Values" which incorporates the results of his extensive tastings of under-$10 wines into a useful consumer guide, featuring reports on 147 inexpensive wines from 44 producers that, he says, taste like $20 to $50 wines but cost $10 or less; deliver consistent quality year after year, and are readily available at wine shops in the U.S.
There's no waiting for shipment for "Fool-Proof Wine Values"! It's a downloadable E-book, available online as a PDF document that you can read on your computer or print out if you prefer to read it on paper.
"Fool-Proof Wine Values" is just $19, with Ed's 100 percent, 60-day, no-questions-asked, money-back guarantee. If you're regularly in the market for good, inexpensive wines, you'll find that this book pays for itself in just a few visits to the wine shop. To buy it and download it immediately, use this link, which will return a commission to help us pay the rent at WineLoversPage.com:
"Fool-Proof Wine Values"
http://winelovers.winebook1.hop.clickbank.net/?tid=124898SN

Talk About Wine Online
If you have questions, comments or ideas to share about today's article
or wine in general, you're always welcome to drop by our online WineLovers Discussion Group. This link will take you to the forum home page, where you can read discussions in all the forum sections:
http://www.wineloverspage.com/forum/village
Everyone is free to browse. If you'd like to post a comment, question or reply, you must register, but registration is free and easy. Do take care to register using your real name, or as a minimum, your real first name and last initial. Anonymous registrations are quietly discarded.
To contact me by E-mail, write wine@wineloverspage.com. I'll respond personally to the extent that time and volume permit.
PRINT OUT TODAY'S ARTICLE
Here's a simply formatted copy of today's Wine Advisor, designed to be printed out for your scrapbook or file or downloaded to your PDA or other wireless device.
http://www.wineloverspage.com/wineadvisor2/
2007/12/tardy_but_welcome-print.html