California or France?
Let's step back into the batter's box and take one more swing at Friday's topic, the wine-geek controversy over critic Robert M. Parker Jr.'s recent take on the 2005 wines from a small but highly regarded California producer, Steve Edmunds of Edmunds St. John.
Friday, I reported on most of those wines, tasted with a group of local wine experts and sommeliers; a tasting that left us at significant odds with Parker's ratings and a bit startled by the harsh tone of his narrative report. (No need to repeat all that here; weekly readers and anyone else who missed Friday's report can review it in the Wine Advisor archives.)
Today let's cue up one more Edmunds red, his 2004 "Rocks and Gravel," the only non-2005 wine covered in Parker's report. We missed this one in the panel tasting, which consisted entirely of 2005s; but happily, I had tasted it a few months ago but hadn't yet published a tasting report.
As it happens, "Rocks and Gravel" - a moniker that Edmunds chose to signal his commitment to making wines that reflect the character of the soil in which the grapes are grown - lies directly on the cusp of the controversy.
In the Aug. 29, 2007 edition of Parker's print newsletter, The Wine Advocate, he rapped Edmunds for, in Parker's words, an apparent "deliberate attempt to make French-styled wines. Of course, California is not France, and therein may suggest the problem. If you want to make a French wine, do it in France."
This appears on its face to be reasonable criticism, but it's marred by a fatal flaw: Steve Edmunds is not trying to make "French wine" in California. Quite the contrary, he strives - and in my opinion and that of many wine enthusiasts, succeeds - at making subtle, balanced, food-friendly and ageworthy California wines that speak of their own time and place.
In an era when many New World wines - perhaps driven by the preferences of leading critics like Parker - veer toward the popular high-alcohol, fruit-forward profile, wines like those of Edmunds St. John do indeed show a touch of Old World sensibility. But this hardly makes them "French" (not that there's anything wrong with that); and many of us particularly admire Steve Edmunds for his commitment to making wines that do respect the soil in which the grapes were grown.
Just out of curiosity and for a reality check, I compared my impressions on Edmunds' 2004 Rocks and Gravel against a Rhone red of similar grape varieties and vintage, selling (adjusted for the Euro) in the same general price range.
The French wine, Domaine les Sang des Cailloux 2004 "Cuvée Floureto" Vacqueyras ($24.99), imported by Kermit Lynch Wine Merchant, Berkeley, Calif., was certainly a splendid Southern Rhone blend, inky dark reddish-purple in color, breathing subtle raspberry aromas with a whiff of black pepper and an impression of earthy "tree bark" and fresh herbs. Red berries dominated its fresh and mouth-filling flavor, backed by lip-smacking acidity and a softer back note of tannins.
I'd go so far as to say that the similar varietal components and big structure could identify the wines as "cousins" in a blind tasting. But twins? I don't think so. Not even fraternal. I love both wines, not least because each is distinct and individual, speaking with its own clear voice. That's a good thing.
Edmunds St. John 2004 "Rocks and Gravel" California Red Wine ($20)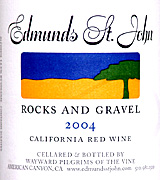 Very dark reddish-purple with a clear garnet edge. Black plums, grilled meat and smoke. Flavors are consistent with the nose, structured black fruit built on a firm acidic backbone and soft but persistent tannins. Ripe but not jammy, berries and plums and stony minerality in a long finish. Tasted again after 24 hours in the open bottle, it has opened up quite a bit, showing a little more black fruit with a hint of licorice on the nose; flavors similar to Day One but more open and accessible. Young enough and sturdy enough that extended breathing (several hours, decanted or poured into glasses with vigorous aeration) will enhance its accessibility. (Sept. 11, 2007)
FOOD MATCH: Grilled beef or lamb would be perfect, but it wasn't a mad match with a light meatless dinner of caprese with heirloom beefsteak tomatoes, fresh basil and locally made fresh mozzarella with extra virgin Spanish olive oil; it also fared well with Manzanilla olives.
VALUE: Whether it's judged, as it probably should be, as a quality California red or considered in competition with very good Southern Rhone blends, $20 is more than fair for this serious, ageworthy wine. (You may be able to find it for less than I paid at retail in Louisville, as the winery suggested retail price is $18, and street prices nationally range in the middle teens.)
WHEN TO DRINK: Certainly enjoyable now, particularly with aeration and a good food match, but its structure and tannins - plus its performance after 24 hours in the open bottle - suggests excellent aging potential over at least the next five years.
WEB LINK:
Here's a fact sheet on the Edmunds St. John 2004 "Rocks and Gravel" on the winery Website:
http://www.edmundsstjohn.com/wines/2004-rocks-and-gravel.html
FIND THIS WINE ONLINE:
Edmunds St. John wines are sporadically distributed around the U.S. and, unfortunately, difficult to impossible to find internationally. For information on distributors in about 30 U.S. states, British Columbia, Europe, the UK and Japan, see the winery Website,
http://www.edmundsstjohn.com/buy
Check prices and find vendors for Edmunds St. John "Rocks and Gravel" on Wine-Searcher.com:
http://www.wine-searcher.com/
find/Edmunds%2bSt%2bJohn%2bRocks/-/-/USD/A?referring_site=WLP

Today's Sponsor
Order by Dec. 12 for guaranteed ground delivery service from The California Wine Club!
Avoid expedited shipping costs and place your holiday gift orders now with The California Wine Club. Call 1-800-777-4443 or visit www.cawineclub.com.
Since 1990 The California Wine Club has been discovering limited production wines from small California wineries. Every month features a new winery and a new adventure! If you're looking for a memorable gift that won't be found in local stores, try The California Wine Club.
Gift months include two bottles of hand-selected, award-winning wines and the club's entertaining and beautiful 12-page magazine, Uncorked. Just $34.95 per month plus shipping and handling. Send as many months as wish and save on discounts of 3, 6, 9 and 12 months.
Your gift recipients will receive our 100 percent guarantee and have the opportunity to reorder their favorites at savings of up to 50 percent off normal retail prices.
Order by Thursday, December 12, for guaranteed ground delivery service. Call 1-800-777-4443 or visit http://www.cawineclub.com.

Today's Sponsor
Saratoga Wine Exchange One Stop Gift Shopping!
The Saratoga Wine Exchange is your source for fine wine online! Spend less time searching web sites for that rare vintage or gift - we've done the work for you! Our online store is easy to use, flash-free and full of fine, rare and collectible wines including Kistler, Turley, Screaming Eagle, Harlan Estates, Mouton, Domaine de la Romanée-Conti and many more. Find exactly what your cellar or gift list needs right here, 24-hours-a-day, with just a click of your mouse.
Check out our most popular section – wines rated 90 points and above. Wines are listed by price so you can easily search and find wines rated 90 points or above in your price range. Makes for easy holiday shopping!"

Talk About Wine Online
If you have questions, comments or ideas to share about today's article
or wine in general, you're always welcome to drop by our online WineLovers Discussion Group. This link will take you to the forum home page, where you can read discussions in all the forum sections:
http://www.wineloverspage.com/forum/village
Everyone is free to browse. If you'd like to post a comment, question or reply, you must register, but registration is free and easy. Do take care to register using your real name, or as a minimum, your real first name and last initial. Anonymous registrations are quietly discarded.
To contact me by E-mail, write wine@wineloverspage.com. I'll respond personally to the extent that time and volume permit.
PRINT OUT TODAY'S ARTICLE
Here's a simply formatted copy of today's Wine Advisor, designed to be printed out for your scrapbook or file or downloaded to your PDA or other wireless device.
http://www.wineloverspage.com/wineadvisor2/
2007/12/california_or_france-print.html

This week on WineLoversPage.com
• Dibbern on Wine: Wine ABCs from Aligote to Zweigelt
It is comforting to return to wines we know well, but it can also be exciting to explore wines of new regions and from unfamiliar grapes. Donald A. Dibbern Jr. offers a series of intriguing alternatives to the usual suspects.
http://www.wineloverspage.com/dibbern/abc07.phtml
• Our Internet radio "TalkShoe": Very old wines
Originally announced erroneiously for last week, today's Internet Radio TalkShoe won't be open for live call-in, as host Randy R devotes the time to a long, intriguing recorded interview with François Audouze, a Paris wine enthusiast who specializes in very old to ancient wines. This program will soon be available for listening - as are all our previous TalkShoes - in the archives!
http://wineloverspage.com/talkshoe/latest.htm
We'll go live again next Monday, Dec. 17, at Noon US EST (9 a.m. Pacific, 6 p.m. in Western Europe), with a TalkShoe about our Wine Focus for December, Gewurztraminer. You're welcome to tune in, or call and talk.
http://wineloverspage.com/talkshoe/
• WineLovers Discussion Group: Parker swings, misses?
My Friday column about the disparity between my opinion of Edmunds St. John's 2005 wines and Robert M. Parker Jr.'s ratings of those wines (discussed further in today's report) generated a good discussion about a range of issues from critical analysis to terroir in our WineLovers Discussion Group. Read the conversation, and join in:
http://www.wineloverspage.com/forum/village/viewtopic.php?t=12559
• Netscape/Compuserve Community Poll: Best wine reference book
While a lot of us are thinking about putting wine books on Santa's shopping list, this seems like a good time to settle on a favorite large wine reference book - encyclopedia or atlas. Select among several popular reference books, or tell about your personal favorites, in this week's poll!
http://community.netscape.com/winelovers?nav=messages&tsn=1&tid=5494
Four top wine reference books
Here's basic information, with links to Amazon.com, for the four candidates specifically listed on the poll. If you choose to buy one or more of these books, purchases made through these direct links will pay a small commission to WineLoversPage.com.
The World Atlas of Wine, Sixth Edition, by Hugh Johnson and Jancis Robinson.
List Price: $50. Amazon.com price: $31.50. You Save: $18.50 (37%)
http://www.amazon.com/exec/obidos/ASIN/1845333012/robingarrswineloA/
The Oxford Companion to Wine, 3rd Edition, by Jancis Robinson.
List Price: $65. Amazon.com price: $40.95. You Save: $24.05 (37%)
http://www.amazon.com/exec/obidos/ASIN/0198609906/robingarrswineloA/
New Sotheby's Wine Encyclopedia, Fourth Edition, by Tom Stevenson.
List Price: $50. Amazon.com price: $31.50. You Save: $18.50 (37%)
http://www.amazon.com/exec/obidos/ASIN/0756613248/robingarrswineloA/
The Wine Bible, by Karen MacNeil.
List Price: $19.95 (paperback). Amazon.com price: $13.57. You Save: $6.38 (32%)
http://www.amazon.com/exec/obidos/ASIN/1563054345/robingarrswineloA/