Today's Sponsor
• TheWineBuyer.com
Buy old favorites and try new discoveries shipped directly to your door. The only place to buy wine online.
TheWineBuyer.com
In This Issue
• Parker swings, misses
The "Emperor of Wine" disses one of our favorite wineries in a surprisingly mean-spirited style. What's up with that?
• Six '05s from Edmunds St. John
I summon a tasting team to help me work through the ESJ portfolio, and we find an awful lot to like in these elegant California wines.
• TheWineBuyer.com
Buy old favorites and try new discoveries shipped directly to your door. The only place to buy wine online.
• Administrivia Change E-mail address, frequency, format or unsubscribe.
Parker swings, misses
American wine critic Robert M. Parker Jr. has been dubbed "The Emperor of Wine." He reportedly has a $1 million insurance policy on his nose, and his print newsletter, The Wine Advocate, is influential far beyond its 40,000 circulation.
I respect Parker for his consistency. But, like a lot of other wine geeks I know, I find the wines he rates in the 90- to 100-point range to be too big, alcoholic and fruit-forward for me. The wines he dismisses in the 80-point range tend to be the kind of more subtle and elegant wines that I enjoy.
That's all right. Different strokes, etc. But Parker's Aug. 29, 2007 report on six new 2005 releases from one of my favorite California wineries, Edmunds St. John, crosses a line for me.
Parker rates these wines from 84 to 87 on his famous 100-point scale, which seems fair enough. Edmunds St. John is one of the few California producers that makes wines with a consistent European sensibility, respecting the soil ("terroir") in which they're grown. They're wines meant to age, and wines meant to go with food; and thus perhaps not to the liking of a critic who seems to prefer amped-up, concentrated wines better suited for cocktail-style sipping.
But the language accompanying the reviews reads not merely as critical but mean-spirited, almost snide. "There appears to be a deliberate attempt to make French-styled wines," Parker wrote. "Of course, California is not France, and therein may suggest (sic) the problem. If you want to make a French wine, do it in France."
Then, "Edmunds St. John's current releases all possess good aromatics, but ... 'where's the beef?'" Pejorative terms like "the wine doesn't deliver," "little weight or depth and virtually no finish," "innocuous" and "one-dimensional and superfluous in the mouth" (huh?) pepper the reviews. "... a low brow (sic) version of a French Côtes du Rhône"?
It almost seems as if these wines made Parker angry. You're tempted to visualize the Emperor of Wine stamping his foot and yelling, "Off with their heads!"
Yet in another respected wine journal, Steve Tanzer's International Wine Cellar, critic Josh Raynolds had reviewed the Edmunds St. John 2005 releases in May and, with surprising consistency, rated them five points above the lackluster ratings that Parker would deliver in August.
Raynolds' tasting reports were consistently laudatory where Parker's would be pejorative. The wine that Parker dissed as "lowbrow Rhone" earned Raynolds' praise as "Southern Rhone in style ... a great value." Parker's "doesn't deliver" became Raynolds' "Bright and energetic ... elegant, very refreshing." And so it went, from one end of the line to the other.
Who had it right? There was just one way to find out for sure: Taste them myself. I asked Steve Edmunds to send me a set of the wines (which weren't yet available locally); and to help temper my own prejudices - I'm a great admirer of Edmunds and his wines, and I know it - I asked a group of my regular tasting pals, local sommeliers and wine experts, to join me in tasting through the six wines, first analytically and then again with appropriate food on the table.
To put it mildly, we could not concur in Parker's findings. As with any opinionated group of serious wine "geeks," opinions varied on individual wines. But overall, as the evening-long tasting wore on, the disconnect between the Parker commentary and reality became too obvious to ignore. These are honest, well-made and consistently enjoyable wines, wines that focus more on elegance and subtle restraint than in-your-face fruit, and that's the way we like them. The more "serious" single-vineyard Syrahs will benefit from significant aging; all of them, again in the European tradition, hit their stride when served with food.
But "innocuous"? "One-dimensional"? I don't think so. I don't do points; I'd rather tell you how I perceived the wines and invite you to use your own judgement. But they certainly win my strong recommendation. Buy 'em if you can find 'em. (Prices shown are suggested retail. Street prices may vary.)
Six '05s from Edmunds St. John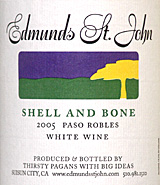 Edmunds St. John 2005 Shell and Bone Paso Robles White Wine ($20)
A blend of Viognier and Roussanne with no oak presence (it's fermented in neutral 22-year-old French oak casks, then transferred to stainless steel). Pale gold. Peach and toasted almond and a whiff of white pepper, subtle and delicious; good rich texture and balance. Excellent alone, transcendent with seared prawns and scallops.
Edmunds St. John 2005 Rocks and Gravel California Red Wine ($18)
A Rhone-style blend of Grenache, Syrah and Mourvedre, again seeing only neutral oak barrels. Clear dark garnet in color. Earth and red berries and a whiff of eucalyptus or menthol, Rhone-style with a light California accent. Ripe and fresh, raspberries and tart cherries and subtle earthy terroir, good balance and length.
Edmunds St. John 2005 "Red Neck 101" Eagle Point Ranch Mendocino County Red Wine ($25)
A blend of Syrah and Grenache from Eagle Point, a respected vineyard. Grenache red berries and darker Syrah berries join in a mixed-berry flavor combination reminiscent of a subtle old-style Zinfandel; a whiff of earthy barnyard adds complexity without going overboard. Lush red fruit is nicely balanced by acidity in an excellent quaff. Like all of the ESJ reds on the table, it wraps itself around a medium-rare grilled steak with exceptional style, in a match that improves the steak and adds another layor of dimensionality to the wine.
Edmunds St. John 2005 Bassetti Vineyard San Luis Obispo County Syrah ($40)
A little reductive bottle funk, not surprising in an ageworthy red, blows off with swirling in the glass to reveal pure Syrah fruit, sunny and ripe. Lush red and black berry fruit with back notes of smoke and a hint of earthy black olives. Well balanced, impressive but needs a lot of cellar time to achieve its potential. Buy it now, drink it in 2015.
Edmunds St. John 2005 Parmelee-Hill Vineyard Sonoma Valley Syrah ($25)
Lovely licorice and fennel over deep dark fruit. Mouth-filling and balanced. Elegant, much aging potential but drinking very nicely now, particularly in company with rare beef. This will be the last vintage of Parmelee-Hill from ESJ, and in a statement that gives clear insight into Edmunds' philosophy and his personality, he explains why: "'05 was the last time we took fruit from Parmelee-Hill. Not that we didn't like it, but the price was getting up there, and given the kind of wine we make, and the constant clamoring by the critics for bigger and dumber wines, I didn't feel confident that I could sell the wine for a high enough price to make any money on it. Then again, making money isn't something I've ever gotten much of a handle on."
Edmunds St. John 2005 Wiley-Fenaughty El Dorado County Syrah ($25)
Black. Subtle and complex, red-berry fruit and "forest floor." Ripe and balanced, with ample but smooth, silky tannins that marry well with the beef. The Wiley-Fenaughty has long been my favorite of all the ESJ Syrahs, and the 2005 is right on track. Parker said he found "little weight or depth and virtually no finish." I wonder what he was drinking? Certainly not the wine I had.
FIND THESE WINES ONLINE:
Edmunds St. John wines are sporadically distributed around the U.S. and, unfortunately, difficult to impossible to find internationally. For information on distributors in about 30 U.S. states, British Columbia, Europe, the UK and Japan, see the winery Website,
http://www.edmundsstjohn.com/buy
Check prices and find vendors for Edmunds St. John on Wine-Searcher.com:
http://www.wine-searcher.com/
find/Edmunds%2bSt%2bJohn/-/-/USD/A?referring_site=WLP

Today's Sponsor
TheWineBuyer.com
TheWineBuyer.com is your best source for wine on the Internet. Buy your old favorites and new discoveries and have them shipped right to your door! Try our Wine Gift Ideas for all your upcoming holiday wine gifts, whether personal or corporate. Sign up for our email newsletter and be the first to find out about special wines and sales: Right now we're counting down our Top 10 Wines of the Year. Check out our Wine Education Pages and enhance your wine knowledge.

Talk About Wine Online
If you have questions, comments or ideas to share about today's article
or wine in general, you're always welcome to drop by our online WineLovers Discussion Group. This link will take you to the forum home page, where you can read discussions in all the forum sections:
http://www.wineloverspage.com/forum/village
Everyone is free to browse. If you'd like to post a comment, question or reply, you must register, but registration is free and easy. Do take care to register using your real name, or as a minimum, your real first name and last initial. Anonymous registrations are quietly discarded.
To contact me by E-mail, write wine@wineloverspage.com. I'll respond personally to the extent that time and volume permit.
PRINT OUT TODAY'S ARTICLE
Here's a simply formatted copy of today's Wine Advisor, designed to be printed out for your scrapbook or file or downloaded to your PDA or other wireless device.
http://www.wineloverspage.com/wineadvisor2/
2007/12/parker_swings_misses-print.html