California Gewurztraminer
We're talking Gewurztraminer again today, following up on Monday's dissertation about our online forum Wine Focus topic for the month with a close-up look at a New World Gewurz to compare and contrast with Monday's benchmark example from Alsace.
As I mentioned then, many wine enthusiasts consider Alsace the world's top spot for Gewurztraminer because the wines it makes there tend to surpass all others in their aromatic intensity and concentration; and that, after all, is pretty much what Gewurz is all about.
Today, let's take a quick look at a fine example of an alternative style from California, Handley 2006 Gewurztraminer from Sonoma's Anderson Valley.
Very different in style from the Alsatian "The Furst" featured in Monday's tasting, it's aromatic but not over-the-top. The Alsatian wine's in-your-face rose and litchee aromas are toned down to appetizing grapefruit and tangerine here; the California wine is nicely balanced and sufficiently acidic (acidity is not really a signature characteristic of Gewurz in any case). In contrast with the Alsatian's distinctly off-dry flavor, the California wine is made bone-dry and considerably more food-friendly, with just a whiff of peach-pit bitterness in the finish.
I like both wines, and they're both typical Gewurz. But in this rare instance, the usual Old World-New World distinction is reversed: Despite the American wine's hefty 14.2 percent alcohol, it's the New World wine that makes you think of relatively subtle things - pastels or string quartets - while the Old World wine turns up the volume with Technicolor and crashing cymbals.
A curious footnote: Oddly, the French wine label presented the word "Gewurztraminer" with no umlaut over the "u." The California wine, with its label in English, uses the Germanic form with the double-dotted "ü." My notes on the Handley are below.
Today's Sponsor
A message from WineLibrary.com
You may have seen us featured in GQ magazine, The Wall Street Journal, New Jersey Monthly and elsewhere. WineLibrary.com features a huge collection of top wines from around the world, great gifts and accessories, a daily video blog (WineLibraryTV), huge selection of futures and much, much more!
Wine Library makes gift giving easy! Click here for more info! We also have amazing selections to compliment whatever you're serving to your friends and family this Holiday Season. Plus, check out one of our best gifts going, the 2007 Gourmet Gift Basket! Valued at $75+, you can order it for 49.99 and Watch exactly what you'll be sending.
Watch exactly what you'll be sending."
Bottom line, we offer the lowest prices, the largest selection, lightning fast shipments and the greatest customer service in the industry! WineLibrary.com is your one-stop shop for everything wine ... so what are you waiting for? Log on to WineLibrary.com or call us at 888-980-WINE (9463) today!

Handley 2006 Anderson Valley Gewürztraminer ($17.99)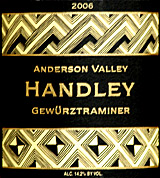 Transparent pale gold color. Attractive aroma evokes fresh white grapefruit. Bone-dry, with crisp citrus flavors, a happy mix of grapefruit and tangerine; good acidity for Gewurz, with just a hint of alcoholic heat (14.2 percent claimed). Despite being vinified fully dry, there's only a presentable whiff of peach-pit bitterness in the finish. (Dec. 4, 2007)
FOOD MATCH: A relatively easy food match for a Gewurz, it went nicely with a not-too-spicy Cajun-style chicken and okra gumbo.
VALUE: A fine expression of California Gewurztraminer and not unreasonably priced, although I do like it better for a few dollars under this $18 point, which matches the winery's suggested retail price.
WHEN TO DRINK: The conventional wisdom holds that Gewurz should age well and gain some complexity with a few years of cellar time; this rule of thumb, however, is typically based on off-dry to sweet Gewurz, and I can't claim much experience with cellaring the less commonplace dry versions.
WEB LINK:
This page on the winery Website offers some basic, advertising-style information about the 2006 Gewurz, with a link onward to a more detailed spec sheet.
http://www.handleycellars.com/shop/jsp/item.jsp?itemid=16&catid=37
FIND THIS WINE ONLINE:
Check prices and find vendors for Handley Gewürztraminer on Wine-Searcher.com:
http://www.wine-searcher.com/
find/Handley%2bGewurztraminer/-/-/USD/A?referring_site=WLP

Talk About Wine Online
If you have questions, comments or ideas to share about today's article
or wine in general, you're always welcome to drop by our online
WineLovers Discussion Group. This link will take you to the forum home page, where you can read discussions in all the forum sections:
http://www.wineloverspage.com/forum/village
Everyone is free to browse. If you'd like to post a comment, question or reply, you must register, but registration is free and easy. Do take care to register using your real name, or as a minimum, your real first name and last initial. Anonymous registrations are quietly discarded.
To contact me by E-mail, write wine@wineloverspage.com. I'll respond personally to the extent that time and volume permit.
PRINT OUT TODAY'S ARTICLE
Here's a simply formatted copy of today's Wine Advisor, designed to be printed out for your scrapbook or file or downloaded to your PDA or other wireless device.
http://www.wineloverspage.com/wineadvisor2/
2007/12/california_gewurztraminer-print.html