Today's Sponsors
• TheWineBuyer.com
Buy old favorites and try new discoveries shipped directly to your door. The only place to buy wine online.
TheWineBuyer.com
• The Saratoga Wine Exchange
Your source for fine wine online! Spend less time searching for that rare vintage or gift - we've done the work for you!
SaratogaWine.com
In This Issue
• Where Cab Franc shines
A grape that some wine geeks love to diss, Cabernet Franc can make a wonderful wine when it's grown in the right soil. Try a good Chinon and you'll need no further persuasion.
• Rémy Pannier 2006 Chinon ($13.99)
Good young Chinon, enjoyable and interesting now, but it would be well worth setting some aside for the cellar.
• TheWineBuyer.com
Buy old favorites and try new discoveries shipped directly to your door. The only place to buy wine online.
• Bernard Baudry 2005 Chinon Les Grézeaux ($23.99)
Red fruit and a distinct, earthy red-clay minerality in a good, typical Loire Cabernet Franc, perhaps not for those who insist on fruit-forward wines.
• SaratogaWine.com
Your source for fine wine online! Spend less time searching for that rare vintage or gift - we've done the work for you!
• Administrivia Change E-mail address, frequency, format or unsubscribe.
Where Cab Franc shines
If you paid attention to all the wine-geek trivia in the wine-road movie comedy Sideways, you may have noticed that in addition to his infamous dismissal of Merlot, the twitchy character Miles also roundly dissed Cabernet Franc.
If you paid close attention, you also noticed that one of the wines he considered most glorious - Chateau Cheval Blanc St.-Emilion - just happens to be made from a blend of mostly Cabernet Franc ... and Merlot.
The joke works for a simple reason: With relatively few exceptions (Alsace and generic varietal wines from Burgundy and the Languedoc), French wines don't disclose the wine-grape variety on the label. Location, location, location is everything in French wine, and it's considered much more important to know where the grapes were grown and the wine was made than what specific grapes were used.
French AOC wines - regional wines of controlled appellation - must be made from specific grapes, both under tradition and under law.
If you happen to know that Bordeaux wines in general are made from a blend that may include some Cabernet Sauvignon, Merlot, Cabernet Franc, Petit Verdot and Malbec, good for you. But it doesn't really matter if you know that Cheval-Blanc contains 57 percent Cab Franc, Merlot comprising most of the rest, with a splash of Cab Sauvignon and a dash of Malbec. It's assumed that the name of the producer, and the region, tell the consumer all that the consumer needs to know.
This stands in contrast with the U.S., where "varietal labeling" that gives prominence to the wine grapes became the standard for fine wines as the result of a marketing effort in the years after World War II. "Napa" may be a name to conjure with in the marketplace, but only a few Napa producers with big names (like Opus One, Dominus or Insignia) dare present their flagship wine without featuring "Cabernet Sauvignon" or "Merlot" at least as prominently as the region and producer.
Cabernet Franc, meanwhile, only occasionally stands alone, in France or the U.S. In Bordeaux, with the rare exception of Cheval Blanc and a handful of its neighbors, it's usually a minor player in the red blend. Here and there around the world, usually in cooler growing regions like Northern Italy, Ontario, New York's Finger Lakes and upland Virginia, producers are experimenting with full-varietal Cabernet Franc with mixed success.
For me, the one sure-fire, go-to region where Cabernet Franc really shines takes us back to France: Chinon in the Loire almost invariably gets it right. Located in the Touraine region (around the city of Tours), on the Vienne River, a tributary of the Loire, Chinon boasts a vine-growing history that goes back to the Romans, and - as a handy trivia question - is also the birthplace of the famous, ribald 16th Century French author and philosopher François Rabelais.
Chinon by law must be made from at least 90 percent Cabernet Franc (the rest may be Cabernet Sauvignon), and is usually all Cab Franc. Curiously, one of today's featured Chinons bears the English-language label note "100% Cabernet Franc," a bit of information (perhaps included for the export market) that counters the usual practice, a small oddity that inspired me to today's rumination.
That wine is a tasty, nicely balanced early-drinking Chinon from Rémy Pannier, one of the region's larger negociants, a wine merchant who buys grapes or wine from smaller producers and finishes the wine under his own label. Today's other featured wine is a limited-production artisanal item, an old-vines vineyard bottling from the respected producer Bernard Baudry. Drinkable now, albeit on the earthy, fruit-shy side, it's a Chinon that will benefit from extended cellaring.
Two good Chinons, two fine Cabernet Francs. Never mind what Miles said.
Rémy Pannier 2006 Chinon ($13.99)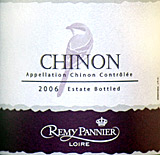 Dark garnet. Red berries and a whiff of red-clay earthiness. More subtle than fruit-forward, raspberries and white pepper, tart acidity and soft, smooth tannins. Good young Chinon, enjoyable and interesting now, but it would be well worth setting some aside, especially at this fair price. U.S. importer: Palm Bay Imports Inc., Boca Raton, Fla. (Nov. 21, 2007)
FOOD MATCH: I like to match the earthy fruit of Loire Cabernet Franc against the mixed flavors of Asian fare. This one made a fine match with a lightly spicy pork-and-bean-curd West China standard, Ma Po tofu. More traditionally, it's a versatile match with poultry, pork, lighter red meats and a range of cheeses.
VALUE: In the age of the strong Euro, value doesn't get much better than the lower teens for excellent young Chinon like this.
WHEN TO DRINK: More than palatable now, but quality Loire Cabernet Franc will go for five years without any effort and a decade or more under good cellar conditions.
PRONUNCIATION:
Chinon = "Shee-noN"
WEB LINK:
Palm Bay Imports offers a good fact sheet on this wine and its producer, with links to reviews:
http://www.palmbayimports.com/
xq/asp/VID.641/WID.2236/qx/products.html
FIND THIS WINE ONLINE:
Check prices and find vendors for Rémy Pannier Chinon on Wine-Searcher.com:
http://www.wine-searcher.com/
find/Pannier%2bChinon/-/-/USD/A?referring_site=WLP

Today's Sponsor
TheWineBuyer.com
TheWineBuyer.com is your best source for wine on the Internet. Buy your old favorites and new discoveries and have them shipped right to your door! Try our Wine Gift Ideas for all your upcoming holiday wine gifts, whether personal or corporate. Sign up for our email newsletter and be the first to find out about special wines and sales: Right now we're counting down our Top 10 Wines of the Year. Check out our Wine Education Pages and enhance your wine knowledge.

Bernard Baudry 2005 Chinon Les Grézeaux ($23.99)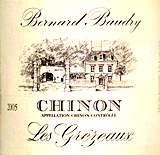 Very dark reddish-purple with a garnet edge. Red fruit and a distinct, earthy red-clay minerality on the nose and palate, well structured with fresh-fruit acidity and soft tannins. Good, typical Loire Cabernet Franc, not in a style that will please those who prefer fruit-forward to mineral-style wines, but I love it. U.S. importer: LDM Wines Inc., NYC; Louis/Dressner Selections. (Nov. 4, 2007)
FOOD MATCH: Right on with yet another spicy Asian match, Sichuan-style crispy beef with shredded celery and carrot and hot chile peppers. For a more customary match, try it with thick grilled pork chops.
VALUE: Baudry's respected name, the strong Euro and a single-vineyard wine conspire to push this one into the $20s, although as a classic Chinon with cellar potential, that's fair for fans of the style.
WHEN TO DRINK: Drink it now or cellar it well and watch it sing in 2015.
WEB LINK:
Although it's available in French only, it's worth struggling through this content-rich Website about Bernard Baudry and his wines:
http://www.chinon.com/vignoble/bernard-baudry/index2.htm
For an English-language account of Baudry and his Chinon, see the importer's Website:
http://louisdressner.com/Baudry/
FIND THIS WINE ONLINE:
To order this wine from Chambers Street Wines in NYC, click the following link for Bernard Baudry, then page down to find the 2005 Chinon Les Grézeaux:
http://www.chambersstwines.com/Search.asp?search=go&kw=baudry
Compare prices and locate vendors for Bernard Baudry Chinon Les Grézeaux on Wine-Searcher.com:
http://www.wine-searcher.com/
find/Baudry%2bGrezeaux/-/-/USD/A?referring_site=WLP

Today's Sponsor
Saratoga Wine Exchange One Stop Gift Shopping!
The Saratoga Wine Exchange is your source for fine wine online! Spend less time searching web sites for that rare vintage or gift - we've done the work for you! Our online store is easy to use, flash-free and full of fine, rare and collectible wines including Kistler, Turley, Screaming Eagle, Harlan Estates, Mouton, Domaine de la Romanée-Conti and many more. Find exactly what your cellar or gift list needs right here, 24-hours-a-day, with just a click of your mouse.
Check out our most popular section – wines rated 90 points and above. Wines are listed by price so you can easily search and find wines rated 90 points or above in your price range. Makes for easy holiday shopping!"

Talk About Wine Online
If you have questions, comments or ideas to share about today's article
or wine in general, you're always welcome to drop by our online WineLovers Discussion Group. This link will take you to the forum home page, where you can read discussions in all the forum sections:
http://www.wineloverspage.com/forum/village
Everyone is free to browse. If you'd like to post a comment, question or reply, you must register, but registration is free and easy. Do take care to register using your real name, or as a minimum, your real first name and last initial. Anonymous registrations are quietly discarded.
To contact me by E-mail, write wine@wineloverspage.com. I'll respond personally to the extent that time and volume permit.
PRINT OUT TODAY'S ARTICLE
Here's a simply formatted copy of today's Wine Advisor, designed to be printed out for your scrapbook or file or downloaded to your PDA or other wireless device.
http://www.wineloverspage.com/wineadvisor2/
2007/11/where_cab_franc_shines-print.html