Today's Sponsor
• TheWineBuyer.com
Buy old favorites and try new discoveries shipped directly to your door. The only place to buy wine online.
TheWineBuyer.com
In This Issue
• Turkey Day wines
The calendar says it's Friday, but it sure feels like Saturday in the sated aftermath of Thanksgiving Day. If you're not out shopping, let's talk about yesterday's wines.
• Three for Thanksgiving
Seeking interesting, easy-drinking wines that would go well with turkey and the trimmings, I came up with a rustic Italian red, a luscious California white blend and a palate-cleansing German Pinot Noir.
• TheWineBuyer.com
Buy old favorites and try new discoveries shipped directly to your door. The only place to buy wine online.
• Let's skip Black Friday!
Here's a cheeky idea! While everbody else is out fighting traffic and crowds, let's stay home and shop for wine gifts on the Internet! When you buy these items, you also help support The 30 Second Wine Advisor.
• Administrivia Change E-mail address, frequency, format or unsubscribe.
Turkey Day wines
It's Friday, the sleepy day after Thanksgiving in the U.S. Most of us are taking the day off to make it a long weekend as we recover from yesterday's feasting excesses; and it feels an awful lot like Saturday.
The calendar says it really is Friday, though, and that means it's time for another 30 Second Wine Advisor, even if quite a few of you who get your mail at work won't be there to see it. And, I expect, a lot more of you will be out shopping until you drop on "Black Friday." Enjoy your mall trips, and please pardon me if I don't venture out to join you.
With more feasting ahead as we move toward Christmas and the holiday season - not to mention all those turkey leftovers that need to be eaten - it makes sense to devote today's space to the wines I chose to go with Thursday's traditional banquet.
As the wine provider for a convivial group of friends and family who enjoy drinking wine but aren't really of the hard-core wine-geek persuasion, I veered away from cellar treasures and offbeat discoveries this holiday, in favor of interesting, easy-drinking wines that I thought would go well with the roast turkey and all the trimmings that weigh down the Thanksgiving table.
Faced with lots of possibilities, I ended up with three wines that, in one way or another, followed the suggestions that I offered in Monday's Wine Advisor: A "heritage wine," an Italian Barbera d'Asti, made an excellent companion with light and dark turkey with its light, earthy character and tart, snappy acidity. A rather full, round white wine from California - a textured blend of Chardonnay, Viognier and Chenin Blanc - was a delight with the turkey, particularly the more delicate white meat. And it just about goes without saying that a Pinot Noir - perhaps the most versatile of food wines, even in the unusual alternative of a German "Spätburgunder" version - went well with everything on the table.
Villa Giada 2006 "Surì" Barbera d'Asti Rosso ($13.99)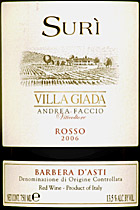 Very dark garnet. Black fruit and restrained "barnyard" on the nose, a little more forward on the palate, an earthy wine in a rustic old-country style that's fine with me. Very high in acidity - typical of Barbera - gives it a cleansing edge that makes it an exceptional food wine. U.S. importer: Vin DiVino Ltd., Chicago. (Nov. 22, 2007)
FIND THIS WINE ONLINE:
Check prices and find vendors for Villa Giada "Surì" on Wine-Searcher.com:
http://www.wine-searcher.com/
find/Giada%2bSuri/-/-/USD/A?referring_site=WLP
Ten Mile 2006 "Lost Horizons" California White ($10.99)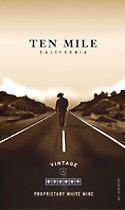 An eclectic mix of grapes and California sources, this unusual white brings together 53% Chardonnay, 27% Viognier and 20% Chenin Blanc from Mendocino (53%), Lodi (27%) and Clarksburg (20%) in a luscious blend that sees long, cold fermentation on the lees but no oak aging. Clear straw color, with an appetizing scent of white fruit and honey; just off-dry (0.4% residual sugar), on the full side of medium-bodied. It offers a bowl of bananas, pears and peaches on the palate with slight sweetness well-balanced by appropriate acidity. A very interesting wine and a very good value from California Wine Club.
FIND THIS WINE ONLINE:
You'll find technical information and spec sheets on Ten Mile White on the winery Website:
http://www.ninenorthwines.com/index.php?page=70
This wine is available through California Wine Club. To find it in the Club's online store, click:
http://www.cawineclub.com/
Ten-Mile-Wines-2006-Proprietary-White-Blend_PD213.html
Hubertushof 2005 Trittenheimer Altärchen Spätburgunder Pinot Noir QbA ($26)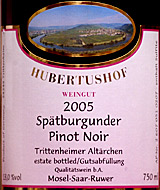 Think of Germany and you'll rarely think of red wine, yet I can't recall ever having an unpleasant Pinot Noir ("Spätburgunder" in German, literally "Late Burgundian") from the Mosel-Saar-Ruwer. Clear garnet, offering fresh red-cherry fruit and warm spice on the nose and palate. Simple, true Pinot fruit is well shaped by zippy acidity. Opens up to more complexity with time in the glass, suggesting cellar potential. U.S. importer: Plumeridge Wine Negociants, City of Industry, Calif., for California Wine Club's International Selections. (Nov. 22, 2007)
FIND THIS WINE ONLINE:
This wine is available through California Wine Club's International Selections. Look it up in the Club's online store:
http://www.cawineclub.com/Hubertushof-Weingut-Mosel-2005-Pinot-Noir-
%28Trittenheimer-Altarchen%29_PD170.html

Today's Sponsor
TheWineBuyer.com
TheWineBuyer.com is your best source for wine on the Internet. Buy your old favorites and new discoveries and have them shipped right to your door! Try our Wine Gift Ideas for all your upcoming holiday wine gifts, whether personal or corporate. Sign up for our email newsletter and be the first to find out about special wines and sales: Right now we're counting down our Top 10 Wines of the Year. Check out our Wine Education Pages and enhance your wine knowledge.

Let's skip Black Friday!
Here's a cheeky idea! While everbody else is out fighting traffic and crowds and getting thoroughly out of the holiday spirit, let's stay home and shop on the Internet! These quick suggestions will please your wine-loving friends, and you purchase through the links provided, will put a few pence in our stockings at WineLoversPage.com.
WINE GRAPE VARIETAL TABLE: One of the most innovative wine-enthusiast publications I've seen yet, Steve and Deborah De Long's Wine Grape Varietal Table mimics the familiar periodic table of the elements to categorize a world of wine grape varieties. "A wine reference disguised as a fine-art print," it's a great gift for a wine-loving friend - or yourself - and makes a fun wall display for cellar or study or tasting room.
CLICK TO BUY:
http://www.delongwine.com/wgvt.php?PARTNER=WLP

SCHOTT ZWIESEL WINE GLASSES: Just about every wine enthusiast knows by now about Riedel glassware from Austria, the classy, elegant crystal wine glasses made in dozens of shapes purported to suit specific wines. If you want to get just a bit closer to the cutting edge, check out German Schott Zwiesel, a line of similarly elegant glasses with a delicious nuance: They're made with titanium, not lead, and are virtuall unbreakable. No absolute guarantees - this is eggshell-thin crystal - but they're dishwasher safe, and we have reports of glasses bouncing back up undamaged after being dropped on a tile floor. Better still, all this style comes at a price that's appropriate for luxury but that more than meets the competition.
CLICK TO BUY:
Schott Zwiesel Diva Tritan Crystal Burgundy/Pinot Noir Wine Glasses, Set of 6: List price $75, discounted to $64.95 from Amazon.com, a 13 percent saving.
http://www.amazon.com/exec/obidos/ASIN/B0006GQL8I/robingarrswineloA/

MY 30 SECOND WINE ADVISOR BOOK:
Just out this month, my first anthology of 30 Second Wine Advisor articles, reassembled in easy, intuitive format to walk the novice or even the experienced wine lover though a casual introduction to wine appreciation. Taste by taste, day by day, these quick bites build your wine knowledge and enhance your confidence in the sometimes daunting world of fine wine. A great gift for anyone who wants to feel more comfortable about wine as a hobby as well as a drink.
CLICK TO BUY:
http://www.amazon.com/exec/obidos/ASIN/1434816486/robingarrswineloA/

Talk About Wine Online
If you have questions, comments or ideas to share about today's article
or wine in general, you're always welcome to drop by our online WineLovers Discussion Group. This link will take you to the forum home page, where you can read discussions in all the forum sections:
http://www.wineloverspage.com/forum/village
Everyone is free to browse. If you'd like to post a comment, question or reply, you must register, but registration is free and easy. Do take care to register using your real name, or as a minimum, your real first name and last initial. Anonymous registrations are quietly discarded.
To contact me by E-mail, write wine@wineloverspage.com. I'll respond personally to the extent that time and volume permit.
PRINT OUT TODAY'S ARTICLE
Here's a simply formatted copy of today's Wine Advisor, designed to be printed out for your scrapbook or file or downloaded to your PDA or other wireless device.
http://www.wineloverspage.com/wineadvisor2/
2007/11/turkey_day_wines-print.html