Today's Sponsor
• A message from WineLibrary.com
With Thanksgiving almost here, Wine Library can help you pick the perfect wine for your meal. Click this link to find out more!
Click this link to find out more!
In This Issue
• Nouveau's star fading?
Maybe it's just my imagination, but it seems to me that the annual excitement over the arrival of the Beaujolais Nouveau is diminishing.
• Georges Duboeuf 2007 Beaujolais Nouveau ($11.99)
Very grapey, a bowl of ripe and juicy strawberry and banana fruit, it's a little over the top, but hey, that's Nouveau.
• A message from WineLibrary.com With Thanksgiving almost here, Wine Library can help you pick the perfect wine for your meal.
• 30 Second Wine Advisor - The book!
Looking for a good wine-related gift for friends or yourself? Take a look at The 30 Second Wine Advisor book, a quick, fun and easy way to learn about wine.
• Administrivia Change E-mail address, frequency, format or unsubscribe.
Nouveau's star fading?
No FoodLetter tomorrow
We'll take a day off tomorrow for the Thanksgiving Day holiday, so there'll be no edition of the 30 Second Wine Advisor FoodLetter this week. However, the Wine Advisor will publish as usual on Friday.
The Beaujolais Nouveau has arrived, but around this part of the world at least, it came in with neither a bang nor a whimper but something more like a collective yawn.
Perhaps it's a result of sheer ennui born of repetition, or maybe rising costs based on the strength of the Euro and the price of oil, but I can't remember a year in the wine world when the third Thursday of November passed with less attention. I've had no notices about wine-shop Nouveau tastings; none trumpeting special French-themed dinners at local restaurants.
Indeed, thoughts of Nouveau had hardly crossed my mind when I wandered into a local wine shop the other day and noticed a case of the new stuff bearing the colorful label of Georges Duboeuf, the so-called "King of Beaujolais," who practically invented the Nouveau phenomenon. Dang! The third Thursday fell early this year, and it had already passed without my noticing. What's the price? Twelve bucks? A little spendy for what it is, but all right, I'll try one. And so I did. My notes are below.
If indeed this year's low-profile Nouveau signals the end of an era, it has been quite a trajectory, one summed up in more detail in my June 11, 2007 Wine Advisor, "A fresh look at Duboeuf," my review of Rudolph Chelminski's excellent new biography of the Beaujolais King, "I'll Drink to That: Beaujolais and the French Peasant Who Made It the World's Most Popular Wine."
As I wrote in a 2001 account of the Nouveau tradition, simply put, Nouveau is all about cash flow. Over the past generation, the wine makers of Beaujolais, with Duboeuf at the helm, have capitalized on a once-obscure tradition: By rushing through an accelerated wine-making process, they can get the first wine of the new vintage to market as soon as six weeks after the harvest. Most new wines aren't available until spring at the earliest, and many high-end wines, from Bordeaux to Chianti Classico Riserva, must languish at the winery for years before the producer can reap the profits.
For many years, French law set the release date of Nouveau on Nov. 21, when - amid great publicity - trucks would race from Beaujolais to Paris, hoping to win bragging rights by being the first to reach the wine bars of the city. In modern times, the law has changed a bit: The official release date is now the third Thursday of November, and it may actually be shipped to distributors around the world in advance of that date, poised for uncorking promptly at midnight.
What should you expect of Nouveau Beaujolais? Don't count on a great wine worthy of contemplation. When things go well and the fruit of the vintage is ripe, Nouveau can be fresh and light. In less favorable years, it may be thin, tart and sour. It really doesn't matter! It's a good excuse for a party, one last taste of summer and a symbolic taste of the year's wines to come.
By that standard, Duboeuf's 2007 venture passes muster. Very grapey, a bowl of ripe and juicy strawberry and banana fruit, it's a little over the top, but hey, that's Nouveau. And if the hype surrounding its arrival is finally falling back into perspective, it's still a fun drink, and a reasonable option for careless quaffing at your Thanksgiving dinner.
Georges Duboeuf 2007 Beaujolais Nouveau ($11.99)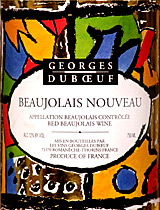 Clear garnet. Very grapey aroma with distinct, typical Nouveau notes of strawberry and banana (which actually are more closely related than you might think). Mouth-filling, juicy, bowl-of-fruit flavor with sufficient acidity to hold it together. A little too grapey and fruit-forward for me to enjoy sipping it as an aperitif (although a light chill helps), but it's surprisingly well paired with simple fare. An extra-short (1 1/2 inch) white plastic "cork" signals that this wine is not meant to keep. U.S. importer: W.J. Deutsch & Sons Ltd., Harrison, N.Y. (Nov. 19, 2007)
FOOD MATCH: A passable quaff with roast turkey and the holiday trimmings. Also well suited with simple party or picnic fare; it was better with fried chicken, frankly, than sipped alone.
VALUE: The cheaper, the better, and some vendors have it for $7 to $8. Still, it's worth the investment if you enjoy the fun and frivolity of the Nouveau phenomenon ... or want a seasonal wine for the Thanksgiving table.
WHEN TO DRINK: The old rule about drinking Nouveau before New Year's is probably inoperative in these days of clean, modern wine making, but it's still not a wine to keep. Drink it up and move on.
WEB LINK:
For information on all of Georges Duboeuf's wines, see the producer's Website in French and English:
http://www.duboeuf.com
For an advertising-type brochure celebrating Duboeuf's Nouveau in particular, see:
http://www.winewithoutrules.com
FIND THIS WINE ONLINE:
Check prices and find vendors for Georges Duboeuf 2007 Beaujolais Nouveau on Wine-Searcher.com:
http://www.wine-searcher.com/
find/Duboeuf%2bNouveau/2007/-/USD/A?referring_site=WLP

Today's Sponsor
A message from WineLibrary.com
You may have seen us featured in GQ magazine, The Wall Street Journal, New Jersey Monthly and elsewhere. WineLibrary.com features a huge collection of top wines from around the world, great gifts and accessories, a daily video blog (WineLibraryTV), huge selection of futures and much, much more!
Wine Library can help you with selecting the perfect wines for your meal. We have a great selection of Pinot Noirs, Zinfandels and Rieslings, all of which are ideal compliments for turkey. Click our hottest Thanksgiving Wines link for our biggest savings!
Also, with the holidays coming it's never too early to think about sending out gifts, and we can do it all. From sending wine to your families to corporate gifts for clients. Log on to WineLibrary.com for more information!
Bottom line, we offer the lowest prices, the largest selection, lightning-fast shipments and the greatest customer service in the industry! WineLibrary.com is your one-stop shop for everything wine ... so what are you waiting for? Log on to WineLibrary.com today!

30 Second Wine Advisor - The book!
Just in time for holiday gift-giving, we've published "The 30 Second Wine Advisor: Learn about wine in 30-second tastes - quick, easy & fun."
As the name implies, the book - like this column - breaks wine appreciation down into short, informative articles. Each article doesn't take long to read, but taste by taste, day by day, they build your wine knowledge and enhance your confidence in the sometimes daunting world of fine wine. What's more, your purchase will help support this column and all of WineLoversPage.com, for which you have my grateful thanks.
The 30 Second Wine Advisor is now available in paperback for $19.95, only from Amazon.com. Click to place your order:
http://www.amazon.com/exec/obidos/ASIN/1434816486/robingarrswineloA/

Talk About Wine Online
If you have questions, comments or ideas to share about today's article
or wine in general, you're always welcome to drop by our online
WineLovers Discussion Group. This link will take you to the forum home page, where you can read discussions in all the forum sections:
http://www.wineloverspage.com/forum/village
Everyone is free to browse. If you'd like to post a comment, question or reply, you must register, but registration is free and easy. Do take care to register using your real name, or as a minimum, your real first name and last initial. Anonymous registrations are quietly discarded.
To contact me by E-mail, write wine@wineloverspage.com. I'll respond personally to the extent that time and volume permit.
PRINT OUT TODAY'S ARTICLE
Here's a simply formatted copy of today's Wine Advisor, designed to be printed out for your scrapbook or file or downloaded to your PDA or other wireless device.
http://www.wineloverspage.com/wineadvisor2/
2007/11/nouveaus_star_fading-print.html