Another face of Sauvignon Blanc
What's the matter with Sauvignon Blanc? Next to Chardonnay, the variety that inspired the "ABC" or "Anything But Chardonnay" club, Sauvignon Blanc may be the most popular white grape that a sizable share of wine enthusiasts love to malign.
I'm as guilty as anyone else: Looking over my own tasting reports, I find only three Sauvignon Blancs among my last 100 tastings, lagging far behind such personal favorites as Pinot Noir, Syrah/Shiraz, Chenin Blanc, the popular Italian varieties and even trailing Chardonnay in my personal varietal sweepstakes.
So what's the problem here? In the marketplace, one issue may be simple unfamiliarity: Although Sauvignon Blanc-based wines are common, the name of the grape doesn't always appear on the label.
In France, the geographical name (Sancerre, Pouilly-Fumé, Bordeaux Blanc) takes precedence; the name of the grape usually goes unstated. In the U.S., the name "Sauvignon Blanc" was such a drag on the market that Robert Mondavi famously re-named the variety "Fumé" Blanc in a surprisingly successful effort to build up sales. In Northern Italy, it's often labeled just-plain "Sauvignon," producers apparently assuming that you can grasp the "Blanc" or "Bianco" by looking at the bottle. Only in New Zealand, and to some extent in California, is the full varietal name commonplace.
Then there's the inescapable question, "What's in this bottle?"
As I discussed in the Aug. 13, 2007 Wine Advisor, Many faces of Sauvignon Blanc, this grape shows a bewildering array of personalities. Depending on decisions that range from the vineyard (yield, sun exposure and leaf canopy management) to the winery (dry or off-dry; to blend or not to blend) and the barrel room (full or partial oak treatment or none), Sauvignon Blanc can range from tart to softly sweet, light-bodied to unctuous, citric or herbally "grassy" or somewhere in-between.
I went through a period of being smitten by New Zealand Sauvignon Blanc, particularly after Cloudy Bay burst on the world with its bold limey, "gooseberry," green chile pepper aromas and flavors and soon inspired a wealth of competitors. But Technicolor soon overwhelms, and frankly, competition has also inspired overproduction and excess yields, and the Kiwi rendition isn't the sure bet that it used to be.
California Sauvignon Blanc suffers a similar unpredictability, and nothing came of early efforts to encourage a consistent style for oak character in wines labeled Fumé Blanc versus unadorned fruit in those labeled Sauvignon Blanc.
Chilean Sauvignon Blanc mirrors the California style, in my experience, and usually the lower budget end of the niche. And back in the Old Country, Italian Sauvignon can be intriguing but is awfully rare; and in White Bordeaux (a Sauvignon Blanc and Semillon blend), you have to kiss an awful lot of frogs before you find a (usually pricey) princess.
For me, though, if I'm to get excited about a Sauvignon Blanc, it's probably going to be from the Loire Valley, and very likely a Sancerre. Stick with respected producers in good years (the currently available 2005 was fine, 2006 good but variable), and you'll be rewarded with a Sauvignon Blanc that achieves that all-too-rare and desirable quality of balance, bringing together steely acidity, snappy citric fruit, subtle herbaceousness and intriguing stony minerality in a well-rounded package. That's a lot to like, and if it inspires a cinema analogy closer to noir than Technicolor, I have no problem with that.
Today's tasting, the recent 2006 release of Paul et Jean-Marc Pastou's La Côte de Sury, is a splendid example of old-vines Sancerre, certainly one of the successes of this vintage.
Today's Sponsor
A message from WineLibrary.com
You may have seen us featured in GQ magazine, The Wall Street Journal, New Jersey Monthly and elsewhere. WineLibrary.com features a huge collection of top wines from around the world, great gifts and accessories, a daily video blog (WineLibraryTV), huge selection of futures and much, much more!
Wine Library can help you with selecting the perfect wines for your meal. We have a great selection of Pinot Noirs, Zinfandels and Rieslings, all of which are ideal compliments for turkey. Click our hottest Thanksgiving Wines link for our biggest savings!
Also, with the holidays coming it's never too early to think about sending out gifts, and we can do it all. From sending wine to your families to corporate gifts for clients. Log on to WineLibrary.com for more information!
Bottom line, we offer the lowest prices, the largest selection, lightning-fast shipments and the greatest customer service in the industry! WineLibrary.com is your one-stop shop for everything wine ... so what are you waiting for? Log on to WineLibrary.com today!

Pastou 2006 "La Côte de Sury" Sancerre Vieilles Vignes ($22)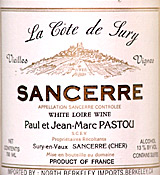 Clear straw color with a slight brassy-green hue. Appealing Sauvignon Blanc, crisp citrus and subtle grassy aromas. Clean and bright, flavors follow the nose, tart lime and pleasant herbal notes over fresh-fruit acidity and a sense of "rainwater" minerality with snappy lime in a very long finish. Outstanding Sancerre, showing beautifully. U.S. importer: North Berkeley Imports, Berkeley, Calif. (Nov. 9, 2007)
FOOD MATCH: Fine with shellfish; an excellent match with an "uptown shrimp and grits" recipe that I'll feature in tomorrow's 30 Second Wine Advisor FoodLetter, elevated with creamy goat cheese and espresso-chipotle red eye gravy.
VALUE: As quality Sancerre prices push into the $20s it starts losing its luster as an everyday wine for most of us; nevertheless, this tag is fully justified on the basis of pleasure and flavor interest.
WHEN TO DRINK: A wine of this quality and balance should hold up for a while, but it's so beautiful at this young, fresh stage that I would have a hard time making an argument for setting it aside.
WEB LINK:
Here's a fact sheet on Paul et Jean-Marc Pastou's "La Côte de Sury" Sancerre on the U.S. importer's Website:
http://www.northberkeleyimports.com/wines/index.php?partno=80030
FIND THIS WINE ONLINE:
Check prices and find vendors for Paul et Jean-Marc Pastou's Sancerres on Wine-Searcher.com:
http://www.wine-searcher.com/
find/Pastou%2bSancerre/-/-/USD/A?referring_site=WLP

Talk About Wine Online
If you have questions, comments or ideas to share about today's article
or wine in general, you're always welcome to drop by our online
WineLovers Discussion Group. This link will take you to the forum home page, where you can read discussions in all the forum sections:
http://www.wineloverspage.com/forum/village
Everyone is free to browse. If you'd like to post a comment, question or reply, you must register, but registration is free and easy. Do take care to register using your real name, or as a minimum, your real first name and last initial. Anonymous registrations are quietly discarded.
To contact me by E-mail, write wine@wineloverspage.com. I'll respond personally to the extent that time and volume permit.
PRINT OUT TODAY'S ARTICLE
Here's a simply formatted copy of today's Wine Advisor, designed to be printed out for your scrapbook or file or downloaded to your PDA or other wireless device.
http://www.wineloverspage.com/wineadvisor2/
2007/11/another_face_of_sauvignon_blan-print.html